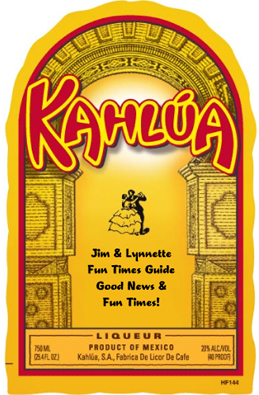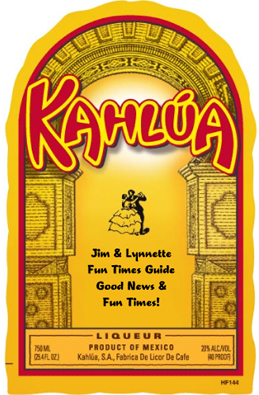 Kahlúa®, the classic rum and coffee liqueur, has joined forces with Elsie Larson and Emma Chapman of "A Beautiful Mess" to outfit consumers with the tricks and treats they need to be hostess with the mostest this season. From party décor and invitations to cocktails and garnish, Elsie and Emma will be offering Kahlúa fans exclusive entertaining tips and recipes throughout the season at www.KahluaHoliday.com.

Elsie Larson and Emma Chapman, the cofounders and creative geniuses behind "A Beautiful Mess", will be taking Kahlúa cocktails and revamping traditional hosting tips to showcase how the versatility of Kahlúa can take entertaining to a new level. Best known for their daily curation of beautiful projects, recipes and crafts, Elsie and Emma's tips for putting on the perfect holiday party will ensure that you are entertaining like a star this season.

"Kahlúa is the quintessential spirit to celebrate with this holiday and a perfect centerpiece to your party," said Brian Mequet, Vice President, Rum and Liqueurs, Pernod Ricard USA. "Whether you are a classic Kahlúa cocktail connoisseur or you enjoy spicing things up with our limited edition seasonal flavors, we have something delicious and versatile for you to mix it up with this holiday."


Entertain Like a Star:

· Spice up a classic: Give your favorite classic Kahlúa cocktail, like the White Russian, a seasonal twist by adding a peppermint rim to your glasses. Before filling your glasses, simply crush up peppermint candies, line the rims with honey or Kahlúa, and then dip them each in the crushed candy.

· Play with dessert: Looking for a quick way to add a twist to a simple dessert for a dinner party? Just add a shot of Kahlúa on top of a scoop of vanilla ice cream to give your sweet treat a delicious and punchy coffee flavor.
· Gift edible party favors: Hot chocolate mix and Kahlúa make a great party favor. Put a hot chocolate packet in a simple white mug with a miniature bottle of Kahlúa and small bag of marshmallows. Dress it up with colored tissue paper or simple ribbon.
· Experiment with a festive mini cocktail: Make a round of gingerbread mini cocktails for the holidays by combining one part Kahlúa, one part white chocolate liqueur, and one part cinnamon schnapps. Garnish with a kiss under the mistletoe.
· End with a nightcap: As guests walk away from a delicious dinner, offer a post-meal cocktail like a cup of coffee with a shot of Kahlúa.


"Kahlúa is one of those brands that we've always admired because it has transcended cocktailing and entertaining throughout the years," said Elsie Larson. "Every holiday, we look for new and exciting ways to engage our fans through recipes and entertaining projects and you can bet will be a lot of exciting things to share this season – all inspired by Kahlúa," added Emma Chapman.


For those looking to jazz up their holiday cocktail arsenal, Kahlúa is once again bringing back two classic limited edition seasonal favorites – Kahlúa Pumpkin Spice and Kahlúa Peppermint Mocha. By taking the original Kahlúa formula and adding a seasonal twist, these liqueurs are the perfect addition to winter cocktails and holiday treats.


Available at retailers nationwide, Kahlúa is 20% Alc./Vol. (40 proof) and retails for a suggested price of $16.99 per 750 ml bottle.


For more exclusive entertaining tips, product information and signature Kahlúa holiday recipes, visit www.KahluaHoliday.com, www.Facebook.com/Kahlua, www.Instagram.com/KahluaUS and www.Twitter.com/KahluaUS.


It' s Show time! Celebrate with these Signature Kahlúa Cocktails

Kahlúa White Russian
1 part Kahlúa
2 parts Absolut Vodka

1 part cream
Fill a glass with ice. Add Kahlúa, Absolut Vodka and cream.

Pumpkin Whiskey
1 part Kahlúa Pumpkin Spice
1 part Jameson Irish Whiskey
Mix Kahlua Pumpkin Spice and Jameson Irish Whiskey and serve in an old-fashioned glass with an ice cube.

Peppermint Mocha Espresso Martini
1 part Kahlúa Peppermint Mocha
1 part Absolut Vodka
1 part espresso
½ part half & half
Shake all ingredients in a cocktail shaker with ice. Strain into a chilled martini glass. Garnish with peppermint stick or espresso bean.

About Pernod Ricard USA®

Pernod Ricard USA is the premium spirits and wine company in the U.S., and the largest subsidiary of Paris, France-based Pernod Ricard SA, which employs a workforce of nearly 19,000 people worldwide and is listed on the NYSE Euronext exchange (Ticker: RI).

The company's leading spirits and wines include such prestigious brands as Absolut® Vodka, Chivas Regal® Scotch Whisky, The Glenlivet® Single Malt Scotch Whisky, Jameson® Irish Whiskey, Malibu®, Kahlúa® Liqueur, Beefeater® Gin, Plymouth™ Gin, Seagram's Extra Dry Gin®, Martell® Cognac, Hiram Walker® Liqueurs, Pernod®, Ricard® and Avión™ Tequila; such superior wines as Jacob's Creek®, Kenwood® Vineyards and Brancott Estate®; and such exquisite champagnes and sparkling wines as Perrier-Jouët® Champagne, G.H. Mumm™ Champagne and Mumm Napa® sparkling wines

Pernod Ricard USA is based in New York, New York, and has roughly 850 employees across the country. Pernod Ricard USA urges all adults to consume its products responsibly and has an active campaign to promote responsible drinking. For more information on this, please visit:
www.acceptresponsibility.org.

About A Beautiful Mess

Elsie Larson and Emma Chapman are sisters who own A Beautiful Mess, a women's lifestyle company focused on creating happiness every day through a homemade lifestyle. On this blog they share home decor projects, recipes, and crafts, as well as bits of their life in Missouri.