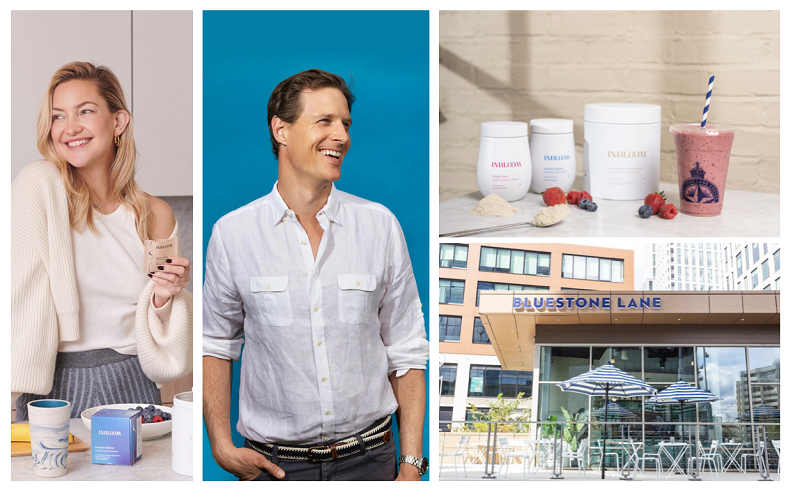 INBLOOM, the holistic nutrition powder & supplement brand founded by actress and entrepreneur Kate Hudson, announces today a national partnership with Australian premium coffee roaster, cafe and lifestyle brand, Bluestone Lane. Starting February 1st, the synergistic brands will debut a special beverage menu, offering three delicious plant-based smoothies, blended or boosted with best-selling INBLOOM nutritional powders.
Today, INBLOOM and Bluestone Lane come together to roll out an exclusive smoothie menu designed to supercharge cafe-goers' mornings, which includes the Berry Brekkie, Peanut Butter & Blueberry, and Keen Greens with the option to select an INBLOOM adaptogenic powder add-on boost of Beauty Aura marine-collagen, Immune Defense protection powder, or plant-based Clean Green Protein in Vanilla. Bluestone Lane locals will also have the option to boost any smoothie or beverage on the menu with INBLOOM and shop a limited edition product bundle online.
"I believe that how we treat our bodies on the inside impacts how we show up on the outside. I started INBLOOM as a way to help people understand that nutrition is the foundation of wellness, the gateway to looking and feeling your best," said Hudson. "Our first brick-and-mortar partnership with Bluestone Lane showcases INBLOOM as an essential in the whole food and wellness category, and continues to demonstrate the effortless ways people can deliciously boost their nutritional well-being on the go, or at home."
The collaboration between INBLOOM and Bluestone Lane aims to make it easier for customers to maintain a healthier lifestyle by, for the first time, offering Hudson's ingestible wellness product collection to a mass audience in a brick-and-mortar setting. It's indicative of both brand's respective success in engaging and educating new consumer communities and scaling through a non-traditional omnichannel strategy.
"As two brands rooted in holistic health, our premier partnership with INBLOOM is truly synergistic. By incorporating INBLOOM's powders into a deliciously curated smoothie menu, Bluestone Lane is leveraging its platform to educate and foster improved nutrition and wellness within our community. We consistently champion collaborations with like minded brands to introduce our locals to new menu items and concepts that resonate with their overall desire to live a healthy, balanced lifestyle. We are thrilled to partner with Kate Hudson on this first-ever limited edition INBLOOM menu curation." – Nick Stone, Bluestone Lane Founder & CEO.
The INBLOOM x Bluestone Lane plant-based smoothie menu is now available at all 55+ Bluestone Lane cafes across the US including locations in New York, Los Angeles, San Francisco, Washington, D.C., New Jersey, Boston, Philadelphia as well as new markets including Houston, through March for $8.50-$9.50, with nutritional boosts offered at $2.50. An exclusive bundle featuring Bluestone Lane's premium coffee beans, Kate's favorite INBLOOM Brain Flow single serve box, and AirWhisk frother is also available on BluestoneLane.com for $85. For more information or to find a location near you, please visit Tobeinbloom.com or Bluestonelane.com.
ABOUT INBLOOM
INBLOOM is a modern wellness brand centered on optimal health and beauty from the inside-out. INBLOOM grew from the partnership between Kate Hudson and Syllable, whose shared ambition is to help people create, and maintain a new healthier lifestyle with easy-to-use and high-quality wellness products. The brand creates bioavailable supplement powders formulated with whole-food nutrients, full-spectrum herbs, and adaptogenic plants with no synthetic ingredients. Each powder in the growing portfolio has been formulated with a holistic approach that enriches your body's natural ecosystem to deliver immediate results, while compounding long-term benefits to restore equilibrium and enhance your potential. INBLOOM is committed to minimizing it's impact on the earth by using only sustainable packaging options and sourcing ingredients where they will not disrupt natural ecosystems.
ABOUT BLUESTONE LANE
Bluestone Lane is a New York-born Australia lifestyle and hospitality brand, currently operates 55 premium coffee shops and cafés across the United States. Named as one of Inc. 5000's fastest-growing private companies based in NYC, Bluestone Lane has enjoyed rapid adoption from consumers looking for superior coffee, an elevated experience and healthier menu options. The brand is leading the movement to modernize US coffee culture with its emphasis on the quality of its coffee and menu items and a hyperfocus on offering a world-class hospitality experience to serve its locals, not customers. Nick Stone founded Bluestone Lane to infuse a personal connection into the American cafe experience, making it feel more like personalized daily-ritual, and less like a transaction. Bluestone Lane also offers a broad suite of Consumer Packaged Goods (CPG), whole bean coffee, coffee pods, teas, sparkling waters and cold-pressed juices. Visit us at www.bluestonelane.com and on Instagram.