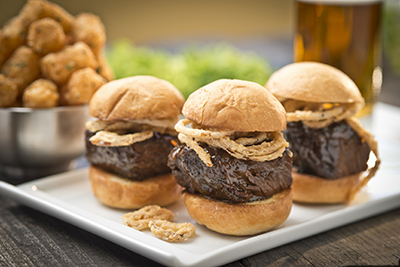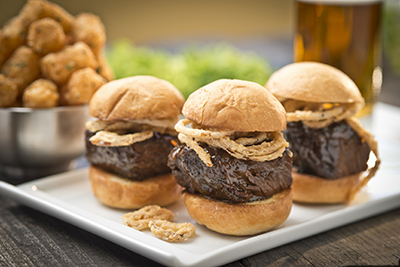 Carson Kitchen will combine the innovative cuisine of the city's first true local, celebrity chef, Kerry Simon, with the hipster vibe of Downtown Las Vegas when it opens on the corner of 6th Street and Carson Avenue at South 124 6th St. in early June.
"I have long wanted to open a true neighborhood restaurant and as Downtown Las Vegas is now the social center for locals, it is the perfect spot for this concept," says Simon. "I want this restaurant to feel like dinners I've prepared for friends in my own home, and I have developed the menu and design with those friends in mind."
A new American gastro-lounge, Carson Kitchen artfully celebrates food and drink through an ingredient-driven menu that provides innovative flavors for guests through progressive, yet approachable selections. True to his signature style, Simon elevates classics with contemporary flavors, from "Devil's Eggs," made with crispy pancetta and caviar, to a cocoa-espresso NY strip steak served with red wine demi. Simon will also place an emphasis on sustainable ingredients, as well as locally sourced produce.
Carson Kitchen was developed in partnership with hospitality veteran, Cory Harwell, who relocated to Las Vegas from New York in 1997 and has since had his hand in leading many high-level restaurants throughout the city. Harwell and Simon are working alongside Tony Hsieh and the Downtown Project to embrace the developing culture of Fremont East and the local spirit of Las Vegas. Carson Kitchen is in the space formerly occupied by the John E. Carson Hotel, keeping much of the character and 'bones' of the original structure. The name was inspired by the John E. Carson Hotel itself, as well as pays tribute to The Mercer Kitchen in New York City by Simon's mentor, Jean Georges-Vongerichten.
"Having lived in Las Vegas for so many years, I'm really excited about developing a restaurant that will primarily appeal to locals," says Harwell. "Plus, creatively it has been a fun project for us, to develop a restaurant that from menu to design feels like being in someone's home. The menu has that appeal of experimenting with different flavors in the kitchen, and it has presented an opportunity for us to be more playful with the dining experience."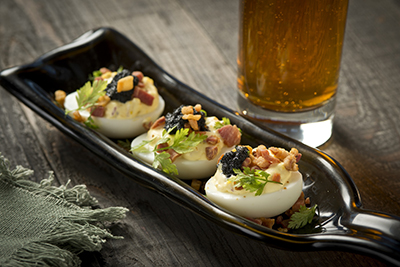 The 1,800-square-foot dining room will seat 90 guests with a design inspired by Simon's own loft-style home in Las Vegas. The chef's table is an experience in itself with a tabletop that borders the kitchen and doubles as an expo counter. The dining room has the feel of being welcomed into a homey, yet modern kitchen with the use of repurposed wood and steel materials. Carson Kitchen's stone-oven gives the appearance of an old-school wood burning hearth, with the casing built for it outside of the restaurant. Twisted metal pieces run from floor-to-ceiling to separate the space into different areas, which provides a more intimate dining experience. The bar top counter ties into the kitchen being made out of the same material of an end-cut of a butcher's block.
The 910-square-foot, garden-style rooftop patio will host live music, such as DJs and bands, offering a space to dine and enjoy a lush six-foot-tall living wall, a bar top made of funky granite and overall lively social scene.
The menu, which has an emphasis on sharing, includes social plates, sandwiches, entrées and stone-oven flatbreads. Social plates, priced from $6 to $10, include tempura green beans made with pepper jelly and cream cheese; bacon jam served with baked brie and toasted baguette; and "Devil's Eggs" complete with crispy pancetta and caviar.
The "Between Bread" sandwich section, priced from $10 to $14, includes short rib sliders made with root beer glaze; grilled cheese with apple slices and caramelized onion; and a butter burger topped with Boursin and Taleggio cheeses, lettuce and tomato. Stone-oven flatbreads are priced from $8 to $10 and include duck confit made with black mission figs and gorgonzola cheese; merguez sausage topped with fennel, broccolini and ricotta cheese; and wild mushroom complemented with caramelized onions and Cabrales bleu cheese.
The sustainable selections from the farm and garden range from $8 to $14 and include rabbit ragu made with spaghetti squash and parmesan; kale & apple served with pancetta croutons and lemon vinaigrette; and black rice and oxtail risotto, made with a parmesan cream. Fresh fish selections, priced from $10 to $14, include steelhead trout cake served with mustard cream; swordfish topped with lemon, mint and basil; and mussels made with chorizo, saffron and fennel. Meats, priced from $14 to $18, include cocoa-espresso NY strip steak served with red wine demi; chicken roulade with chorizo and manchego cheeses; and roasted pork loin topped with apple cider glaze.
Desserts are highlighted by a bourbon fudge brownie served with brown butter bacon ice cream; glazed donut bread pudding made with three rum caramel and vanilla crème anglaise; and "Not Your Father's" Twinkies.
The drink menu will feature more "mom and pop" style selections to support smaller businesses, such as Jones Soda, Virgil's and Tommy Knockers. The cocktail menu will offer handcrafted selections with an urban masculine influence and will utilize organic spirit options from craft distilleries around the country. Selections include the "Old Wooden Shed," made with No. 209 Gin, XTA Liqueur, fresh lemon and angostura bitters; and the "Brewers Fix," made with Hophead Vodka, Bonne Maman Apricot Preserves, fresh lemon, simple syrup and Prosecco. For beer and wine, Carson Kitchen will have a diverse selection of small-batch American craft beers and wines from boutique vineyards around the country.
About Carson Kitchen
Carson Kitchen is Chef Kerry Simon's new American restaurant in partnership with hospitality veteran, Cory Harwell. The intimate restaurant will open in June in Downtown Las Vegas and feature Simon's social plates, entrées, sandwiches and stone-oven flatbreads, in addition to small-batch wine and craft beers. Hours are 11 a.m. to 11 p.m. for lunch and dinner.
About Simon Hospitality Group
Simon Hospitality Group was formed in May 2013 by Celebrity Chef Kerry Simon and restaurateur Cory Harwell. The newly-formed restaurant group owns and operates Simon Mansion in Punta Cana, Dominican Republic; Chuck's: A Kerry Simon Kitchen, in Chicago; and Carson Kitchen in Downtown Las Vegas. The group also manages Chef Simon's previously established restaurants including KGB: Kerry's Gourmet Burgers at Harrah's Las Vegas and Simon at Palms Casino Resort. Chef Simon, dubbed the 'Rock n' Roll Chef' by Rolling Stone Magazine, has starred on "Iron Chef America" and "Hell's Kitchen" and has developed award-winning restaurants around the country in Las Vegas, Los Angeles, Chicago and Atlantic City. Harwell, a restaurateur, has opened more than three dozen restaurants in his career and brings 20 years of restaurant management experience to Simon Hospitality Group.