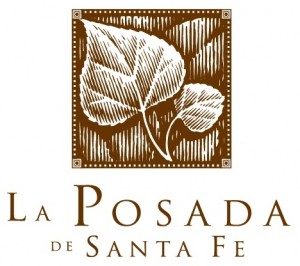 An art hotel located in the heart of Santa Fe, New Mexico,La Posada de Santa Fe Resort & Spa is pleased to announce the launch of a new Global Latin Cuisine concept in the resort's AAA Four Diamond Award-winning restaurant, Fuego!. Curated by New Mexico's "Chef of the Year," Carmen Rodriguez, the new culinary concept at Fuego! infuses global cultures and Latin flavors with Santa Fe flair and La Posada's art of hospitality.
"We live in a different world that is much more global today," says Rodriguez. "I am lucky to live in a region that bursts with distinctive flavors and ingredients, but I've always been curious about marrying these with nuances from around the world. The new menus are a labor of love and we're thrilled to introduce a whole new palette of flavors in a convivial and casual environment to visitors and locals alike."
As Executive Chef at Fuego!, Rodriguez interprets the "art of fine dining" on a global scale by sourcing his inspiration from near and far. On the menu, guests will be pleased to find local ingredients — from hatch chiles, buffalo, and Cuban bread from neighborhood favorite Angel's Bakery to fresh-picked apricots from the resort's garden — fashioned into creative global fare.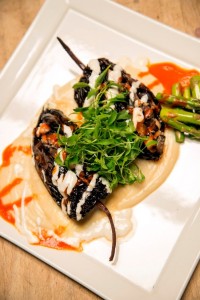 Among the most popular dishes on Chef Rodriguez's Fuego! new menu are several "Small Bites"including Korean Tacos of marinated flank steak flame-grilled for an authentic "street" flavor, then tucked into corn tortillas topped with spicy Napa cabbage cole slaw and finished with Gochujang sauce blended with avocado; Callos de Hacha y Tostones — red chile-dusted sea scallops, twice-fried plantains and cilantro gastrique; Alas de FUEGO! — crispy chicken wings tossed in four chile butter sauce, jicama sticks and blue cheese dip; and Picadillo Lettuce Wraps-savory beef with guajillo chile sauce in butter lettuce.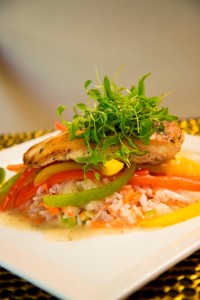 Chef Carmen's "Big Bites" or entrées round out the savory menu with global cuisine topped with a local twist — from the New Mexico Roasted Lamb Rack served with citrus-infused couscous, red chile honey mint sauce and fresh vegetables, and Chocolate Cherry Mole Duck Breast with sofrito rice and fresh vegetables, to the Tequila Chicken with peppers, onions lime juice and tequila served with rice and fresh vegetables, and Julia's Orchard Pork Tenderloin with wild rice, fresh vegetables and apricots plucked from the hotel garden.
The menu's soups and salads also showcase global flavors and local ingredients, including theSouthwest Chef Salad of iceberg and butter lettuce, avocado, sweet chile bacon, tomato and cheese with jalapeno ranch dressing; Crispy Prosciutto and Lobster Salad with organic mixed greens and chipotle raspberry vinaigrette; and Thai Coconut Horchata Soup served warm.
A broad selection of sandwiches pack bold notes including cumin, coriander, curry, tequila, lime, chipotle, and green chile. Highlights included the Bratwurst Burger — ground pork and Buffalo burger with smoked bacon, sauerkraut, and green chile mustard; Torta de Langosta — Chef Carmen's version of a lobster roll with coriander and curry mayo; and Fried Shrimp Po Boy — cajun spice shrimp topped with crunchy cole slaw and remoulade.
Fuego! also offers sweet finishes that are sure to please, including traditional Pastel de Tres Lechescon Fresa topped with fresh strawberries and cream, Nana's Chocolate Mousse with sugared tortillas from a recipe that has been handed down through several generations of Chef Carmen's family, and Cajeta Sundae with red chile pecan brittle, cajeta and vanilla ice cream.
Chef Rodriguez, who was recently awarded the title of "Chef of the Year" by the New Mexico Restaurant Association, is a local culinary legend deeply involved in community outreach initiatives. He has practiced his craft all over the city, including as an instructor in the Culinary Department of Santa Fe Community College.
For the summer ahead, the new concept and menu at Fuego! will be available at the outdoor dining area with Latin music from Omar Villanueva and his trio and Nacha Mendez on two nights a week, and even more entertainment on other evenings. Reservations are suggested, call 505.986.0000.
Summer rates at La Posada de Santa Fe from $189. For more information or to make reservations, please call 855.278.5276 or visit www.laposadadesantafe.com.
About La Posada de Santa Fe
La Posada de Santa Fe Resort & Spa combines artistic beauty and legendary history creating a true artistic oasis in the heart of Santa Fe, New Mexico. The AAA Four Diamond-rated resort features enchanting adobe-style architecture, vibrant artwork and a lavish spa. Located near the Santa Fe Plaza, the resort offers easy proximity to the city's best shops and art galleries. La Posada de Santa Fe is nestled on six historic landscaped acres and features 157 Casita-style guest rooms including 30 suites, with traditional viga and latilla ceilings, local artwork, stylish furnishings, contemporary technologies, and, in many, kiva fireplaces and shady patios. There are several dining venues onsite such as: Fuego!, an AAA Four-Diamond-rated destination for Global Latin cuisine; casual outdoor dining at The Patio; and cozy bar, Staab House. The Spa and Salon at La Posada de Santa Fe offers eight treatment rooms, a Eucalyptus steam room, heated outdoor pool and whirlpool, and a rooftop terrace with stunning views of gardens and mountains. Conference and event space from immaculate ballrooms to intimate venues are available. www.laposadadesantafe.com