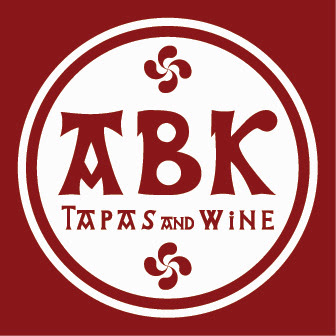 A Basq Kitchen: Seafood Quickfare by Day, Hot Spot Wine Bar by Night
Redondo Beach, CA – A Basq Kitchen invites you to enjoy a harbor view while enjoying pintxos (pronounced peen-chos), tapas, and wine from its comfortable, nautical-themed, open dining space on the International Boardwalk of Redondo Beach Pier. In Basque Country, lunches and dinner often revolve around made-to-order pintxos. Perfect enough for 2-3 bites, the distinct flavors of the ingredients are brought to life by simple and artful culinary combinations.
In Euskara (the Basque language), "jatetxea" means a lively gathering and eating place for friends and family. Enjoy old friends and meet new ones around one of ABK's communal tables while sharing from their small plate pintxos and tapas menu. And when you notice your wine glass is starting to look a little empty, simply say to your server, "Arno baso bertze bat, mesedez!"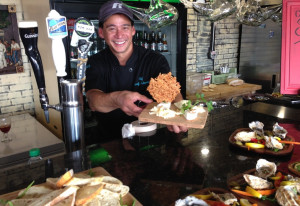 Meet the Chef: ABK's Executive Chef Darryl Matanane
Fifteen years ago, ñat (Bernard) Ibarra was in Las Vegas, NV, where he served as executive chef at The Mirage and also went on to open several restaurants at the Aria. He was invited to Anchorage, Alaska as a celebrity chef in a food show to help promote future chefs of America. This is where the owner of Redondo Beach's recently-opened A Basq Kitchen met Chef Darryl Matanane.
Born in Honolulu, HI, Chef Darryl has deep culinary roots in Hawaiian cuisine. His career in the culinary industry took off when Master Chefs Russell Siu (Iron Chef, 3660 on the Rise) and Ed Mitchell ("The Pitmaster") hand-picked Chef Darryl as one of five of Hawaii's best chefs to open Club Corp of America's Center Club in Costa Mesa, CA. Three years later, he moved up to Anchorage, AK to serve as executive sous chef at the Sheraton Anchorage. It was during this time that he won the title of Best Seafood Chef of Alaska, affording him entrance into the US National Seafood Competition, which took place in New Orleans, LA. There, he not only received his diploma from the Culinary Institute of America but also medalled in the Bronze category for the competition.
Following this distinction, Chef Darryl returned to Honolulu where he worked under Chef Mike Wong at Duke's Waikiki and then went on to open Chef Russell Siu's premier restaurant, 3660 on The Rise. With this success, Chef Darryl was recruited by Mauna Kea Resort on the Big Island, where he executed the daily themed parties for the resort (clam bakes, luaus, etc.). Mauna Kea was eventually purchased by Japan's wealthiest business tycoon Yasujirō Tsutsumi, who concurrently built the Hapuna Beach Prince Hotel just next door, which Chef Darryl opened. When the time came for Tsutsumi to unveil the Alyeska Prince Hotel just outside of Anchorage, AK, he naturally commissioned Chef Darryl to open the resort's restaurant. Back in Alaska, Chef Darryl worked alongside sushi chef Takeo Okamoto, who eventually brought Chef Darryl over with him for the opening of Benihana Anchorage.
From there, Chef Darryl went on to open Bridge Seafood, various other small restaurants, and also ran a catering company. It all came full circle when Chef Bernard Ibarra decided to open A Basq Kitchen in Redondo Beach, CA. Throughout the years, the two chefs had kept in contact and became good friends, as Chef Darryl would travel to Vegas to visit Chef Bernard. Excited for the relocation opportunity to be closer to his daughter in Los Angeles, CA, Chef Darryl has taken on the role of Executive Chef/Manager at A Basq Kitchen and is currently bringing life to Bernard's vision and menu of Basque cuisine on the Redondo Beach Pier.

A Basq Kitchen Menu Highlights
Fresh Ceviche
Mejillones en Vino Blanco – Mussels
Croquetas de Jamon
Seared Lambchop
Lengua (Beef Tongue)
>Beef Cheeks Pamplona
Tortilla Vasca – Omelette on Toasted Baguette
About A Basq Kitchen
A Basq Kitchen is a "Neighborhood Wine Bar & Quick Food Concept", designed to bring fresh, simple, and delicious food to their visitors and neighbors who visit Redondo Beach Landing. Based loosely on the Basque heritage of Owner Beñat (Bernard) Ibarra, the restaurant draws upon generations of fishermen, cheese-makers, and chocolatiers for their inspiration and interpretation of modern favorites. Founded on the philosophy of sourcing and serving naturally grown and ethically raised food products, this cuisine seeks to be true to the ingredients with respect for the oceans and land from which they came.
ABK will also serve as a "test kitchen" for the Chefs to try out new, creative, and handmade ideas. Small-scale artisan items such as handmade cheeses, self-cured olives, and other culinary surprises will be part of the seasonal rotation. This venue allows people to experience the casual atmosphere and entertainment of the pier and give them something delicious to enjoy while they do it. Sit, enjoy, and have another glass of wine!
A Basq Kitchen is located at 136 N. International Boardwalk Redondo Beach, CA 90277.