Cacao Barry® Announces Winner of the L'Art du Chocolatier™ Challenge
Anthony Vellut, Chocolate Manager for Jean Philippe Patisserie at the ARIA Resort & Casino in Las Vegas, is named 2015 Chocolatier of the Year
Top U.S. pastry chefs showcased technical skills and artistic creativity working with premium French chocolate
L'Art du Chocolatier finals were held May 2015 at the Barry Callebaut CHOCOLATE ACADEMY™ in Chicago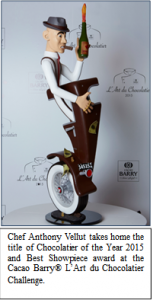 CHICAGO, May 26, 2015 – Cacao Barry® – the world's leading brand of high-quality French chocolate and cocoa products for gourmet professionals – announced Anthony Vellut, Chocolate Manager for Jean Philippe Patisserie at the ARIA Resort & Casino in Las Vegas, as champion of the 2015 L'Art du Chocolatier™ Challenge. Runner ups for the coveted title of Chocolatier of the Year were Helen Hong and Wilfredo Barajas, who took home second and third place, respectively.
Awards for additional categories in the competition include:
Best Showpiece – Anthony Vellut
Kitchen Skills Award – Helen Hong
"The L'Art du Chocolatier Challenge is a demonstration of these chefs' proficiencies in working with premium French chocolate," said Jérôme Landrieu, Pastry Chef and Director of the CHOCOLATE ACADEMY™ Chicago. "We are excited to award the contestants, after their display of creativity, innovation and unrelenting passion for their craft."
The two-day competition was held May 14 to 15, 2015, at the state-of-the-art Barry Callebaut CHOCOLATE ACADEMY™ in Chicago. During the two-day competition, the finalists prepared an original chocolate nut bar, soft caramel, gâteaux de voyage and original chocolate showpiece for judging. One month prior, the finalists shipped 30 pieces of chocolate ganache bonbons to Chicago to evaluate their shelf life during the competition.
A panel of renowned culinary experts evaluated all entries based on taste, appearance, creativity and interpretation of this year's competition theme – "The Roaring Twenties Chicago." This year's panel of esteemed chefs included:
Chef Sebastien Canonne – Co-founder, The French Pastry School
Chef Jerome Jacob – Assistant Pastry Chef, Bellagio Resort Hotel and Casino, and Chocolatier of the Year 2013
Chef Frederic Monti – Corporate Pasty Chef, PreGel AMERICA
Chef Luis Robledo-Richards –Head of the Barry Callebaut Chocolate Academy in Mexico City and Owner of "Tout Chocolat"
Chef Jerome Landrieu – Cacao Barry Pastry Chef and Head of the Barry Callebaut Chocolate Academy in Chicago
The L'Art du Chocolatier Challenge provides a platform for talented U.S. pastry chefs and chocolatiers to demonstrate their creativity and craftsmanship through the medium of premium French chocolate. The next L'Art du Chocolatier Challenge will take place in May 2016, coinciding with the 2016 National Restaurant Association (NRA) show.
The L'Art du Chocolatier Challenge is an initiative of leading chocolate gourmet brand Cacao Barry®, which is part of the Barry Callebaut Group.
About Cacao Barry® (www.cacao-barry.com):
By constantly inventing and reinventing Pastry and Gastronomy, France gave its name and mark to this art. It is a tradition envied by the whole world. It is all about creativity, innovation, and above all passion. Since its creation in 1842, Cacao Barry® has been entirely committed to this heritage. Today Cacao Barry® provides the most complete palette of products, to all passionate chocolate craftsmen around the world: chocolate and couvertures, pralinés, origins and exclusive plantations, decorations and moulds, inspiring them and opening doors to new creative experiences. Besides, Cacao Barry® offers the widest international community of chocolate professionals, Ambassadors' Club and Chocolate Academies to support craftsmen and chefs on their quest for perfection. Cacao Barry® is a global Gourmet brand of the Barry Callebaut group, the world's leading manufacturer of high-quality chocolate and cacao.
About Barry Callebaut Group (www.barry-callebaut.com):
With annual sales of about CHF 5.9 billion (EUR 4.8 billion / USD 6.5 billion) in fiscal year 2013/14, the Zurich-based Barry Callebaut Group is the world's leading manufacturer of high-quality chocolate and cocoa products – from sourcing and processing cocoa beans to producing the finest chocolates, including chocolate fillings, decorations and compounds. The Group runs more than 50 production facilities worldwide and employs a diverse and dedicated global workforce of over 9,300 people.
The Barry Callebaut Group serves the entire food industry, from industrial food manufacturers to artisanal and professional users of chocolate, such as chocolatiers, pastry chefs, bakers, hotels, restaurants or caterers. The two global brands catering to the specific needs of these Gourmet customers are Callebaut® and Cacao Barry®.
The Barry Callebaut Group is committed to sustainable cocoa production through its "Cocoa Horizons" initiative to help ensure future supplies of cocoa as well as improve farmer livelihoods.