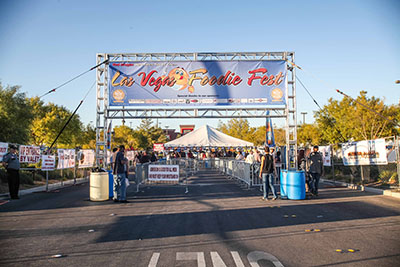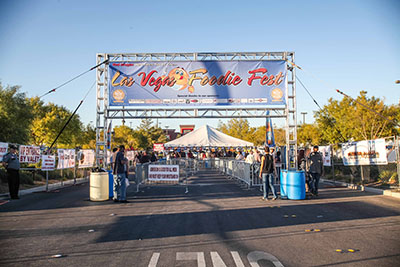 The Las Vegas Foodie Fest celebrated another successful weekend after an estimated 35,000 foodies passed through the gates at the Silverton Casino Hotel. Foodies clamored to try the more than 30 food trucks in attendance, including headlining truck White Castle, and celebrity trucks, The Buttermilk Truck, BACONMANia, and more.
The festival saw a continued increase from April as lines for White Castle remained constant throughout the three days. With an average of 20,000 sliders sold each day, West Coast Cravers showed up en mass to get their hands on the signature sliders.
Foodies from near and far came throughout the weekend to try the delicious dishes from 35 food trucks and 10 gourmet food vendors. The festival opened Friday, Oct. 18, with lines around the block of eager diners craving the opportunity to try samplings from each of the trucks. VIPs from across the Las Vegas Valley flocked to the Silverton Friday evening to indulge in exclusive food and beverage tastings from various trucks in attendance. The event benefitted the Epicurean Charitable Foundation of Las Vegas.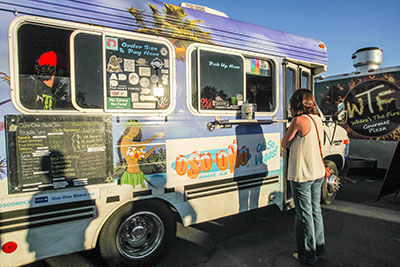 Las Vegas Foodie Fest is a bi-annual event hosted by Red Dragon, LLC. The event, which brings together gourmet food trucks from across the country, will return in 2014 with more food, fun and entertainment.
ABOUT RED DRAGON EVENTS AND PROMOTIONS
Red Dragon, LLC was founded in September 2011 by Noel Casimiro, Ranier Galgana Art Casimiro, Oliver Tolentino and Marc Tolentino. Their mission is to create events for Las Vegas residents for the whole family to enjoy. Visit their website for more information about the Las Vegas Foodie Fest and Red Dragon Events and Promotions, or on Facebook and Twitter.