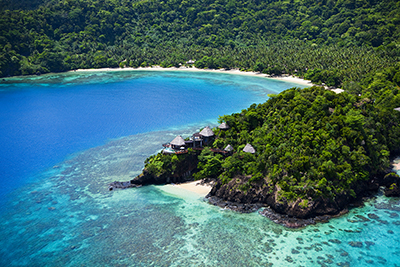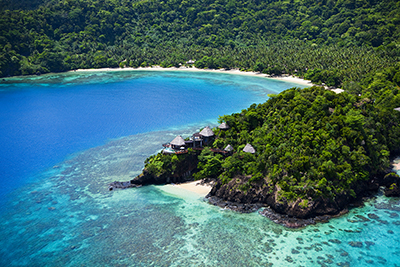 Laucala Island, Fiji's luxury private island resort, is pleased to announce Anthony Healy as new Executive Chef as of Oct. 19, 2013. A long-time leader in the culinary world, Anthony brings extensive experience from his most recent position as Executive Chef of Lizard Island Resort in Australia, where he managed a team of 13 chefs and developed extensive menus based on guests' special requirements and dietary needs.
As the resort's Executive Chef, Anthony will continue to create signature cuisine featuring the island's indigenous produce. Additionally, he will work closely with the farm manager to maintain and develop the production of vegetables, fruits, herbs and livestock as well as enhance the island's newly breeded Waygu beef. With his 10-year culinary career and gastronomic insight, he will continuously train the Laucala staff.
Eighty percent self-sustainable, Laucala Island has a greenhouse and farms that produce multiple local products – impacting the menus directly. Vegetables are grown in the island's hydroponics and planted in fertile Fijian soil before transported directly to the kitchen to be prepared and cooked for guests. Island chefs additionally cook seafood caught daily by fishermen, including mahi-mahi, octopus, tuna and more. As a result, Laucala Island's guests enjoy very fresh product absorbed with natural nutrients and vitamins.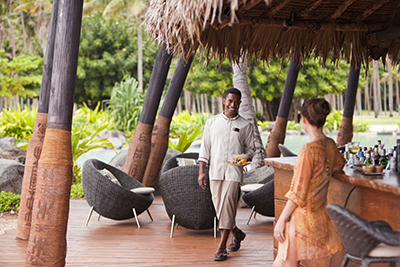 "I am thrilled to join the expert team on Laucala Island," said Healy. "I look forward to developing and executing further plans for the resort's restaurants and leading a successful culinary program here on Laucala Island. Laucala's location is ideal with its abundant selection of locally-grown fresh produce, always available."
Anthony began his culinary career in Queensland, Australia at 11 Centro Restaurant where he quickly embraced the culinary culture as Commis Chef. He continued to work in top restaurants around the world, including London (Les Trois Garcons,) France (La Cote Saint Jacques) and Australia where he was Chef de Cuisine for two and a half years at La Fontaine restaurant at Hayman Island Resort.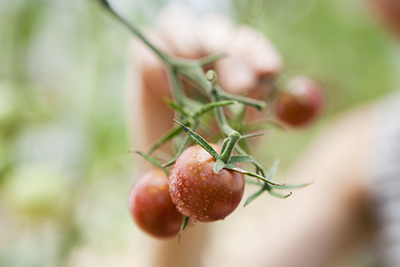 Once owned by the Forbes family as a private island escape, Laucala Island was purchased in 2002 by Dietrich Mateschitz, C.E.O. of Red Bull drinkcompany, and launched in 2011 as the southern hemisphere's largest private island resort. The resort is 85 percent self-sustainable and prides itself on an integral philosophy, incorporating elements of the entire island into each guest's experience, from island-made spa products to cuisine derived from indigenous plants, fruit and aquatic life. Laucala aims to become known the best South Pacific resort within the next year, with the goal of being known as one of the three best luxury resorts in the world by 2015.
About Laucala Island
Set upon a private island of 3,200 exclusive acres in the Fijian Pacific archipelago, Laucala Island brings a new meaning to the term "all-inclusive resort." A beyond-five-star, luxury private island resort, Laucala is set amidst coconut plantations, sandy beaches, turquoise lagoons, rich green mountains and breathtaking natural beauty, often drawing comparisons as the veritable Garden of Eden of Fiji. True luxury is appreciated in the privacy of the resort's 25 villas as well as the freedom to experience a variety of activities with spontaneity, ranging from pro golfing to beachside horseback riding to watersports and more. The resort prides itself on an integral philosophy, incorporating elements of the entire island into each guest's experience, www.laucala.com.