M.C. Spiedo Ristorante & Bar opens to the public this week in Boston's Seaport District, lead by James Beard Award-winning chefs Mark Gaier and Clark Frasier, and designed by Minneapolis-based, Shea.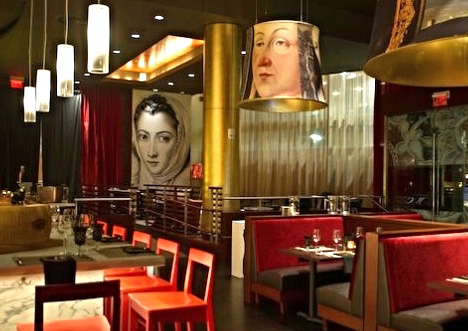 National A-list chefs, Mark Gaier and Clark Frasier of acclaimed Maine restaurants, Arrows and MC Perkins Cove, selected Minneapolis design firm, Shea, to bring their newest restaurant to Boston's Seaport District: M.C. Spiedo Ristorante & Bar.
Located inside the Renaissance Boston Waterfront Hotel, the restaurant concept is inspired by the chefs' love of the Italian Renaissance, and the menu takes the old world flavors of Florence, Bologna, Venice and pairs them with farm-fresh ingredients and contemporary cooking techniques. One dish for instance, Leonardo's Salad, is based on a shopping list da Vinci wrote in one of his famed notebooks. The title, M.C. stands for Chefs Mark and Clark, while "Spiedo" refers to "spit" or "skewer" in Italian.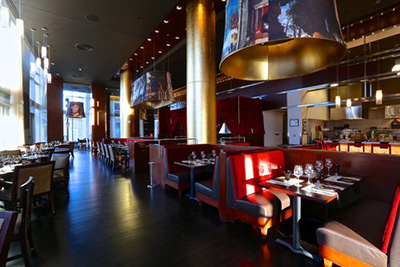 "Simply theatrical," quotes Boston Eater, referencing the Shea-designed restaurant ambiance, which invokes the opulent spirit of the Italian Renaissance. An antipasti bar made of Vermont-sourced white carrara marble puts the theater of food on center stage, and intimate booths are concealed by voluminous deep crimson curtains. The major highlight of the main dining area includes five custom chandeliers (six feet or more in diameter) that dominate the space with rich modern, baroque-patterned fabrics. Shea also used large format graphics designed in the spirit of the Italian Renaissance to create energy throughout the space, including a nearly 10 foot mural in the lounge area.
The design firm worked with this chef duo in the past on their Arrows restaurant in Ogunquit, Maine.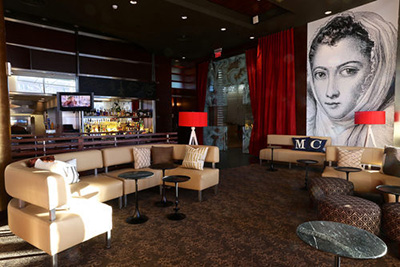 "A great partnership with the chefs allows us to really understand the vision of the restaurant, and ensure we're delivering the right experience," says the design firm's owner, David Shea.
Shea's design approach in all projects is to integrate brand development into their design, and M.C. Spiedo was no exception. The team employed this process by creating all elements of the brand identity, including logo, graphics patterns for use in the space and in all marketing, signage, and menu design. This overall design strategy was then used in all fabrics, furniture and materials throughout the space.
The result of the project is a successful combination of historical reuse and contemporary design to create a restaurant worthy of the iconic Boston Seaport District and the leadership of two James Beard Award-winning chefs.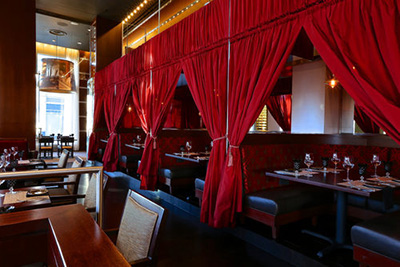 About Shea, Inc.
Shea, Inc. is a design and marketing firm that creates consumer environments using a seamless integration of brand development, architecture, interior design, graphic design and marketing communications. We develop creative business solutions by using every consumer touch point for clients in the areas of restaurant/hospitality, retail and corporate office design.
About chefs Mark Gaier and Clark Frasier:
For more than twenty-five years, James Beard Award-winning chefs Mark Gaier and Clark Frasier have pioneered sustainable dining and celebrated old world traditions with their signature grown on-premise and seasonally inspired cooking, beginning with their flagship restaurant Arrows and MC Perkins Cove in Ogunquit, Maine. Together, the culinary team penned "The Arrows Cookbook: Cooking and Gardening from Maine's Most Beautiful Farmhouse Restaurant," (2003) a collection of the restaurant's most celebrated and accessible recipes with useful cooking and gardening tips. In 2011, the Maine-based duo released their second cookbook, "Maine Classics," 150 delicious recipes from Down East. In 2012, the chefs competed on Bravo's Top Chef Masters Season 4, strengthening their reputation among the top culinary talent in the country.
For more information, visit www.MCSpiedoBoston.com, or follow M.C. Spiedo on Facebook or Twitter.