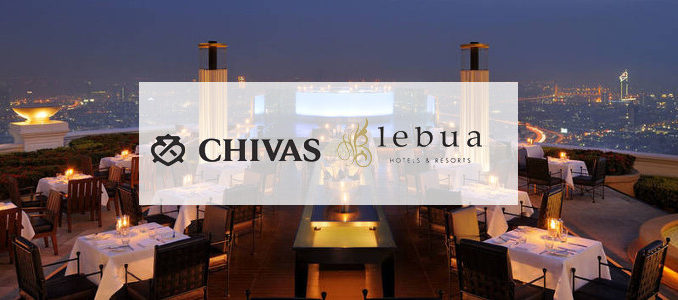 LEBUA BANGKOK SCALES NEW HEIGHTS WITH WORLD'S HIGHEST WHISKY BAY

Bangkok, Thailand: Reinforcing its dominance of the food & beverage scene in the city, The Dome at lebua has teamed up again with Pernod Ricard (Thailand) to unveil yet another exciting project. Perched 800 feet in the air on the 64 floor of the Tower Club at lebua, Alfresco 64 – A Chivas Bar will be the highest outdoor whisky bar in the world offering connoisseurs and luxury jetsetters the ultimate whisky drinking experience along with stunning aerial views of the skyline and the Chao Phraya River.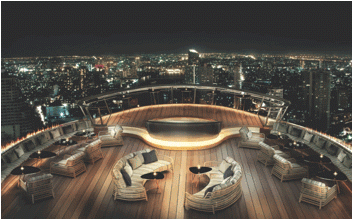 In the past lebua has pioneered alfresco dining and drinking with its multi-award-winning restaurants and bars. This time the luxury hotel and resort group has partnered with Chivas Regal, makers of the most prestigious premium blended Scotch whisky in the world, to bring a new whisky degustation experience to the heart of Bangkok with a 200-sqm ultra-luxury bar. In addition to sampling signature blends from Chivas Regal as well as other premium whiskies, connoisseurs will also be able to enjoy the one-of-a-kind limited edition "Chivas Exclusive lebua blend". The whisky is special because it is the first time that Chivas Regal has created a blend exclusively for a partner.
"For whisky aficionados, Alfresco 64 – A Chivas Bar marries two iconic luxury brands perfectly," said Deepak Ohri, CEO of lebua Hotels & Resorts, adding, "we will take drinking whisky to a new level of luxury experiences, just like we did with Champagne at the Flute Bar – A Perrier-Jouët Bar."
Quentin Job, Managing Director of Pernod Ricard (Thailand) said, "With this exclusive whisky bar we are both delighted and honored to be take our partnership with lebua to the next level and provide whisky lovers a luxury drinking experience."
Tastefully created by the world-class design team at DWP, the design concept of Alfresco 64 – A Chivas Bar draws inspiration from the sleek lines of a luxury yacht – the epitome of the luxurious lifestyle of a billionaire. The world's highest whisky bar is divided into three parts with the first section, an indoor area exquisitely set to resemble an opulent yacht cabin, featuring lacquered rosewood flooring and sunken seating. The bar counter is meticulously made of large pieces of wood accentuated with curves and silver metal lines which resemble the dynamic lines of a luxury vessel. The front of the bar takes its design cues from a yacht's bridge.
The second section is the Heritage Room, specially created for VIPs and can be used for a variety of special events ranging form private parties to whisky tastings. The last and most outstanding feature of the bar is the outdoor area. Beautifully designed to resemble the prow of a luxury yacht, it juts out over the side of the building. It features comfortable couches and chairs, teak flooring, while a glass railing all along the edge allows for majestic views of the Chao Phraya River as you sip your drink of choice.
In addition, a special focus group was used to select the right glasses and carafes to take the whisky drinking experience to the next level. These glasses are designed to highlight: the soft hues of your beverage, intensify flavors and aromas, and chill one's drink without the addition of ice for a more indulgent tasting. Knowledgeable service-minded staff will be on hand to explain in detail about the whisky you are drinking.
Once again the opening of Alfresco 64 – A Chivas Bar further underscores lebua Hotels & Resorts' mission to
Create distinctive food and beverage outlets for drink and food enthusiasts alike in the heart of Bangkok.

lebua Hotels and Resorts is a growing international luxury brand that operates distinctive hotels, fine restaurants and bars. Led by visionary CEO Deepak Ohri, Bangkok-based lebua takes a unique approach to hospitality that aspires to tap into a deeper level of exchange with guests to illicit emotional connections. lebua's award-wining lodging collection includes Bangkok's best-performing luxury hotels, three boutique hotels in India and an exclusive property in New Zealand. The Dome at lebua, the group's collection of restaurants and bars atop its Bangkok hotels, include Sirocco, Sky Bar, Flûte: A Perrier-Jouët Bar as well as the signature Breeze and Mezzaluna restaurants. lebua is currently expanding its dining concepts to Europe starting with the 2015 opening of Breeze by lebua in Frankfurt at the Steigenberger Frankfurter Hof, and is exploring hotel management contracts in city and resort destinations worldwide.
Pernod Ricard is the world's No 2 in wines and spirits with net sales of €8,682 million in 2015/16. Pernod Ricard holds one of the most prestigious brand portfolios in the sector: Absolut Vodka, Ricard pastis, Ballantine's, Chivas Regal, Royal Salute and The Glenlivet Scotch whiskies, Jameson Irish whiskey, Martell cognac, Havana Club rum, Beefeater gin, Kahlúa and Malibu liqueurs, Mumm and Perrier Jouët champagnes, as well Jacob's Creek, Brancott Estate, Campo Viejo, Graffigna and Kenwood wines. Pernod Ricard Thailand is one of 85 market companies globally and was established in 2002. Pernod Ricard Thailand has been the wine and spirits partner of lebua since 2006, collaborating to create the world's highest al fresco champagne bar, Flute, A Perrier Jouet bar, and now partnering again on the world's highest outdoor whisky bar: Alfresco 64, A Chivas Bar.