Chef Michael Pirolo of South Beach's Macchialina is serving up dinner-party inspiration with his signature Spaghetti con Vongole recipe utilizing the classic French Noilly Prat vermouth. Known for his creative take on fresh seasonal pasta dishes, the James Beard Award Semifinalist turns to vermouth for extra flavor. Of this tried-and-true recipe, Chef Michael says "the delicate flavor of the Noilly Prat vermouth helps accent the flavors of the leeks and clams without overpowering them. There's a buttery finish to the dish which you can't achieve with wine." The recommended cocktail to serve alongside this five-star meal? With the added ease of the three ingredient Noilly Prat 50:50 martini, you've created impressive dinner party spread, sans the hassle of multiple dishes and obscure ingredients.
Chef Michael Pirolo's Spaghetti con Vongole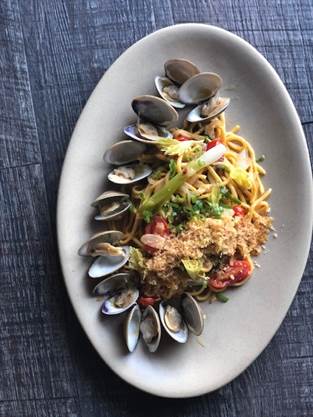 Ingredients:
4 oz fresh spaghetti (can be purchased through Macchialina)
1.5 tablespoons diced leeks
1 garlic clove thinly sliced
½ shallot sliced
3 scallions whites, whole
3 scallion greens sliced
4 cherry tomatoes halved
2 tbsp olive oil
1 lemon zested
2 Tbsp toasted Panko Breadcrumbs
Celery leaves to garnish
¼ c Noilly Prat
12 ea clams
1 tsp chili flakes
¼ lemon, juiced
1) In a large sauté pan add the olive oil and leeks, garlic, scallion whites, chili flakes, & shallots and sauté on low heat until translucent
2) Add the clams and the Noilly Prat and cover until the clams open
3) Cook the spaghetti in plenty of salted water. Once cooked, drain and add to the sauté pan and cook together until the sauce has a nice consistency. Finish with scallion greens and lemon juice.
4) Plate and top with lemon zest and toasted panko breadcrumbs.
50:50 MARTINI
It's widely considered that Noilly Prat was used in the first ever 50:50 Martini cocktail created in 1911 by Martini di Arma di Taggia at the Knickerbocker Hotel in NYC.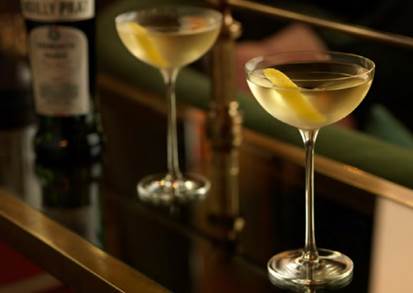 INGREDIENTS
50 ml Noilly Prat Extra Dry or Noilly Prat Original Dry
50 ml BOMBAY SAPPHIRE® Gin
Lemon twist (natural zest as sharp cut)
METHOD
In a mixing glass pour the ingredients over cubed ice and stir well to chill. Strain into a frozen martini glass and garnish with a zest of fresh lemon