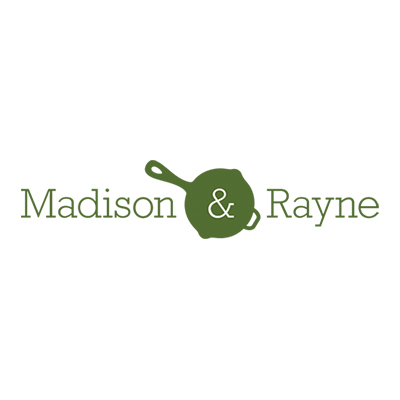 Fans of Madison & Rayne, Chicago's popular gourmet meal kit designers, will be thrilled to learn that Executive Chef Josh Jones has developed a delicious new package that is designed for the barbecue. The BBQ package is a treat for gourmet burger lovers, featuring ground short rib burgers, bacon and onion jam, brioche buns, aged cheddar cheese, lettuce & tomato, whole grain mustard coleslaw, and fingerling potato salad. The package is priced at $13 per serving. Burgers on grill
"We've always emphasized fresh seasonal ingredients, and so we're happy to add a warm weather barbecue component by offering our customers a fine burger meal that is specifically designed for outdoor grilling," said Melanie Mityas, co-founder of Madison & Rayne. "Our BBQ packages will give grilling fans a wonderful option that's easy to prepare, healthy and delicious."
The first BBQ package will be delivered to customers on Friday, May 23, just in time for Memorial Day weekend. Customers must order their BBQ meal kits by Tuesday, May 20.
Madison & Rayne has built a growing throng of regular customers in the Chicago area by offering a rotating, seasonal menu of delicious meal kits that include all the ingredients, fully prepped and ready to cook at home. Customers visit the website, www.madisonandrayne.com, peruse the menu and choose their meals and order online. Sides and desserts are available in addition to the entrées. The meals are designed with food lovers in mind; they are restaurant quality and portions are generous.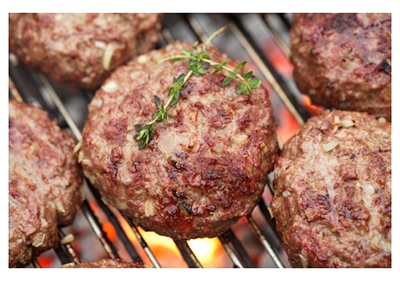 The process is very convenient. Customers must order their meals for the coming week by Saturday, and Madison & Rayne delivers the kits the following Tuesday directly to customers' homes. Complete step-by-step directions are included. Meal preparation time takes between 15 and 30 minutes from start to finish.
"It's always fun for us to develop new meals, based on what's freshly in season," said Chef Jones. "We keep it interesting with new tastes and flavor combinations, but we also make sure to have a standard selection of customer favorites on the menu." Gluten-free options are available upon request.
About Madison & Rayne.
Partners Chef Josh Jones (former chef de cuisine at Shawn McClain's Spring Restaurant) and entrepreneur Melanie Mityas are on the forefront of a revolution in home cooking. Madison & Rayne is providing "meal kits" so anyone from novice home cooks to culinary pros can prepare gourmet cuisine at home; it's like having a personal chef–only you're the chef who does the final cooking.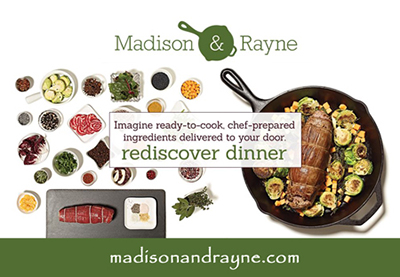 Madison & Rayne meals are all fresh, never frozen. It isn't about diet. It's about healthy eating and home cooking made quick and simple, and the food is outstanding. The tedium of prepping ingredients is already done and so most meals take only between 15 and 30 minutes from start to finish. Madison & Rayne will even adapt meals for special needs like gluten intolerance or vegetarian.
Customers go online at www.madisonandrayne.com, peruse the meals of the week and order them. Madison & Rayne delivers the food to the customers at their homes, at no cost (Chicago metro area only). It couldn't be easier.
Meals are prepped and each element is provided in a coded container or vacuum sealed bag. Ingredients are fresh and as locally, sustainably produced as possible. Chef-made sauces are already prepared and included. Customers simply cook the food—detailed directions are given and there is a telephone hot line where customers can talk to Josh or another Madison & Rayne chef if they run into difficulty.
For more information about Madison and Rayne, please visit the website at www.madisonandrayne.com.