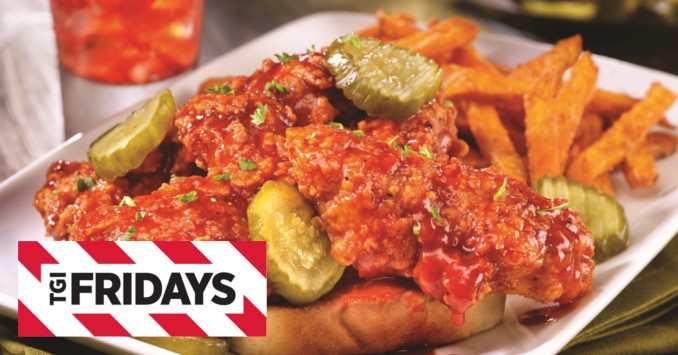 MAKE EVERY DAY FEEL LIKE 'FRIYAY' WITH TGI FRIDAYS® NEW DINE & DRINK PAIRINGS THAT ARE THE PERFECT MOTIVATION FOR A NIGHT OUT
New menu pairs dinner and drinks for just $12, leaving no excuse for an evening on the couch

The 'night out' is in danger, as dinner, drinks and amusement are just one click away thanks to the latest innovations in meal delivery and streaming entertainment. The cost: your social life. The better option: TGI Fridays® new Dine & Drink Menu, giving you a reason to get off of the couch and go out with friends without breaking the bank.
Now guests can enjoy #FridayFeels any day of the week with their choice of an entrée and beverage, including liquor, beer or wine, bundled for $12 (AKA way less than you'd pay with that food delivery service).The new Dine & Drink menu, available today through June 19 at participating restaurants, will inspire couch potatoes to assemble a posse and have a #Partyfor12: choose one of FridaysSM new entrées and an alcoholic or non-alcoholic beverage just for $12
"It's time to trade a night in with the DVR for some real face time with friends," said Brian Gies, Chief Marketing Officer. "With countless options on our new Dine & Drink menu and a great atmosphere for some serial socializing, Fridays is a no-brainer to break that stay-in slump."
The Fridays menu offers pairing suggestions based on trending entrées and flavors so guests can "choose-their-own-culinary-adventure" by mixing and matching however they want.
"We developed the Dine & Drink menu based on current food trends, ensuring that we give our guests unique flavor combinations that you can't get anywhere else or make at home," said Dan Dillon, Vice President of Menu Innovation "Delicious options like Sriracha Shrimp Naan'wich with seasoned fries and a Blackberry Margarita will make even your best friends have food envy."
The new Dine & Drink menu also remixes throwback fan favorites, like the Beef Stroganoff Pasta, and introduces new dishes like the Hot Southern Chicken with spicy ghost pepper honey sauce to get things turned-up, flavor-wise. To complement the "dine," drink specials include premium craft beers, wines and high quality, hand-crafted cocktails complete with fresh fruit.
Dine…
Hot Southern Chicken – Crispy chicken fingers coated in spicy ghost pepper honey sauce served on Texas toast with pickles and a side of sweet potato fries.
Sriracha Shrimp Naan'wich – Sriracha glazed shrimp, grilled and chilled then drizzled with balsamic glaze on fresh grilled naan bread with cucumber yogurt sauce, balsamic onions, garlic and basil, bruschetta, cucumbers and mixed greens with kale. Served with choice of fries or side salad.
Beef Stroganoff Pasta – Slow braised beef, red onions, bacon, Cremini mushrooms, and fettuccine in a creamy beef stout sauce with ranch sour cream and green onions brought back to the menu as a guest favorite.
Half-Rack Bacon-Crusted Ribs – Fridays world-famous half rack of baby back pork ribs sauced with a sweet onion chipotle glaze and covered with chopped Applewood-smoked bacon. Served with seasoned fries and coleslaw.
Jack Daniel's® Hickory-Smoked Chicken – Fresh all-natural chicken breast fire-grilled over smoked hickory and basted with Jack Daniel's® glaze, served with of two choice sides.
Jack Daniel's® Hickory-Smoked Mahi – Wild-caught Mahi perfectly seasoned with hickory-smoked sea salt and fire-grilled over hickory planks and bated with Jack Daniel's® glaze, served with choice of two sides.
Petite Sirloin – Six ounces of fresh USDA choice top sirloin trimmed to deliver a classic American cut, fire-grilled to order and topped with parmesan butter. Served with two choice sides.
Truffle Stacked Burger – A blend of four cheeses with truffle oil, onion-bacon jam and Asiago between two fresh burgers with truffle aioli and Applewood-smoked bacon. Served in freshly baked buns with seasoned fries.
And Drink…
Peach Long Island Tea – A seasonal twist with peach fruit mixed with New Amsterdam peach vodka.
Ruby Red Spiked Lemonade – Real crushed raspberries, Deep Eddy Ruby Red grapefruit – flavored vodka remixed with refreshing house-made lemonade.
Blackberry Margarita – Premium blackberries added to one of the best-selling margaritas on the menu.
Wine – A variety of top-selling house wines include a varietal for everyone: white, blush and red.
Beer – A wide selection of craft beers on tap.
Find more information on Dine & Drink and participating Fridays locations by downloading the app or visiting Fridays.com.
About TGI Fridays
In 1965, Fridays opened its first location in New York City. Today, there are over 900 restaurants in 60 countries which offer high quality, authentic American food and legendary drinks, served with genuine personal service. Bringing people together to socialize and celebrate the freeing and liberating spirit of "Friday" is the concept's founding premise, from which the brand promise "In Here, It's Always Friday®" was born. For more information, visit www.fridays.com or follow us on Twitter at @TGIFridays.