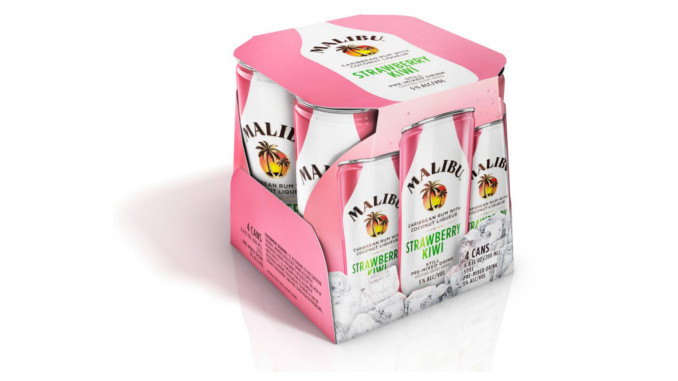 MALIBU® ANNOUNCES NEW STRAWBERRY KIWI CANS TO JOIN POPULAR READY TO DRINK PORTFOLIO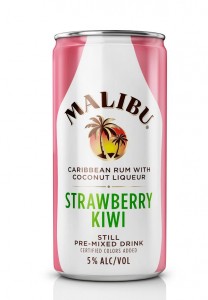 Malibu®, the number one selling Caribbean Rum with coconut liqueur, announces the introduction of Malibu Strawberry Kiwi Cans as the newest addition to its popular ready-to-drink portfolio beginning this February. The pre-mixed cocktail that combines the juicy flavors of ripe strawberry and kiwi with a hint of Malibu Coconut, will be available in convenient, single serve cans perfect for outdoor and on-the-go occasions throughout the spring and summer seasons. Malibu Strawberry Kiwi Cans join Malibu's current line of flavors: Malibu Fizzy Pink Lemonade, Malibu and Pineapple and Malibu Island Spiced & Club Soda.
"Malibu Cans are the perfect drink choice for outdoor barbecues, beach days and poolside parties, providing consumers with delicious refreshing flavors in the convenient, grab-and-go packaging that they seek," said Jennifer Gordon, Brand Director, Malibu Rum.
To increase engagement and drive consumers in-store, Malibu will support the launch with digital media promotions, sampling events and public relations outreach, including full integration into all Malibu social media platforms. At retail, engaging POS including shelf cards, cold box clings, single serve bins, can racks and dump bins will encourage trial and purchase. Off-premise sampling in key markets will drive trial and awareness of the Malibu Cans portfolio.
Gordon continued, "Malibu Cans have been incredibly popular within the single-serve cocktail category. Increasing our cans portfolio will provide additional opportunity for trial and allow retailers the opportunity to capitalize on the rapidly growing ready-to-drink segment. "
Malibu ready-to-drink cocktails are available in 200 ml cans with a suggested retail price of $9.99 for a 4-pack or $2.50 for a single can.
About Pernod Ricard USA®
Pernod Ricard USA is the premium spirits and wine company in the U.S., and the largest subsidiary of Paris, France-based Pernod Ricard SA, which employs a workforce of nearly 19,000 people worldwide and is listed on the NYSE Euronext exchange (Ticker: RI).
The company's leading spirits and wines include such prestigious brands as Absolut® Vodka, Chivas Regal® Scotch Whisky, The Glenlivet® Single Malt Scotch Whisky, Jameson® Irish Whiskey, Malibu®, Kahlúa® Liqueur, Beefeater® Gin, Plymouth® Gin, Seagram's Extra Dry Gin®, Martell® Cognac, Hiram Walker® Liqueurs, Pernod®, Ricard® and Avión Tequila®; such superior wines as Jacob's Creek®, Kenwood® Vineyards and Brancott Estate®; and such exquisite champagnes and sparkling wines as Perrier-Jouët® Champagne, G.H. Mumm™ Champagne and Mumm Napa® sparkling wines.
Pernod Ricard USA is based in New York, New York, and has roughly 850 employees across the country. Pernod Ricard USA urges all adults to consume its products responsibly and has an active campaign to promote responsible drinking. For more information on this, please visit: www.acceptresponsibility.org.