Fast Casual Chain Continues National Expansion with Two New Multi-Unit Development Agreements
ALPHARETTA, Ga. (Sept. 16, 2013) – McAlister's Deli, a leading fast casual restaurant, announced plans to develop 17 restaurants in Indiana, South Carolina and Georgia as part of new multi-unit development agreements with two existing franchise groups.
"We are pleased that our existing franchisees are continuing to expand with McAlister's Deli," said McAlister's Deli President and CEO Frank Paci. "Their commitment to develop demonstrates their confidence in the brand's strength and its ability to provide franchisees with an attractive investment."
McIndy Ventures, LLC, a current McAlister's franchisee with 16 restaurants, will develop 14 new restaurants in Indiana with the first location scheduled to open in the last quarter of 2014. "We appreciate the great response we have received thus far in Indiana and look forward to introducing new guests to our great food and genuine hospitality," says Charlie Hensley, owner of McIndy Ventures. "With this new development agreement, we will almost double our presence in the state and plan to open the first location in late 2014."
DMAC81, LLC, an existing franchisee with 10 McAlister's restaurants, plans to open three restaurants in Georgia and South Carolina with the first location slated to open in second quarter of 2014 in Georgia. "We are excited to announce our new locations and look forward to serving new communities starting next year," says Dale Mulvey, owner of DMAC81, LLC. "Our expansion will begin with a location in Pooler, Ga. with additional growth to follow."
McAlister's has undertaken initiatives to strengthen its brand, including upgrading menu offerings and improving speed of service. Technomic recently recognized the brand as the top chain in the fast casual industry for food and beverage and as one of consumers' Top 5 Favorite Chains in the country. Fast Casual also ranked the brand No. 2 on its Top 100 "Movers and Shakers" list of 2013 and Paci was named one of the "Top 20 People" in the industry to watch.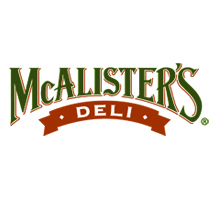 Founded in 1989, McAlister's is a fast casual restaurant chain known for its sandwiches, spuds, soups, salads, desserts and McAlister's Famous Sweet Tea™. In addition to dine-in and take-out service, McAlister's also offers catering with a selection of sandwich trays, box lunches, desserts, a hot spud bar and more. With numerous industry accolades, McAlister's has more than 320 restaurants in 23 states. The company has corporate offices in both Ridgeland, Miss., and Alpharetta, Ga. For more information, visit
www.mcalistersdeli.com
.