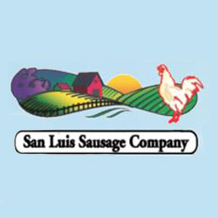 ORANGE, Calif., Sept. 16, 2013 – San Luis Sausage introduces two new mango varieties of all-natural, preservative- and gluten-free chicken sausage to its gourmet line. Available through wholesale in October, Mango Jalapeño Chicken and Mango Chicken Breakfast Sausages are blended with the unique flavor of juicy mangoes and spices that will liven up any meal.
The Mango Jalapeño Chicken Sausage combines hand-mixed spices, cilantro and ginger puree with the sweetness of mango and the bite of jalapeño to create a diverse mix of sweet and spicy flavors. The Mango Chicken Breakfast Sausage is filled with whole cuts of premium chicken, mango puree and a hand-mixed blend of sage, nutmeg and cinnamon, creating a savory flavor to enhance any breakfast dish. The new flavors will appeal to the growing number of consumers with gluten intolerance and also to those looking for a healthy – and delicious – sausage choice.
"Mango is rich in vitamins A and C and blends deliciously with our chicken sausage," said San Luis Sausage founder Grace Knight. "For a more gourmet spin, we've added ginger and jalapeno to create a sausage ideal for lunch or dinner and added sage, cinnamon and nutmeg to a lighter version, which pairs perfectly at breakfast."
The Mango Chicken Jalapeño Sausage can be prepared in a number of ways and added to a variety of dishes, including: whole, accompanied with fresh vegetables, sliced to give kick to a kabob or out of the casings as a new twist on gourmet tacos or even chili. They pair well in any form with a light Mexican beer or margarita.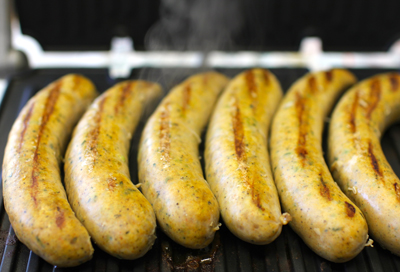 The hint of cinnamon and nutmeg in the Mango Chicken Breakfast Sausage could complement a plate of classic cinnamon French toast and Bellini, or as a healthy side to a classic egg scramble and Bloody Mary.
San Luis Sausage has also added Smoked Cheddar Bratwursts to its wide-ranging line of gourmet sausages. The six-inch links are hickory smoked bratwursts filled with fresh pork and real cheddar cheese. San Luis Sausage's Smoked Cheddar Bratwursts are currently available for distribution to restaurants, hotels, resorts and other foodservice channels.
"After receiving rave reviews for these juicy brats at specialty events, we are excited to be able to offer them for the first time to our customers," said Grace Knight, Owner, San Luis Sausage. "Restaurant and bar patrons will love this gourmet take on a traditional bratwurst."
San Luis Sausage's Smoked Cheddar Bratwursts are the perfect size to dip in a chipotle sauce, serve as an appetizer or wrap in a flaky croissant for an unconventional 'pigs-in-a-blanket' hors d'oeuvre. Paired with a honey blonde or amber ale, these sausages are a savory, comfort food complement to any fall menu.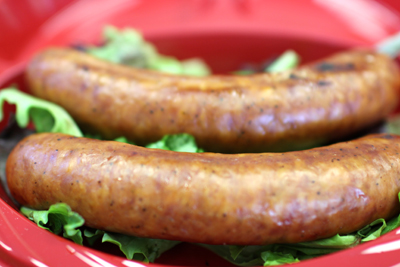 San Luis Sausage specializes in preservative-free handmade sausages that are distributed to high-end hotels, resorts and restaurants throughout the Southwest. Owner Grace Knight was one of the pioneers of chicken sausage, starting her business in 1991, and makes her products with only whole cuts of meat, locally sourced fruits and vegetables and blends of hand-mixed spices. San Luis Sausage is currently found on menus at the Ritz Carlton/JW Marriott at LA Live, the St. Regis, Hiltons, Westins, The Wynn and The Venetian in Las Vegas and more. San Luis Sausage offers seventeen different chicken, pork, lamb and turkey varieties, including: Fiesta Chicken Sausage, Lamb Merguez, Blueberry Chicken, Turkey Italian and familiar favorites like Chicken Apple or Pork Andouille. Each 15-pound case contains three freezer-packed, five-pound packages of links.
For more information on San Luis Sausage, visit: www.sanluissausage.com. Find San Luis Sausage on Facebook and Twitter.