Mexico's Superstar Chefs to Fuse Their Culinary Talents
at Hotel Matilda 'Supper Club'

July 24
San Miguel de Allende, Mexico – July 10, 2015:
Enrique Olvera, recognized as Mexico's leading chef, and the dean of Oaxacan cuisine, Alejandro Ruiz, will combine their extraordinary culinary talents on
July 24, 2015
for a 'Supper Club' at avant garde Hotel Matilda in San Miguel de Allende.
The extravagant gastronomic event will kick off at
8:00 p.m.
in Hotel Matilda's Moxi restaurant, which is operated by Chef Olvera and under his guidance has evolved into a foodie destination in Mexico. The multi-course dinner will be paired with Tequila Casa Dragones Joven, Cerveza Allende and wines from Lechuza Vineyard in the Valle de Guadalupe. The cost is 1,500 pesos, or about $95. For reservations:
restaurant@hotelmatilda.com
.
"The Supper Club with Chefs Enrique and Alex promises to be the most dazzling epicurean experience ever at Hotel Matilda," said Bruce James, Director of Hotel Matilda. "Food lovers and gourmands will not want to miss this taste bud-popping event by Mexico's superstar chefs."
Hotel Matilda hosts special Supper Clubs several times a year in Moxi that feature famous guest chefs and original menus and wine pairings. The Supper Clubs, combined with Chef Olvera's acclaimed menu in Moxi, have fired a reputation in Mexico for the hotel as a culinary innovator.
Chef Alejandro Ruiz, who learned the secrets of Oaxacan cuisine from his mother, creates simple and traditional yet sophisticated dishes that are typical of the region. His cuisine is refreshingly honest yet bursting with unique color combinations and striking flavors. In 2014, his dining room in the Casa Oaxaca Hotel was named to the prestigious San Pellegrino list of the 50 Best Restaurants of Latin America.
Chef Enrique Olvera has enjoyed international recognition for his celebrated Mexico City restaurant, Pujol, which is rated #16 on the San Pellegrino list of the World's 50 Best Restaurants, and more recently for his first New York establishment, Cosme. Chef Olvera evolves time-honored Mexican culinary traditions with the latest cooking techniques, unexpected ingredient combinations and unique artistic presentations. He brought this culinary philosophy to Moxi to design a menu that is a reflection of the culture of today's San Miguel de Allende. "Our concept unites the sophisticated and cosmopolitan scene in this historic colonial town with traditional dishes that are pure and honest," explained Chef Olvera.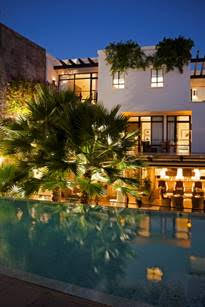 Hotel Matilda is a dynamic contemporary hotel celebrated for its chic lifestyle-focused guest experience and one-of-a-kind art and culinary events. The 'Matilda lifestyle' guest experience combines an award-winning holistic spa; Bar Müi known for its creative mixology; designer rooms and suites; a vibrant art-gallery-like interior – the first and only contemporary ambiance in colonial San Miguel de Allende – filled with a eclectic collection of dramatic contemporary works by noted artists, many specifically commissioned for the hotel; and world-class dining by Enrique Olvera in Moxi.