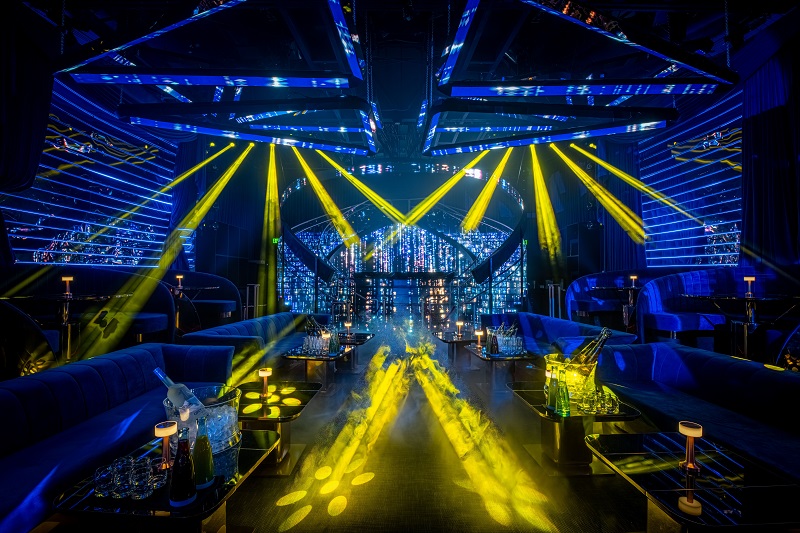 Miami Beach arrives in Los Angeles. Taking over the old Beso space in the heart of Tinsel town's boulevard of the stars, nestled on the corner of Ivar & Hollywood Blvd., is a new elevated concept of supper club dining with MainRo, which opened its doors on Friday, February 25. Conceptualized by hospitality connoisseur Romain Zago with partner Michael K., who created and designed the space with Italian architect Gianni Ranaulo, reigns from Miami Beach's premier destinations Mynt Lounge and Myn-tu. MainRo takes an innovative approach to usher in a new era of nightlife by meticulously blending dining, cocktails and theater under one roof to make a night out one to remember at a single destination.
Take a step into Los Angeles' most technologically advanced dining and entertainment establishment, MainRo. The lavish 7,500 square foot new contemporary space is constructed with an ultra-superior attention to detail. Diners enter the venue, stop at the lounge's main bar and grab a drink from the fully stocked counter where they can have anything their heart desires. Take in the sights of the draped hues of blue representing a droplet of water which takes a focal point on the supper clubs' walls as design inspiration. The sprawling space is adorned with 16 triangle-shaped chandeliers outfitted with ultra 4K digital mapped screens that move independently throughout the evening. Luxurious blue velvet booths and lounge seating embellish the supper club's furnishing tying into the club's artistic brainwave. Electronic dining tables decorate the space and quickly transition from dining to nightlife with just a touch. The walls of MainRo are accented with reflective paneling housing ultra 4K screens to create an awe-inspiring, fully immersive state of the art lighting and visuals paired with world-class dining and entertainment. The stage at MainRo takes front and center as Zago's masterpiece. A dual ornate staircase outfitted with the ultra 4K screens on every step illuminate the work-of-art that will have Las Vegas resident DJs flocking to Los Angeles to spin.
MainRo's culinary concept takes a modern approach with locally-sourced ingredients and imported premium meats blending bold French, Japanese and Vietnamese flavors that will fulfill the senses with arousing fragrances and crave-worthy fare. The shared-plate concept will offer a cache of starters, caviar, platters, soups, sushi, entrees, prime steaks, Japanese Wagyu and vegetarian dishes to create an array of options for every palate. Zago's personal favorite dishes are noted with an Ó on the menu including the crispy rice caviar, creamy rock shrimp, hamachi jalapeno, truffle wagyu bites, Colorado lamb rack and hot stone wagyu beef. Other menu highlights include a day-aged 36 oz. bone-in tomahawk steak served with homemade sauces, sea bass den miso, a pan seared Chilean sea bass with caramelized miso sauce, and a Wagyu beef carpaccio served with thinly sliced sashimi beef that has been pan seared with hot olive oil and sesame seeds. Seating for the supper club dinner will be available in multiple services from 6:30 to 8:30 p.m. followed by a second round of dinner and entertainment from 8:30 to 10:30 p.m. Guests will experience a show unlike any other, an artistic blend of live musical acts and performances throughout the evening, think interactive dance party with musical arrangements and deejays.
"We are creating a modern and technological version of the Moulin Rouge, but the difference here at MainRo is you are the star and the show is happening in front, behind and may even be on top of you" says Romain Zago Founder of MainRo.
MainRo's masterful cocktail collection of one-of-a-kind sips – many of them made with premium spirits – along with timeless and whimsical selections served in elegantly designed crystal-cut tumblers. MainRo's sparkling creations rise to the top. The B. Bardot is a bubbly number bearing the name of the Paris-born actress Brigitte Bardot. Strong, powerful and elegant like Bardot, this cocktail pairs Empress Gin, clarified lemon and crème de violette, sage and topped with champagne. The Tea, an approachable libation mixed Earl Grey infused Belvedere Vodka, lemon pear, honey, egg white and caraway served in a martini glass. MainRo's premier cocktail dubbed by the name of the supper club, MainRo, perfectly blends Hennessy XO, Clase Azul Reposado, passion fruit, pernod, dulce de coco leche and lime.
MainRo is a senses-stimulating experience that's smart and sophisticated. Come to Hollywood's newest dining and nightlife adventure where you can live out your wildest fantasies. Bienvenue a MainRo.
MainRo is located at 6350 Hollywood Blvd, on the corner of Ivar and Hollywood. MainRo is open Thursday through Saturday from 6:30 p.m. to 2:00 a.m. For additional information, reservations and bottle service please visit their Instagram at @MainRo.La.