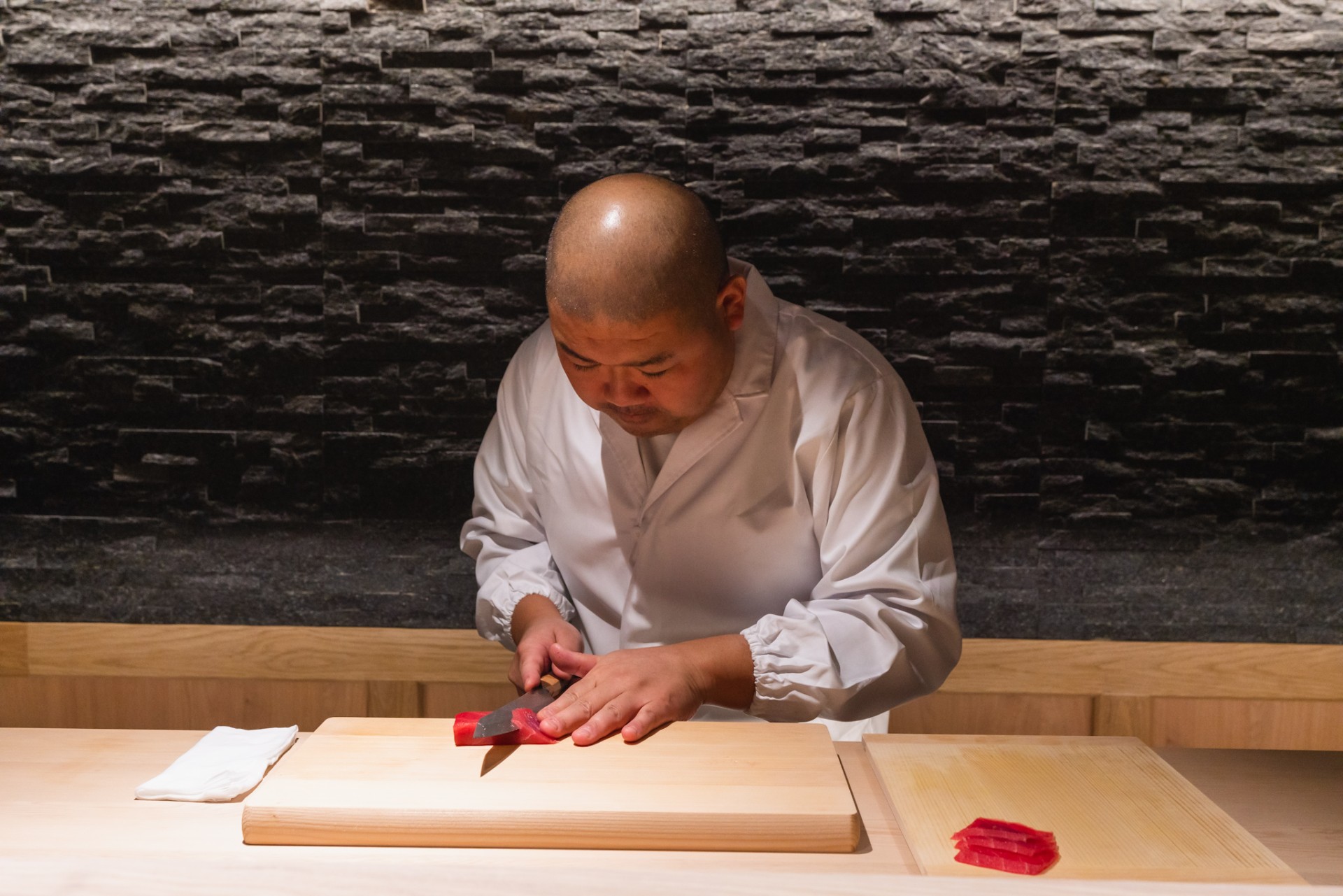 In late November, Taku, a Japanese omakase opened its doors in the heart of London in Mayfair. The restaurant, headed up by Chef Takuya Watanabe, formerly of Jin, the first sushi omakase in Paris to receive a Michelin star, and founded by renowned London restaurateurs the Leong Family, with brothers Geoff and Lucas co-founding the restaurant alongside their father. Taku is an experience-led restaurant where full interaction with the chefs will showcase the theatre of the kitchen. The 16-cover restaurant highlights the best ingredients that the British Isles has to offer in a traditional yet modern omakase setting.
Located on Albemarle Street, Taku focuses on the spirit of omakase: to respectfully leave the decision with the chef. As such, a daily-changing tasting menu will be prepared only using the freshest and locally-sourced ingredients to take you on a memorable dining experience. The menu is based on seasonal produce, selecting the finest ingredients and daily catches. There are three menus, Lunch menu at £180 with 17 courses, the Signature menu featuring 20 dishes priced at £280 and the Prestige priced at £380 which includes ingredients such as caviar, truffle and additional courses.
Having a set menu allows Chef Taku the time to prepare the dishes in edomae style. Considered to be the most traditional form of sushi making, the method involves curing the fish and dates back centuries to when sushi in Japan's capital city of Edo – now called Tokyo – was sold by street vendors as a snack and stored in vinegar to keep it from spoiling. Today, leading sushi chefs continue to use this technique to preserve the fish when it's at its freshest and allows them to gently bring out the umami flavours hidden if you simply cut and serve the fish.
The drinks list features an array of fine and rare wines and champagnes and specialty sakes selected by the sommelier, Bowie Tsang, to perfectly compliment each course. Elements of wood and natural stone complimented by a waterfall of light makes this one of the most intimate and delicious dining experiences in the U.K.
Takuya (Taku) Watanabe first started his career in sushi at age 19 in Japan. After training at a traditional Kaiseki restaurant for three years, he then refined his sushi and Japanese culinary skills until he became chef patron at Jin Paris where he obtained a Michelin Star in the first year, which he has held for 10 years.
Speaking of the opening, Chef Taku says "Bringing an omakase restaurant to London has been a dream of mine for some time now due to Britain's access to the high quality local fish and crustaceans available on UK shores – an integral element for sushi making. I am delighted to be sharing my dishes with the people of Mayfair in such an intimate dining experience. "
Taku Co- Founder, Geoff Leong commented "Our family has been instrumental in bringing East Asian cuisine to London over the last four decades, ever since my father and uncle founded Zen – a group Asian restaurants with locations in Chelsea, Mayfair and Hampstead. We have always wanted to push the boundary of the UK's perception of Asian food through the creativity of our chefs and we will be applying this same ethos to Taku – now the only Japanese restaurant in our portfolio – where diners will be left in Chef Patron Taku's expert hands".
Lucas Leong, Co-Founder commented: "I met Chef Taku in December 2021 when I visited Jin Paris for lunch. I had heard many great things about Chef Taku, but my meal surpassed my expectations. In my perspective any good sushi chef can make good sushi, but what separates the good from the best are the refined details in each piece. Chef Taku's rice is unique to him, as it consists of his own vinegar and salt composition. Each piece of sushi is crafted with the perfect rice, vinegar to salt ratio and Chef Taku's own blend of soy-sauce, making Chef Taku's sushi distinctive and memorable. After chatting we formed a friendship – this is when the idea for Taku began".
Address:
Taku Mayfair
36 Albemarle Street
London
W1S 4JE
Takumayfair.com
@takumayfair
About Geoff Leong
Born in Hong Kong, Geoff's venture into restauranteering was heavily influenced by the burgeoning fine dining scene the city had to offer. Arriving in London, Geoff thought there was a missing culinary experience throughout the UK that he was so fond of, and decided to create his own with his learnings from childhood home.
Working with his family, Geoff and the Leong's began to slowly introduce regional Chinese cuisine into London's Chinatown, which had favoured Cantonese menus at the time. The family sprung up iconic restaurants such as Dumplings Legend and Leong's Legend, which both quickly became London institutions due to their unmatched flavours and variety of dishes offered from regional china.
Geoff has similarly seen success in his Japanese culinary ventures, having been involved at Koi Kensington, which sparked his interest in Japanese Omakase leading to the newly launched Taku.
Geoff's ventures go far beyond fine food. He has worked in hosting events throughout the West End, founded the speakeasy 'Opium', and fundraising through 'the arts', as a patron supporting Grenfel's victims alongside Sotheby's, co-chairing the Artist Patron at The Barbican and set up non-profit free art exhibition over the past ten years in Cavendish Square.
About Lucas Leong
Lucas Leong is the founder of Alta Foods , an online marketplace which delivers meals made by iconic eateries in London nationwide across the U.K. mainland. Lucas founded Alta in April 2020 during the height of the COVID-19 pandemic when the first lockdown began and started to deliver pre-cooked meals made by restaurant chefs across the whole of London.
Now, Alta delivers nationwide across the whole of the U.K. and stocks over 100 restaurant-made meals and treats for customers to order and eat authentic, whenever they want.