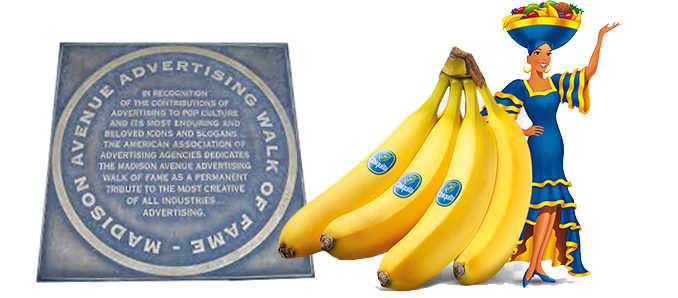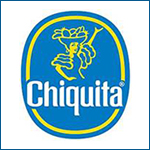 Chiquita Brands International, the world's foremost banana purveyor, is honored to announce its legendary icon, Miss Chiquita, has been inducted into the Advertising Week Madison Avenue Walk of Fame. Now in its fifteenth year, Advertising Week's Madison Avenue Walk of Fame recognizes and celebrates the finest advertising icons and slogans in the industry, as voted on by the public.
Miss Chiquita was inducted into the Class of 2018 Icons along with legendary brand mascot Burger King at the inaugural Madison Avenue Walk of Fame: Icon Awards on Monday, October 1. As part of this year's special event, the winners, as well as other prominent brand mascots, were invited to walk the very first Icon Red Carpet in the heart of Times Square.
In her early years, Miss Chiquita found fame in the fruit aisle as an animated banana. Drawn in 1944 by cartoonist Dik Browne, creator and illustrator of Hägar the Horrible and Hi and Lois comics, Miss Chiquita put a personal face on Chiquita bananas. She showcased a festive and fun personality, as the resident expert for everything you ever wanted to know about bananas.
Since 1963, a likeness of Miss Chiquita has appeared on the labels that identify Chiquita bananas and other products. She was depicted as a banana until 1987, when artist Oscar Grillo, creator of the Pink Panther, transformed her into a woman. The change reflected the image the public had of Miss Chiquita as a real person. Miss Chiquita remains the indisputable first lady of fruit, bringing smiles to banana fans around the world.
"Beyond making bananas ubiquitous, we were the first banana brand to put a seal of quality
on our product: our iconic Chiquita Blue Sticker. We were also the first company to brand a banana through mass media." said Chiquita Brands International Global President, Carlos Lopez Flores. "With the introduction of Miss Chiquita, we created a fun and provocative brand character that educated the public on how to consume bananas —something that wasn't common knowledge in the 1940s. We are truly humbled by this recognition in Advertising Week's 15th Anniversary Opening Gala."
Miss Chiquita's current look was designed over twenty years ago. Approaching 75 years since her creation, she will be revealing a new look at the Produce Marketing Association Fresh Summit on October 19th in Orlando, FL. We invite the lucky attendees to swing by our booth number 1843, and be part of this exciting mark on Miss Chiquita's life. For more information on Chiquita Brands International, visit www.chiquita.com.
About Chiquita Brands
Chiquita is a leading global produce company employing 20,000 people across 25 countries. Serving nearly 70 countries, Chiquita provides consumers and customers with the highest quality of fruit and service, making Chiquita the banana of choice. The company helps create a positive impact by implementing the principles of sustainability in all its business practices under the "Behind the Blue Sticker" initiative. Starting in the 1990s, Chiquita was the pioneer in promoting good farming practices and continues to help protect the environment and support farming communities by working under better-than-industry-standard agricultural work practices. Chiquita bananas are fat-free and cholesterol-free and are a great source of potassium and vitamins.