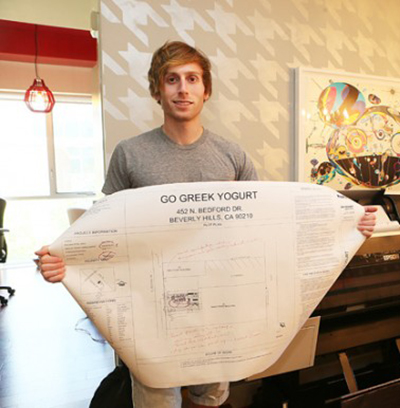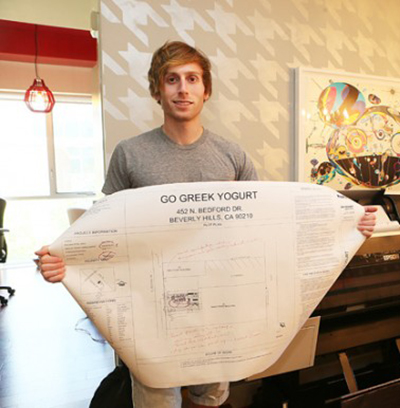 Modman is a Branding, Design, and Construction firm based in Los Angeles that is responsible for two of LA's buzziest new franchises, Kreation Juicery andGo Greek Yogurt. More than simply a design and branding firm, Modman is responsible for brokering franchise licensing deals, scouting the perfect neighborhoods and storefront locations, taking care of city permits and licenses, and pushing these franchises into fruition with unique, consumer-driven campaigns for its clients.
With only one store currently opened, Go Greek Yogurt has quickly become a favorite stop for Beverly Hills locals and the demand has sped the opening of new locations into overdrive. Capitalizing on the latest trend in the delicious health food craze with a beautiful and unique storefront and interior that appeals to tourists, neighborhood residents, and everyone in between, Modman is responsible for fighting for the strict and complicated permits required by the city of Beverly Hills when taking on projects that require reconstructing a building's foundation. As the first and only walk-in and carry-out Greek yogurt shop in the U.S., Go Greek also can boast that it is the only Greek yogurt on the market that is actually imported from Greece. Plans are to expand to Brentwood and Canada and beyond for early 2014, and already the store has gained notoriety, appearing in Los Angeles Business Journal, Beverly Hills Courier, and as a "favorite spot" of actress Sofia Vergara's in Life & Style.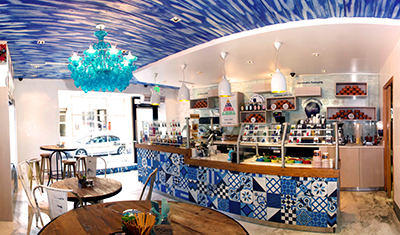 Kreation Juicery's memorable look is found in each of its seven locations, but each store has unique design elements to make them all their own, including a full-on Kreation restaurant in Venice Beach's trendy Abbott Kinney neighborhood as a sit-down or takeout lunch spot, as well as the addition of the first ever 24-hour fresh-pressed juice vending machine complementing the Beverly Hills Kreation storefront. The "live" bar where customers can handpick the fruits and vegetables they want in their juices is one of the highlights, along with the unique design, sustainable wood, and the fresh-pressed, local, and organic ingredients that strike a chord with today's health-conscious consumers. Attention to detail, right down to the logos and menus, help to make the store "franchise-able" through recreating them efficiently and economically.
About Modman
Modman Enterprises has the unique ability to build unique, consumer-driven campaigns for its clients, including hospitality, health, retail, and food. Co-founder and LA-born Creative Director Andrew Modlin is an artist and entrepreneur still in his 20's with a fine arts resume that would rival artists twice his age. Modlin, along with partner Adam Bierman, has become known for transforming obscure materials and ideas into something thought-provoking yet accessible, working with clients to reach their intended audiences in the most efficient and cost-effective manner. With their franchises now popping up all over Los Angeles and surrounding areas, they have become the "it" men of design as innovators in franchising.
The Modman have already been covered in LA Canvas, Business News Daily, CNBC, numerous online and regional newspapers, and Bierman recently appeared on the cover of Los Angeles Business Journal. For more information please visit www.modman.us