MSC CRUISES ELEVATES DINING AT SEA WITH GREATER FLEXIBILITY
MSC Cruises Introduces Enhanced Dining Styles with More Options on How, When and Where to Dine On Board, Beginning with MSC Meraviglia and MSC Seaside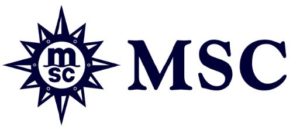 MSC Cruises — the Swiss-based world's largest privately-owned cruise line and market leader in Europe, South America and South Africa — revealed today new dining concepts that will be available first to guests on MSC Meraviglia and MSC Seaside. Designed to meet the needs of today's cruise guests, the two ships — the first two of a total of 11 new mega-ships due to come into service starting this year, in June and December, respectively — will introduce highly flexible dining options and a choice of dining packages that can be booked at any time prior to embarkation and while on board. With greater flexibility, MSC Cruises guests can dine as they want, when they want, in an even wider range of specialty restaurants and international dining venues.
"At MSC Cruises, we strive to create memorable vacation experiences for our guests while on board our cruise ships, and internationally inspired dining is a key feature of our offering," said Andrea Gangale, MSC Cruises' Head of Product Development and Guest Experience.
"We continue to drive innovation in cruising at many levels, which now also includes our onboard dining experience. The new dining concepts cater to the needs of today's cruise guests, who are looking for more flexibility and choices," continued Gangale. "Starting with MSC Meraviglia and MSC Seaside, guests will be able to manage their choices, through cutting-edge onboard technology, and experience an even greater selection of international restaurants which will deliver culinary experiences from around the world."
New Dining Styles on MSC Seaside and MSC Meraviglia
One of the new dining concepts that MSC Cruises is introducing is Flexi Dining1. This new dining style allows guests to pre-select a time slot for their evening meal, with the ability to change it at any time during their cruise. This way guests can get the most out of their vacation by easily scheduling their dining around their plans for each day.
In addition, MSC Yacht Club guests will continue to benefit from free-time dining in the dedicated MSC Yacht Club restaurant, with the option of reserving a table in advance.
Casual dining venues are available for all guests 20 hours-a-day, offering a wide range of freshly prepared dishes. The MSC Cruises buffet – already one of the richest at sea — has been further enhanced with a wide range of different international dishes suited to any taste. MSC Seaside, in particular, will feature two casual dining venues, one of which will be dedicated to families, serving family-friendly options and featuring child-friendly seatings.
Even More International Specialty Restaurants
Specialty restaurants are a standout feature on MSC Cruises' ships, offering guests the opportunity to experience quality cuisines from around the world even while at sea. The cruise line's new cruise ships launching in 2017 — MSC Meraviglia and MSC Seaside — will feature restaurants with innovative 'open kitchens,' following the trend in restaurant design and creating a sensory experience that allows guests to see, smell and hear expert chefs at work. Selected restaurants on MSC Meraviglia and MSC Seaside will also feature a Chef's Table, a dining concept designed for those seeking a true gastronomic experience.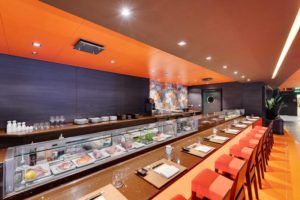 Following the success of Kaito Sushi Bar, hailed as "The Best Sushi at Sea,"3 serving fresh fish, sashimi and tempura, MSC Cruises will introduce the new Kaito Teppanyaki restaurant on board MSC Meraviglia to complement the ship's Kaito Sushi Bar. With a modern twist on Asian cuisine, guests can sit at the cooking stations and watch authentic Japanese dishes come to life in front of their eyes. Expert chefs will cook with flare on an open grill — a visual spectacle with flames and sizzling ingredients coming together to form flavorful dishes.
Another new restaurant concept — featured on MSC Meraviglia as well as MSC Seaside – will be an authentic American Steakhouse — Butcher's Cut — celebrating the craft heritage of America blended with the skilful mastery of the butcher. Guests can select their favorite steak from glass-fronted meat aging fridges and then watch the skilled chefs preparing their selections in the open kitchen. The bar will feature a bold wine list with selections from the New World, cocktails inspired by American heritage, and an assortment of craft beers.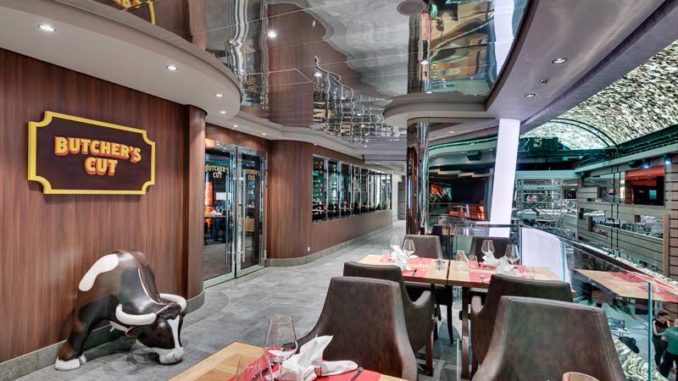 A highlight of the dining on MSC Seaside will also be the Asian Market Kitchen by Roy Yamaguchi. The three distinct eateries created by the innovative Japanese-American chef will include: an à la carte restaurant serving gourmet Asian creations in a stylish venue with incredible sea views; a Sushi Bar; and an area with Teppanyaki Grills – each area offering authentic pan-Asian dining experiences at sea.
MSC Seaside will also feature the signature seafood restaurant, Ocean Cay. This stylish restaurant will serve American-style fish dishes with a Mediterranean twist. A simple menu with delicious signature dishes will include locally-sourced Stone Crabs, a delicacy in the homeport of Miami, beautiful fresh Sea Bass, flown in from the Mediterranean, and homemade spaghetti alle vongole (with clams).
Even More Collaborations with Renowned Chefs
MSC Cruises is committed to partnering with world-class experts in their fields and the dining experience on the new cruise ships is no exception. The collaboration with world-renowned chef Roy Yamaguchi on MSC Seaside extends beyond the creation of the menus. As part of the partnership, Chef Yamaguchi is personally involved in conceptualizing and designing every element of the new pan-Asian restaurant, including creating the recipes and menus, selecting chinaware, choosing music to create the right ambience, and designing wine pairings to complement the food.
A long-standing partnership with two-star Michelin chef Carlo Cracco will now encompass the development of signature dishes for the main restaurant menus on MSC Meraviglia as well as for the Christmas and New Year menus. Also onboard MSC Meraviglia, a partnership with award-winning French chocolatier and pastry chef Jean-Philippe Maury will include Jean-Philippe Chocolat & Café, an open chocolate atelier, and Jean-Philippe Crêpes & Gelato, which will serve sweet treats in the ship's Mediterranean-style promenade.
The chef collaborations extend beyond the new ships as part of MSC Cruises' focus on international fine dining. For example, MSC Cruises is collaborating with international Chinese chef, Jereme Leung. Globally recognized for his contemporary interpretation of Chinese cuisine, Chef Leung's modern approach has long caught the attention of top international restaurant critics, and he has brought his contemporary Chinese cuisine to MSC Lirica. In partnership with MSC Cruises, Chef Leung designed new and innovative dining concepts tailored to the tastes of Chinese guests, enhancing existing menus with creative flair and developing new exclusive signature dishes.
New Dining Packages for All Tastes
To help guests better plan their onboard dining experiences and make the most of their time on board, MSC Cruises is introducing a range of dining packages that can be booked prior to the cruise. For example:
Guests on board MSC Meraviglia will be able to book a Dinner & Show package where they will enjoy an exclusive table d'hôte menu and then experience the breathtaking Cirque du Soleil at Sea performance in the impressive purpose-built Carousel Lounge.
A special dining package is available for the Eataly Chef's Table on board MSC Meraviglia, which includes a dedicated chef and sommelier for the night, seven gourmet dishes cooked to perfection and all perfectly matched with seven wines.
For guests looking to explore a variety of specialty restaurants, special discounted packages can be pre-booked before the sailing.
For More Information
To view MSC Cruises' specialty restaurant packages, visit: https://www.msccruisesusa.com/en-us/Already-Booked/Cruise-Upgrade/Speciality-Restaurants.aspx
For more information about dining options on MSC Meraviglia, visit: https://www.msccruisesusa.com/en-us/Cruise-Ships/MSC-Meraviglia/Restaurants.aspx
For more information about dining options on MSC Seaside, visit: https://www.msccruisesusa.com/en-us/Cruise-Ships/MSC-Seaside/Restaurants.aspx