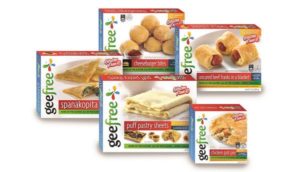 For many, the summer months are prime time to recalibrate dietary health and fitness regimes, and the industry is teeming with product innovations as a means toward this end. Below are four solutions to help health-seekers achieve and maintain their goals all season long.
GeeFree Gluten-Fee Foods (www.GeeFree.com) – Starting at $5.99
For many of us, eating a gluten-free diet is a necessity while, for an ever-increasing number of people, living gluten-free is a decision that just makes them feel their best. No matter your motivation, GeeFree–the only gluten-free puff pastry dough in the U.S.–makes it easy to enjoy favorite foods, and those beloved family recipes that once seemed lost forever due to health concerns can now be recreated. For one, those who love to cook can make whatever recipe they desire with the company's gluten-free puff pastry sheets. Make delicious things like pies, empanadas, potato puffs, brie and raspberry rolls. If you are entertaining gluten-free guests or are craving a nosh for yourself and are not up to baking, just pop a ready-made GeeFree appetizer into the oven. Tasty options include Spanakopita, Franks in a Blanket and Cheeseburger Bites. You can heat up the chicken pot pie to enjoy as a main dish. GeeFree is sold in the frozen food section of health food stores and supermarkets and can also be found online. GeeFree ensures none of the gluten and all of the flavor.
'Neat' Brand Meat Replacement (www.AtlanticNaturalFoods.com) – $6.99+
So, you're throwing a barbecue and having a hard time finding something to cook for those with special dietary needs or those seeking a plant-based lifestyle. Look no further than Neat a healthy replacement for meat derived from pecans, garbanzo beans and spices. This is a shelf stable, dry mix product. Serve in place of ground beef for burgers, chili, sloppy Joe's and more. Each pouch produces the equivalent of 1 lbs. of ground beef. Combine mix with water and the Neat egg and mix well; brown like ground beef over medium heat for 7-9 minutes. Place on a bun add your favorite toppings and you'll have a meal even meat-eater guests will enjoy! Neat was born directly from the kitchen of co-founder Laura Lapp with the input of her two vegetarian daughters. It was created with the goal of delivering an all-natural, high-quality meat replacement with simple, clean ingredients people know and can pronounce. Neat is available for purchase online or at your favorite grocer.
Paulk's Pride Healthy Muscadine Juice, Jelly & Supplements (www.PaulksPride.com) – Starting at $3.99
Here's a way to enjoy some healthy, gourmet-minded items from Paulk's Pride—a brand offering juices, jellies and even dietary supplements made from Muscadines—a fruit that's freshly harvested at Paulk's Vineyards in Wray, Georgia. Many regard Muscadines as the "Superfruit of the South," distinguished by their thick skin, sweet taste and numerous health benefits. These include reduced joint and muscle pain, slowed aging process, maintenance of healthy digestion, blood pressure regulation, and enhanced nerve and muscular function. Muscadine is made up of a powerful cast of phytochemicals and contains more antioxidants, polyphenols and ellagic acid than most other fruits. With a rich farming heritage mixed with modern industry and technology, Paulk's Pride brings these healthy, natural and simple products to market in tasty form.
Omax3 – The Ultra Pure Omega-3 Supplement (www.Omax3.com) – $47.95
There are many fish-oils on the market, but only Omax3 Ultra-Pure Omega-3 contains the revolutionary ProResolv formula developed by scientists affiliated with Yale University. This Omega-3 supplement, distributed by the science based nutraceutical company Prevention Pharmaceuticals, Inc., boosts your performance by proffering 93.9% pure Omega-3 in each soft gel. A diet rich in Omega-3 can help the brain increase mental alertness and concentration levels at any age, but can also be shown to help slow the effects of normal age related memory loss and increase resistance to stress and its impact on mood. Omega-3 fatty acids are also essential for lowering triglycerides safely, and may help to reduce blood pressure. In fact, diets high in omega-3 have been shown to decrease joint stiffness and improve muscle recovery time. The company's omega-3 based supplement line includes Omax3 Ultra-Pure, Omax3 Professional Strength and Omax3 Pet Health.
~~~
As the Executive Editor and Producer of "The Luxe List," Merilee Kern is an internationally-regarded consumer product trends expert and hospitality industry voice of authority–a travel, dining, leisure and lifestyle expert who spotlights noteworthy marketplace innovations, change makers, movers and shakers. She identifies and reports on exemplary travel destinations and experiences, extraordinary events and newsworthy products and services across all categories. Reach her online at www.TheLuxeList.com, on Twitter at www.Twitter.com/LuxeListEditor, on Facebook at www.Facebook.com/TheLuxeList and on Instagram at www.Instagram.com/LuxeListReviews.
***Some or all of the accommodations(s), experience(s), item(s) and/or service(s) detailed above may have been provided or sponsored at no cost to accommodate this review, but all opinions expressed are entirely those of Merilee Kern and have not been influenced in any way.***