Secluded five-star Mexican villa offers an ultimate luxury accommodations experience trumping top resorts; boasts its own gourmet private chef, service staff, elite accommodations up to 10 adults and premier on-site amenities—all amid unrivaled ocean views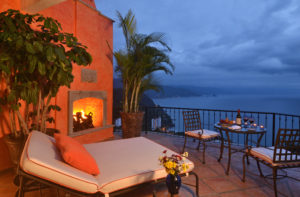 Amid the explosion of "the sharing economy," the private villa accommodations sector has skyrocketed in recent years. In fact, today's breed of private villa rentals have become the ultimate in luxury travel lodging for vacationers and business travelers, alike. No surprise, given the vast array of benefits and creature comforts that private villas proffer for couples, families and small groups.
While maximized privacy, uber-personalized service and heightened cultural immersion serve as key drivers in this market niche, the benefits of renting a private villa residence extend far beyond. Indeed, an elite few offer accommodations and amenities as standard that rival high-end resorts, such as custom-prepared meals from a resident private chef, 24/7 butler service, private infinity-edge ocean overlook pool, security and more. And then there's Puerto Vallarta's one-of-a-kind Casa Dos Cisnes.
Having myself vacationed at this five-bedroom colonial style beachfront home, I reveled in the fact that this prolific property extends all of these features and more to ensure each guest's needs, desires, hopes and expectations for an extraordinary private villa vacation are fulfilled. In doing so, this remarkable retreat is single-handedly setting a new, and decidedly elevated, standard for luxe travel.
Located in Mexico's fifth largest city in Jalisco, one of the region's safest states, Casa Dos Cisnes Puerto Vallarta is an exceptional option for a first-class romantic getaway; girl's weekend; guy's golfing, fishing or other adventure trip; bachelor/bachelorette parties; family vacations; wellness and beauty excursions; and corporate or other group travel for up to 12 guests (10 adults or 8 adults and 4 small children). With complete privacy and security in the most exclusive area in Puerto Vallarta, including its own 2-car garage, guests commandeer this entire 10,000 square foot, stylishly-appointed authentic Mexican villa home with all of the relaxation, solitude and discretion that affords.
The result is a one-of-a-kind holiday providing an unparalleled culinary and luxury living experience. This includes exclusive use of Casa Dos Cisnes's phenomenal facilities an array of exceptional 5-star amenities, with many entirely unique and exclusive to this property. For inquiring detail-driven minds and perennial vacation planners, a list of copious features and benefits this property provides is listed down below.
My own visit to Casa Dos Cisnes was an enchanted escape with my family. With the ability to stock the kitchen with groceries of our own choosing and the option to specify meal and menu preferences with the resident private chef the day prior—or even the same day—the flexibility and responsiveness was extremely advantageous…especially on those days where the itinerary was uncertain. Only the first night's meal and first day's breakfast (if either are desired) need to be specified prior to arrival. From there, just tell the chef what meals you would like each day and he'll shop the market for the fresh provisions and will expertly prepare the meals at the times you specify.
And, Casa Dos Cisnes boasts no ordinary chef. Among the villa's most impressive offerings is the inimitable gourmet cuisine proffered by this consummate culinary professional. Upon request, multiple times per day he'll custom-craft sumptuous gourmet meals and snacks that rival any of the fine dining options in all of Jalisco, which can be paired with fine wines and premium spirits complementing the dishes that he's happy to recommend, if needed. Dine in the elegant dining room that seats up to 12, or indulge in an intimate dinner on one of the villa's many terraces.
My family's own menu choices included authentic chicken fajitas and quesadillas (truly the best I have ever had), beef empanadas, filet mignon, broiled lobster tail, mixed seafood ceviche, fresh salmon filet and so much more—not to mention incredible fresh-made guacamole, pico de gallo and tortilla chips, of course. Our breakfast fare centered around Machaca and cheddar omelets and eggs benedict with fresh mango and kiwi. But, alas, choose whatever you and yours want for breakfast, lunch and dinner seatings as well as for midday snacks and happy hour and the chef is happy to oblige.
During the day my family lounged poolside while soaking in the panoramic vistas of the Banderas Bay, played numerous board and card games the villa provides, sipped cocktails and coffee by the various fireplaces, and watched Netflix movies with surround sound in multiple areas of the home—including an entertainment center—where you can lounge on cushioned couches. Throughout, the staff of three was incredibly attentive, always ensuring we were content and well provisioned no matter what activity we were engaged in.
As with any luxury resort property, rates for Casa Dos Cisnes vary by date and season. Current per night rates on the low-season end start around $1,000 U.S. and higher-end holiday rates push $2,000 U.S., with some mid-season rates in between. There is also a four night minimum stay required; seven night minimum week of Christmas and New Year's Eve. Bookings can be conveniently arranged online at www.PuertoVallartaLuxuryVilla.com, where property photos and information is abundant.
With scores of honors and accolades as a leading travel destination to its credit, Puerto Vallarta is a notoriously safe locale on Mexico's pristine Pacific Coast, making it an extremely popular target among tourists. In fact, according to Agustín Álvarez Valdivia, Director of the Puerto Vallarta Tourism Board, 2017 is shaping up to be another record year for Puerto Vallarta. Casa Dos Cisnes's private entryway and top-notch monitored security further guarantees guest safety and peace-of-mind.
For fun-lovers, foodies, shopaholics and adventurers seeking to enjoy time around town, there is an incredible assortment of nearby activities and attractions as listed on Puerto Vallarta's official Web's site "To Do" page that may be accessed here: http://bit.ly/2kQzlHO.
Given the astonishing hoard of highlights found at Casa Dos Cisnes that can only be realized in its exclusive private villa setting, it's rapidly becoming Puerto Vallarta's foremost premier private villa vacation experience. Understandable given the price point for this righteous retreat rivals—and often betters—that of a luxury resort, making it a "no brainer" for those seeking to get the most bang for their budget—and more out of their precious time allocated for pleasure travel. Beyond the economics of group accommodations making the "per suite" rate decidedly attractive, the personalized professional chef-driven meal service for breakfast, lunch, dinner, snacks and happy hour cocktails all served amid impeccable ocean views, which is integrated into the rate, furthers the fiscal and other copious advantages.
Casa Dos Cisnes Features and Benefits At-A-Glance:
Private villa property
10,000 square feet
2-car garage
Complete privacy and security in the most exclusive area in Puerto Vallarta
Monitored security system
Beautiful traditional colonial-style Mexican furnishings, design and artwork with the comfort of modern amenities and technology
Spacious, multiple living areas, rooms and terraces, allowing large groups to comfortably enjoy their own space
Stunning ocean view on all floors (4 of the 5 bedrooms and all 4 ensuite bathroom showers/bath have views; 5th bedroom has private courtyard)
Sleeps 10 adults or 8 adults and 4 small children
2 working gas fired fireplaces in living room and master terrace
5 bedrooms (including Master room) with air-conditioning, overhead fans, plush king-size beds with feather toppers and premium Egyptian cotton sheets and plush robes
Massive master suite: bedroom with private retreat room with big screen TV and Bose system, as well as large private terrace with gas fireplace
4 ensuite bathrooms; 5th bathroom with shower off pool terrace
Walk in closet areas with individual safes
2 half bathrooms
Brick domes in master bedroom, master corridor, dining and living rooms and spiral staircase
Large, spiral staircase to all levels
Interior courtyard
Multiple terraces on each level of house
Infinity pool with incomparable view of ocean
3 full-time, full-service bi-lingual staff working 7 days a week,
Gourmet cuisine prepared by dedicated 5-star chef (specializing in Mexican-contemporary cuisine) who can prepare three full meals a day plus snack and happy hour service (*meal preparation is included but not cost of food/beverages, which is charged at actual cost without mark-up)
Magical Mexican Fiesta: a lively evening of regional food, cocktails and Mexican musicians entertaining at the villa (additional fee applies)
Large separate dining room seating up to 12
Separate dining terraces at main and pool levels
Full pool bar and grill with large-screen TV
Fully equipped state-of-the-art gym
US Satellite TV throughout the house
Large media-entertainment room (games for family/children)
Intimate "away" room off of living room for private conversations or meetings
2 Bose Lifestyle systems with Bose sound system throughout the villa
Wi-fi throughout the house; Vonage® phone for free calls to the U.S. and Canada
Laundry service
Concierge service: staff will help plan and customize activities around Puerto Vallarta including golf, tennis, snorkeling, boating and more
Spa services: get pampered by professionals who come to the villa for massages and beauty treatments
Recommendations, reservations and VIP treatment at Puerto Vallarta's most prestigious restaurants
Access to new beach club, less than 10 minutes
Access to small, secluded beach with tide pools less than 5 minutes
Spacious layout and services can easily accommodate weddings, reunions & events
5 minutes from the Romantic Zone (La Zona Romántica) in Old Town Puerto Vallarta
~~~
As the Executive Editor and Producer of "The Luxe List," Merilee Kern is an internationally-regarded consumer product trends expert and hospitality industry voice of authority—a travel, dining, leisure and lifestyle expert who spotlights noteworthy marketplace innovations, change makers, movers and shakers. She reports on exemplary travel destinations and experiences, extraordinary events and newsworthy products and services across all categories. Reach her online at www.TheLuxeList.com, on Twitter at www.Twitter.com/LuxeListEditor, on Facebook at www.Facebook.com/TheLuxeList and on Instagram at www.Instagram.com/LuxeListReviews.
***Some or all of the accommodations(s), experience(s), item(s) and/or service(s) detailed above were provided or arranged at no cost to accommodate this review, but all opinions expressed are entirely those of Merilee Kern and have not been influenced in any way.***
Source: http://www.travelweekly.com/Strategic-Content/Sharing-Economy