Gluten-free, fully cooked burger made with strictly beef and seasonings, no fillers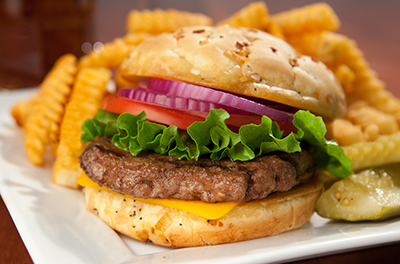 JTM Food Group provides innovative and tasty menu solutions for restaurants across the country. The newly announced Brewhouse Burgers give these customers a fully cooked beef burger made of high-quality, seasoned beef—the perfect foundation for a signature burger.
Produced using the latest Formax Tender-Form Technology, these burgers offer outstanding and consistent taste, texture, and eye-appeal. Following one of today's top food service trends, the 'clean label', Brewhouse Burgers contain no fillers or extenders, just fresh ground beef with tasty seasonings. The burgers are also gluten-free, making them a great option for restaurants looking to expand or create gluten-free menus.
"Many restaurants are looking for a high quality and flavorful beef burger to use as the base in a franchise sandwich," said Scott Bonta, JTM's Vice President of Food Service Sales. "The Brewhouse Burgers have a true homemade look and great taste. Combined with a cost that is lower than similar beef burgers in the market, operators won't find a better value for their signature burger."
About JTM Food Group
Family owned and operated since 1980, JTM Food Group specializes in menu solutions that deliver superior results to the food service industry. Focused on customer service, quality and innovation, J.T.M. serves thousands of schools, restaurants, military and government organizations, food distributors and retailers throughout North America. In 2012, JTM was named the 77th largest private firm on the Deloitte Cincinnati USA 100 list, and in 2011, JTM was named one of the Cincinnati Business Courier's Fast 55, an award that recognizes the fastest-growing private firms in Greater Cincinnati. For more information, visit www.JTMFoodGroup.com.