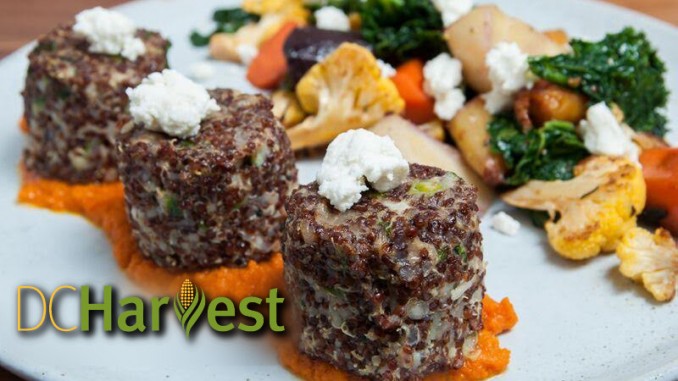 Washington DC Restaurant Serves Up Chef-Driven Diet-Friendly Food
DC Harvest Makes It Possible to eat out without Blowing Your New Year's Resolution
If you're like millions of Americans, you've resolved that 2016 will be a healthier year than the one before. Whether your goal is to eat more vegetables, decrease your calorie intake or steer clear of fatty foods, chances are your plan doesn't include a lot of eating out. In a restaurant landscape where "fine dining" commonly translates into calorie-laden, one Washington DC eatery is trying to change the way we enjoy restaurant cuisine by making it accessible to everyone, no matter what diet they're currently on.
Located in the bustling H Street corridor, DC Harvest is a modern American restaurant whose goal is to serve delicious, balanced plates that leave guests feeling satisfied instead of stuffed. By serving a mouthwatering menu that features properly portioned meals made with whole, fresh ingredients, DC Harvest is giving diners a chance to indulge in decadent-tasting meals without feeling guilty.
Co-owners (and brothers) Jared Ringel and Chef Arthur Ringel primarily use seasonal ingredients from local farms and vendors. Dishes like Fresh Spinach Pappardelle, Old Bay Fried Chicken and Pan-Roasted Scallops get additional bursts of flavor from unexpected ingredients and diverse culinary preparations instead of fatty sauces and processed additives.
Those who can't make it to the nation's capital can make one of DC Harvest's signature recipes at home:
DC Harvest's Crispy Quinoa Cakes with Kale & Roasted Vegetables On Carrot Puree Topped with Goat Greece
Ingredients:
4c cooked quinoa
2 inch slices of wheat bread, crusts removed and cubed.
2 large eggs
1c coarsely grated zucchini
.5c parmesan cheese
.25c chopped green onion
3 small garlic cloves minced
.5t kosher salt
.25t fresh ground pepper
Instructions:
In a food processor, pulse the bread into coarse breadcrumbs.
In a bowl, whisk eggs. Squeeze the liquid from the zucchini and add to eggs.
Stir in the cheese, green onions, garlic, salt and pepper.
Add the quinoa, breadcrumbs into the bowl and mix unto it's all well incorporated.
Using a 1/4c measure, scoop 12 mounds and form each on into a 1/2 inch thick cylinder shape.
Heat a nonstick pan to medium high heat, add olive oil and cook cakes on each side for2-3 minutes. Finish in 400 degree oven for 5 mins till heated throughout.
Plate the cakes on a bed of carrot purée (steamed carrots puréed in a food processor with a touch olive oil) and serve them alongside a medley of sautéed seasonal vegetables (currently kale, rutabaga, kohlrabi, celery root and carrots).
Top each cake with a small chunk of goat cheese.
DC Harvest is located at 517 H Street NE. Dinner is served Sunday – Thursday from 5:30 pm – 11:00 pm and Saturday – Sunday from 5:30 pm – 1:00 am. To make reservations please call (202) 629-3296.
For more information, additional images or to speak with co-owners Jared & Arthur Ringel, please contact Samantha Crafton Public Relations directly. Chef Ringel is available for on-air cooking segments upon request