ARGO TEA® LAUNCHES NEW TEAPPUCCINO® READY-TO-DRINK TEA-BASED DAIRY BEVERAGES
Healthy Brews of Premium Loose Leaf Teas With Milk Will Launch With Three Delicious and Nutritious Flavors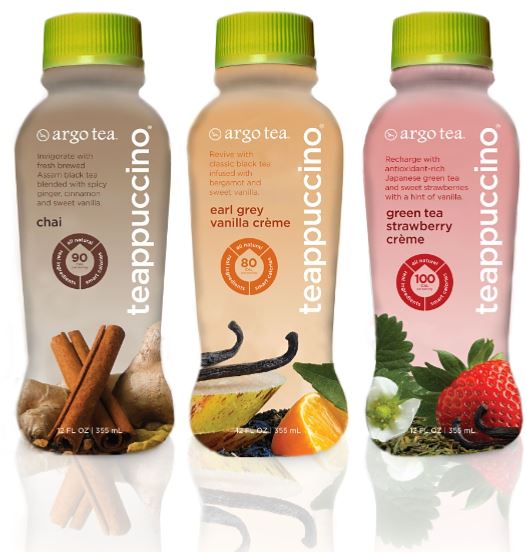 Chicago, Ill. – (August 12, 2015) – Argo Tea®, one of the fastest-growing premium tea brands in the CPG space, will begin rolling out new, category-defining Teappuccino® tea-based dairy beverages in select leading retailers this fall across the country.
Decadent in taste, but balanced in nutrition, these unique bottled loose leaf tea infusions feature protein-packed milk and real fruits, flowers, spices and herbs, which deliver robust flavors. The three new shelf-stable Teappuccino varieties offer consumers an all-natural beverage, with real ingredients and smart calories:
Chai – fresh-brewed Assam black tea blended with spicy ginger, cinnamon and sweet vanilla (90 calories per serving)
Earl Grey Vanilla Crème – classic black tea infused with bergamot and sweet vanilla (80 calories per serving)
Green Tea Strawberry Crème – antioxidant-rich Japanese green tea and sweet strawberries with a hint of vanilla (100 calories per serving)
Teappuccino is the latest innovation from Argo Tea's creative mixologists and intelligent nutritionists who recognize consumer demand for healthy drinks with real ingredients. Argo Tea proudly sources the best ingredients from around the world, including handpicked, loose-leaf teas, to create a variety of innovative signature beverages that taste great – and are good for you. The new Teappuccino flavors, which are convenient and perfect for on–the-go, will be available in 12 fl oz. bottles for a suggested retail price of $2.99.
In 2010, Argo Tea launched a line of ready to drink Signature Teas, which are now sold in more than 20,000 retail outlets, making it one of the largest independent bottled tea brands. Available in great retail chains such as Whole Foods, 7-Eleven, Walgreens and Kroger, the line includes 10 delicious flavors in both sweetened and unsweetened varieties, the latter which contain zero calories and no sugar. Two flavors from the line – Green Tea Ginger Twist and Mojitea – received first place recognition as the best ready to drink iced teas in the 2014 North American Tea Championship.
"Argo Tea is committed to delivering innovative new products like Teappuccino that meet consumer demand for great tasting healthy beverages," said Arsen Avakian, founder and CEO of Argo Tea. "With a growing presence in retail stores and in new Argo Tea cafés, we've quickly become a one-stop shop – offering tea connoisseurs ready to drink options, loose leaf and sachets – that's poised for continued success, both domestically and abroad."
About Argo Tea
Since brewing its first cup of tea in 2003, Argo Tea has quickly become a household name and leading multi-channel, branded beverage company. Its ready-to-drink teas in Argo Tea's iconic bottles are now available in over 20,000 outlets nationwide through partnerships with premier retailers that value its brand-defining commitment to quality, sustainability and healthy living. With nearly 50 Argo Tea cafés globally, it has established a brand building marketing platform that serves over 10 million cups of tea annually fueling its innovation. Argo Tea's menu includes all natural-tea based signature drinks, over thirty varieties of loose-leaf teas, organic coffee, fresh-baked pastries, specialty foods, and a selection of tea ware and accessories.
For more information, please visit www.argotea.com and follow the brand on Facebook at https://www.facebook.com/argotea as well as Twitter and Instagram @argotea