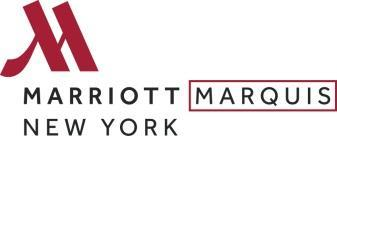 New York Marriott Marquis, in the heart of Times Square and Broadway's bustling theater district, is proud to introduce Nigel Boschetti as executive chef. The award-winning chef now directs all culinary operations for the roughly 1.8 million-square-foot hotel, which includes overseeing the sous chefs at each of the property's four dining outlets; bringing to life signature, flavorful dishes; handling all aspects of food and beverage for groups and events; and ensuring a high-quality service for which New York Marriott Marquis is known.
"We're thrilled to welcome Chef Boschetti to the New York Marriott Marquis team, as he makes his U.S. culinary debut with nearly 30 years of international industry experience," said Dan Nadeau, the hotel's general manager. "Boschetti's innovative cooking style and strong management expertise will elevate our hotel's high-volume, yet intimate experiences to an even greater level."
Since Boschetti's arrival, New York Marriott Marquis has taken a number of steps to increase its quality culinary experience for guests, such as installing Farmshelf, an indoor farm that grows a number of fresh herbs right in the hotel lobby to be used in specific dishes and cocktails.
Boschetti joins New York Marriott Marquis from his previous position as executive chef of JW Marriott Grosvenor House London, where he led a team of 70 chefs across four different hotel restaurants and banquet affairs, handling all aspects of food safety, menu development, and more. A native of West Sussex, England, Boschetti began his career as head chef at the medieval Amberley Castle, a unique luxury hotel in the beautiful West Sussex countryside steeped in more than 900 years of history. He has also served as executive chef at Royal Lancaster Hotel London, Millennium Conference Centre and Millennium Baileys Hotel London, Payne and Gunter Event Caterers (Compass Group), and Simpson's in The Strand. A member of the Royal Academy of Culinary Arts and an Honorary Member of The Craft Guild of Chefs, he has received numerous awards across the culinary, hospitality and leadership sectors.
New York Marriott Marquis is located at 1535 Broadway, between West 45th and West 46th Streets. To learn more or make reservations, visit www.nymarriottmarquis.com or call (212) 398-1900.
ABOUT THE NEW YORK MARRIOTT MARQUIS
Located in the heart of Times Square and Broadway's bustling theater district, the 49-story New York Marriott Marquis is one of the largest Marriott hotels in the world. This landmark hotel opened in 1985 and was designed by the iconic architect John Portman. It has great architectural interest, including a 37-story atrium with 12 glass enclosed state-of-the-art Miconic 10 elevators. All 1,966 guest rooms and suites are spacious and comfortably appointed. Many guest rooms offer a Times Square view.
The Marquis Fitness Center, a bold, glass-enclosed 4,000 square foot space, appears as a "floating light box", midway over the hotel's dramatic 37-story atrium, providing an exciting, spectacular setting for a full workout, as well as panoramic views of Times Square and midtown Manhattan. The hotel houses the 1,600-seat Marquis Theater, a premiere Broadway musical house. Guests and visitors enjoy several restaurant choices, including The View, New York's only revolving rooftop restaurant; the more casual Crossroads, and the dramatic Broadway Lounge, where guests can relax while overlooking the lights of Broadway.
The hotel features over 100,000 square feet of banquet and meeting rooms, amongst the largest in the city, which serve as venues for major celebrity events, including gala dinners in the Broadway Ballroom with a built-in stage, which seats up to 2,000 guests. Corporate events include everything from new product launches and industry conventions, to tied-down board meetings and training programs. The hotel's banquet rooms are often the setting for international wine tasting events and media launches, attracting guests from all over the world.