Newcastle Builds on Successful Independence Eve
Campaign with Summer Retail and On-Premise Program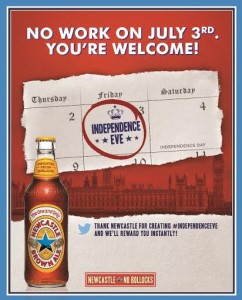 NEW YORK, NY (June 5, 2015) –-Newcastle Brown Ale is building off the success of the 2014 Independence Eve campaign and kicking off the summer early with the debut of its 2015 summer retail and on-premise activation. This summer, Newcastle's refreshingly honest take on the season encourages consumers to trade up to the smooth, full-bodied taste of Newcastle Brown Ale, starting on July 3rd, Independence Eve, when Americans are invited to raise a pint of Newcastle and toast the country that nearly ran theirs.
"This summer, July 4th falls on a Saturday," noted Priscilla Dohnert, Brand Director for Newcastle Brown Ale, HEINEKEN USA. "As a result, many LDA+ consumers will have July 3rd, Independence Eve, off from work. We are celebrating the Independence Eve day off with consumers by inviting them to submit videos to Instagram, thanking Newcastle for the extra day. LDA+ Consumers who share their personal "Thank You" videos will automatically be entered into our Independence Eve sweepstakes for the chance to win a trip to England, the birthplace of Newcastle."
To build awareness of the summer program, Newcastle is leveraging its social platforms and partnering with shopper targeted digital media to deliver custom content and special offers that will drive consumers to local retail outlets, bars and restaurants to purchase Newcastle. In store, high impact display and POS materials along with compelling channel specific cross merchandising offers (where legal) on relevant summer celebration products including deli items and salty snacks, will drive shopper consideration and conversion. On-premise, POS items including posters, banners and table tents will encourage patrons to make Newcastle their go to beer this summer.
"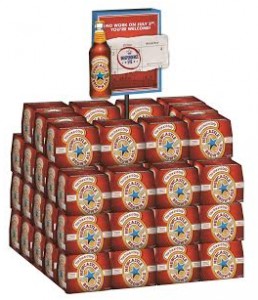 Summer is the key selling season for the beer category and the competition is fierce," added Dohnert. "Our summer program will help consumers make the most of their summer celebrations with great-tasting Newcastle Brown Ale and retailers drive incremental sales of the number one selling imported ale [1]."
About Newcastle Brown Ale
A No Bollocks beer brand, Newcastle Brown Ale was first brewed in 1927 to satisfy the thirst of hardworking Englishmen. Colonel Jim Porter crafted the ale with its own distinct golden brown color, lightly hopped taste and character that quickly became a local favorite. Best served cold, Newcastle Brown Ale has since become a world favorite as a dark beer that's easy to drink. Newcastle Brown Ale is imported by the nation's premier beer importer, HEINEKEN USA, headquartered in White Plains, New York.
About HEINEKEN USA
HEINEKEN USA Inc., the nation's leading upscale beer importer, is a subsidiary of Heineken International BV, the world's most international brewer. European brands imported into the U.S. include Heineken, the world's most international beer brand, Strongbow Hard Apple Ciders, Desperados, Amstel Light, and Newcastle Brown Ale. HEINEKEN USA also imports the Dos Equis Franchise, Tecate Franchise, Sol, Indio, Carta Blanca and Bohemia brands from Mexico. For the latest information on our company and brands, follow us on Twitter @HeinekenUSACorp, or visit HEINEKENUSA.com
[1] Nielsen Scantrac – FDCM+ – 2014