Trend-setting fast casual pizza chain signs 10-unit franchise agreement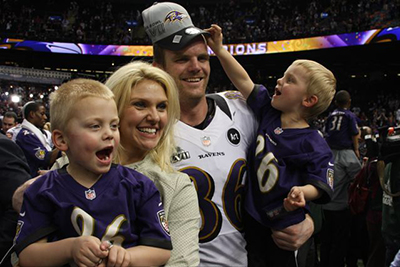 Former NFL player Billy Bajema knows a winner when he sees one. That explains why he's joined the team from Pie Five Pizza, the nation's leading fast casual pizza chain.
This summer, Bajema will introduce his hometown of Oklahoma City to Pie Five's championship formula: personalized pizza made with the freshest ingredients, baked to order and ready in under five minutes, all at one great price.
Pie Five announced today that it has awarded up to 10 franchise units to Bajema and his brother-in-law, Tyce Jones. They have partnered with Josh Fields and Brandon Birdwell, who currently own three Firehouse Subs franchises in the area. The group's multi-unit agreement covers the entire state of Oklahoma.
Bajema recently retired from the NFL after playing nine seasons at tight end for the San Francisco 49ers, St. Louis Rams and Baltimore Ravens. The 49ers drafted him in 2005 from Oklahoma State. He has spent his offseasons preparing for life after football, gaining experience in the real estate industry and taking business management classes at Harvard University.
"When I started researching the restaurant industry, I quickly learned that the fast casual segment was the place to be," said Bajema. "When Brandon and Josh told me about Pie Five Pizza, I was immediately impressed. The operational model is excellent, the company's leadership is top notch and the food is fantastic. I can't wait to bring the Pie Five revolution to Oklahoma."
The restaurants will be the newest additions to the fast-growing, trend-setting pizza chain, which boasts more than 160 units under contract from coast to coast. Pie Five has been named a 2013 Top 50 Restaurant Brand of the Year, a 2012 Hot Concepts winner by Nation's Restaurant News and one of "10 Hot New Restaurant Chains from Established Brands" by Forbes.com.
Fields remembers his first conversation with Bajema, when the former NFL star sought his and Birdwell's advice on how he could get into the restaurant business. To Fields, it was a no-brainer.
"Billy was inquiring about concepts and had just tried a competitor, but I told him he needed to check out Pie Five," Fields recalls. "All it took was one visit, and when he saw what they had to offer – not only in the form of a perfect pizza, but also the exceptional business model – he was sold. It didn't take long for all of us to get on board and join the Pie Five Pizza family."
At Pie Five, guests can choose from more than a million combinations of handcrafted pizzas and a variety of specialty pie choices prepared in less than five minutes on one of four crusts all for one low price. The rapidly expanding chain is capitalizing on growing consumer demand for fresh dining options and artisan pizzas in stylish environments without the wait.
Pie Five has 13 locations in Texas, two each in Kansas and Utah, and one each in North Carolina and Florida. More than 160 announced franchise units are currently under contract in Florida, Kansas, Kentucky, Maryland, Missouri, Nebraska, North Carolina, Oklahoma, Tennessee, Texas, Utah, Virginia and Washington, DC.
Bajema says he hopes to open his first Pie Five in the Oklahoma City area later this summer.
ABOUT PIE FIVE PIZZA CO.
Pie Five Pizza Co. is a subsidiary of Pizza Inn Holdings, Inc. (NASDAQ: PZZI), headquartered in the Dallas suburb of The Colony, Texas. Pie Five is a trend-setting, fast-casual concept offering individual handcrafted pizzas with fresh ingredients made to order and prepared in less than five minutes. First introduced in 2011, Pie Five Pizza currently has 19 locations in five states with more than 160 announced franchised units under contract in 12 states and the District of Columbia. For more information, please visit www.piefivepizza.com.