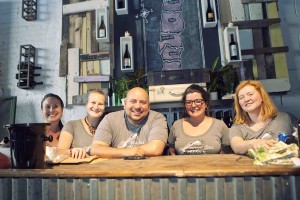 Wines of Chile hosted its first-of-a-kind competition, Wine Bar War, where New York City's top sommeliers were challenged to build a pop-up wine bar in 10 hours inspired by Chile's landscape, design and diverse portfolio of wines. Four sommelier teams were individually led by captains Victoria James of Marea, Morgan Harris, formerly of Jean-Georges, Chris Raftery (Court of Master Sommeliers certified) of Corkbuzz and Anna-Lisa Campos (CMS certified) of Momofuku.
Held at Brooklyn event space, Villain, the evening event hosted over 400 VIP trade guests and consumers who enjoyed 32 wines of Chile's diverse grape varieties, terroirs and styles. During the competition, attendees were asked to vote for the team that best encompassed concept and visual appeal, wine selection and knowledge, service and overall story. Ballots cast by attendees and judges, in conjunction with points for social media, a blind tasting and a pop-quiz, determined the winning team: Earth's End, captained by Anna-Lisa Campos of Momofuku.
"Our whole team is thrilled for this amazing opportunity to travel to Chile," noted Anna-Lisa Campos. "The entire experience has been so fun, challenging and rewarding. We are incredibly grateful for this immersion into the wine and culture of Chile that was provided by Wine Bar War and its sponsors."
Team Campos was awarded a once-in-a-lifetime trip by LAN Airlines, part of LATAM Airlines Group, and Turismo Chile to experience Chile's world-class destinations. The winning team included Veronica Stoler of Rouge Tomate, and three Court of Master Sommeliers certified members: Morgan Fausett of Proof, in Washington DC, Meg McNeill of Dandelion Wine and Luis Perez of Talde who will fly Premium Business Class on LAN Airlines, named "Best Airline in South America" by the 2014 SkyTrax World Travel Awards.
Each pop-up bar featured at least one wine from LAN's Premium Business Class wine list, and for Team Campos the LAN-represented wine was Errazuriz Don Maximiano 2010. Team Campos'complete winning wine list selection included Mont Gras Antu 2012, Oveja Negra Cabernet Franc Carmenere 2012, Louis Antoine Luyt Empedrado 2012, Apaltagua Envero Carmenere 2012, Mayu Pedro Ximenez 2013, Ritual Sauvignon Blanc 2013, and Tamaya T Limited Release Chardonnay 2011.
Wine Bar War event judges included Hector Vergara, Latin America's only Master Sommelier and wine consultant for LAN Airlines, Jennifer Flowers, editor at Travel + Leisure, Geoff Kruth COO at the Guild of Sommeliers, and Chilean chef Sisha Ortúzar, Riverpark founder and chef.
About Wines of Chile
Wines of Chile is an organization committed to promoting the quality and image of Chilean wine throughout the world. It has offices in Santiago, London and New York, as well as representatives in Canada, Ireland and Denmark. Wines of Chile also works closely with ProChile to develop and offer promotional and educational programs in Asia, Latin America and Europe. Wines of Chile's 86 member wineries belong to Vinos de Chile and represent 88 percent of Chile's bottled wine exports.