O'Charley's serving up full portions, bold flavors and everyday value for the whole family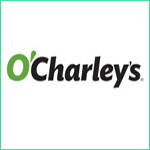 O'Charley's Restaurant and Bar—the classic American restaurant with locations across 17 states—is announcing a variety of full-portioned meals with full-bodied flavors all for under $10. Including entrees ranging from hearty burgers and fresh salads to the popular chicken pot pie and zesty tacos, "Platefuls" highlights more than 20 meals on the O'Charley's menu available daily for under $10.
"At O'Charley's, we reflect our Southern roots in everything we do––with generous portions, genuine hospitality and everyday value that brings crave-able offerings to the table at an affordable price point," said O'Charley's President Craig Barber. "Our new 'Platefuls' meals make it easy for guests and their families to fill up their plates with a variety of fresh and flavorful options."
O'Charley's "Platefuls" features summer seasonal menu items such as Fish Tacos, Crispy Chicken Tacos and Nashville Hot Chicken Tacos. Additionally, "Platefuls" items include everything from chicken and seafood offerings to burgers, steak and sandwiches, including the following guest favorites:
Bacon Cheddar Burger
Honey-Drizzled Southern Fried Chicken
Carolina Gold BBQ Chicken Sandwich
Low Country Shrimp
O'Charley's Famous Chicken Tenders & Fries
House-Made Chicken Pot Pie
Peach Chutney Chicken
Chopped Steak
In addition to the under $10 "Platefuls", the O'Charley's current seasonal menu includes a range of new entrees and beverages, such as the Sonoma Chicken Salad, Grilled Salmon Bowl, Mango Heat and Island Margaritas and more.
Serving up crave-able, value-driven American meals since 1971, O'Charley's operates 205 restaurants in 17 states in the Southeast and Midwest. With a relaxed, welcoming atmosphere and full-service food and bar menu, O'Charley's allows families and friends to connect around the table and create memorable food experiences.
To learn more about O'Charley's visit www.ocharleys.com or follow O'Charley's on Facebook, Instagram or Twitter.