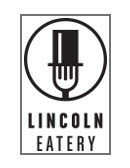 Making its official debut on Thursday, January 31, 2019, The Lincoln Eatery marks the arrival of one of the 21st century's biggest global culinary trends – the modern food hall – on Miami Beach. Located adjacent to Lincoln Road, South Beach's famed pedestrian shopping, dining and people watching street, the highly-anticipated urban food collective houses a curated selection of 13 unique dining and drinking options featuring an eclectic assortment of culinary concepts.
As envisioned by its developers, Terranova Corporation, South Florida's leading full-service commercial real estate firm, The Lincoln Eatery is poised to become a convivial hub on Miami Beach – a gathering place that celebrates the intersection of food, design and community in a setting perfect for Instagram-worthy moments. Designed by Arquitectonica – the iconic global architecture firm notable for putting South Florida on the world design map – The Lincoln Eatery occupies 9,600 square feet of street level space at the intersection of Lincoln Lane and Meridian Avenue. The Lincoln Eatery is destined to become a dining hotspot for locals and visitors alike, whether they're seeking a quick bite, lively programming and events, a great drink or a chic space to meet, mingle, work or hang.
According to Stephen Bittel, Terranova's founder and chairman, "We're extending Lincoln Road's footprint north with the development of The Lincoln Eatery as the anchor. Our goal with The Eatery is to work with local and national culinary entrepreneurs, providing the support and infrastructure they need to be successful; in turn offering an exciting, affordable new dining experience that will be authentic and new to the area. All of The Eatery's tenants will be unique from one another, offering something for every palate. We are thrilled with the creative and delicious mix of cuisines and concepts that are joining forces with us."
Many of the Eatery's tenants are new to the market, bringing authentic, and in most cases, homegrown made-in-Miami options to a wider audience with first time brick and mortar retail locations. They include:
Cake Thai Kitchen: Known for their modern interpretation of Thai street food using only high-quality fresh ingredients.
Gaijin by Cake:A Japanese style gastropub from the owners of Cake Thai featuring Japanese comfort food including ramen, yakitori, dumplings and Japanese fried dishes.
ChillN: A South Florida-based ice cream concept serving delicious flash-frozen ice cream with liquid nitrogen and a variety of fresh ingredients and toppings.
Fresh Garden Bowls: A healthy fast-food alternative with vegan, vegetarian, and gluten-free options to satisfy a modern healthy lifestyle featuring made-to-order salads, wraps and freshly squeezed juices.
Manhattan Paletas: The first South Florida location for the Mexican-based brand which has been serving all natural frozen paletas made from fruits and other flavors for over 50 years.
Marble & Rye: A modern take on a traditional New York kosher delicatessen featuring old world deli staples with a contemporary twist with handcrafted recipes passed down from generation to generation.
Necessary Purveyor: An expert curator of fine foods specializing in artisanal dishes inspired by the South. Committed to supporting local, small-scale and artisan producers to bring the very best local ingredients to their menu.
Patagonia Flavors: Serving authentic Argentinean pastries and sweets including empanadas and medialunas baked fresh daily.
The Crafted Burger: Offering a variety of burger options for every palate with options ranging from 100% prime Angus beef with no fillers of preservations to their vegetarian burger, along with a variety of milkshakes and freshly made sides sweet and savory sides.
The Tavern Bar:Located centrally at the Eatery serving craft beers, wine and cocktails.
Toast & More: A French bakery serving a large selection of savory and sweet tartines, French pastries, quiches and more which can be enjoyed for breakfast, lunch or dinner.
TYO Sushi: A fusion of traditional skill with modern tastes, incorporating Japan's signature and time-honored sushi roots and spicing it up with today's modern flavors.
XO Espresso Bar: A specialty coffee bar serving quality coffee, wellness drinks, organic teas and a wide range of small bites and pastries to match.
The Lincoln Eatery offers flexible indoor/outdoor seating for over 200. A modern interpretation of the industrial food hall, The Lincoln Eatery's design elements include glossy subway tiles and polished concrete floors. Overhead, a matrix of wooden beams evokes a lush tropical canopy. The Tavern serves as the Eatery's centrally located 'Drinkery', offering wine, beer and handcrafted cocktails. In late 2019, Terranova will open the project's second phase – a spacious rooftop terrace with beautiful views of South Beach that will be open to the public for dining, drinking, special events and lounging. Other shopping and dining experiences are online to open later this year across the street from The Lincoln Eatery including Genuine Pizza by Chef Michael Schwartz and The Cuban Coffee Cup.
One block north of Lincoln Road and within walking distance of the newly debuted Miami Beach Convention Center, New World Center, the Fillmore Miami Beach and Miami City Ballet, The Lincoln Eatery is perfectly situated for post-shopping, before and after theatre dining and drinking. Convention center attendees will delight in this convenient option. Located at 723 Lincoln Lane on Miami Beach the Lincoln Eatery is open daily from 8:00AM to 11:00PM. www.thelincolneatery.com; @lincolneatery.