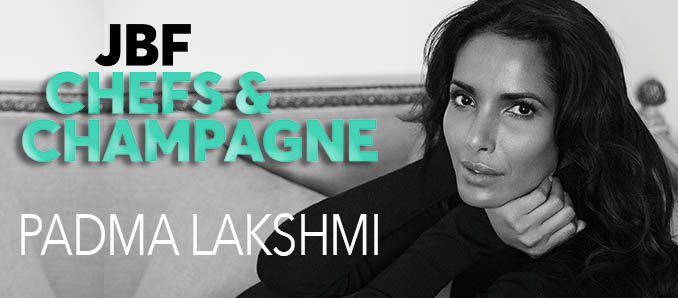 ~ Host and executive producer of Bravo's James Beard Award-winning and Emmy award-winning Top Chef will join over 35 chefs at annual JBF Fundraiser in Sagaponack,
NY this summer ~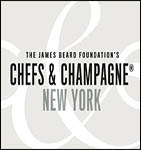 The James Beard Foundation (JBF), the country's preeminent culinary organization, announced today that Padma Lakshmi, host and executive producer of Bravo's James Beard Award–winning and Emmy award–winning Top Chef, will be the guest of honor at this year's Chefs & Champagne on Saturday, July 28, 2018. The annual Hamptons fundraiser and tasting party, to be held at Wölffer Estate Vineyard in Sagaponack, New York, is one of the East End of Long Island's most highly anticipated culinary events of the summer. Food and drink offerings from more than 35 chefs, beverage masters, and artisanal purveyors will be featured along with flowing Champagne Boizel and Wölffer Estate wines.
"I am excited to be joining the ranks of previous guests of honor such as Julia Child and Martha Stewart to support the foundation's mission to make America's food culture more delicious, diverse, and sustainable for everyone," said Padma. "Bringing attention to JBF scholarship, women's leadership, and other impact programs align with many of the causes that are close to my heart."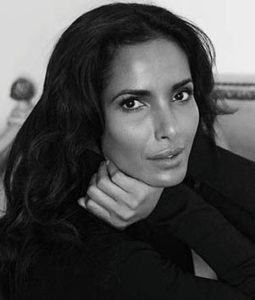 Lakshmi is an internationally known food expert, model, actress, and best-selling author, as well as the recipient of the 2016 NECO Ellis Island Medal of Honor and Variety's 2018 Karma award. Top Chef, the Emmy award­­–winning show she hosts and executive produces, is currently filming its 16th season. Lakshmi established herself as a food expert early in her career, having hosted two successful cooking shows and writing the best-selling cookbook, Easy Exotic. Lakshmi followed this success with the publication of her second cookbook, Tangy, Tart, Hot & Sweet. In 2016, she released her food memoir, The New York Times best-seller Love, Loss and What We Ate, followed by The Encyclopedia of Spices & Herbs. In addition to her work as a writer, Lakshmi is a savvy businesswoman, having had multiple companies of her own, including the home décor line, The Padma Collection; and Padma's Easy Exotic, a collection of frozen rice, lentils, and other culinary products. Last year, Lakshmi became an ambassador for the ACLU, focusing on women's reproductive health and immigration issues. She is also co-founder of the Endometriosis Foundation of America.
"Padma's passion for food, family, and feminism as well as her business savvy makes her an ideal guest of honor at this year's Chefs & Champagne," said Clare Reichenbach, chief executive officer of the James Beard Foundation. "She is such an inspiring role model for future generations of chefs, writers, and entrepreneurs. We look forward to celebrating her accomplishments this summer in the Hamptons."
Among the chefs* who have signed on to fête Padma are: Alex Baker, Yves, NYC; Emma Bengtsson, Aquavit, NYC; Janine Booth and Jeff McInnis, Root & Bone, NYC; Peter Botros, The Stone House at Clove Lakes, Staten Island, NY; PJ Calapa, Scampi, NYC; Adrienne Cheatham, Sunday Best Dinner Series, NYC; Jessica Craig, L'Artusi, NYC; Suzanne Cupps, Untitled at the Whitney, NYC; Georgette Farkas, Rotisserie Georgette, NYC; Tom Fraker, Melissa's Produce, CA; Nicole Gajadhar, Saxon + Parole, NYC; Gregory Gourdet, Sage Restaurant Group, Portland, OR; Joe Gurrera, Citarella, Bridgehampton, East Hampton, and Southampton, NY, Greenwich, CT; and NYC; Patti Jackson, Delaware and Hudson, Brooklyn, NY; Nick Kim and Jimmy Lau, Shuko, NYC; JBF Award Winner Pastry Chef Sarabeth Levine, Sarabeth's; NYC; Mina Newman, Sen Sakana, NYC; Ayesha Nurdjaja, Shuka, NYC; Chintan Pandya, Rahi, NYC; Angie Rito and Scott Tacinelli, Don Angie, NYC; Barbara Sibley, La Palapa, NYC; Joseph Smith, Wölffer Kitchen, Amagansett and Sag Harbor, NY; Roxanne Spruance, Kingsley, NYC; Chris Starkus, Urban Famer, Denver, CO; Hilary Sterling, Vic's, NYC; Audrey Villegas, 2 Spring, Oyster Bay, NY; Jason Weiner, Almond, NYC; Mathew Woolf, Rainbow Room, Bar SixtyFive, NYC Emily Yuen, Bessou, NYC.
Over the last 27 years past guests of honor have included Ted Allen, Daniel Boulud, Julia Child, Bobby Flay, Carla Hall, Thomas Keller, Emeril Lagasse, Wolfgang Puck, and Martha Stewart. Funds raised at Chefs & Champagne help support the James Beard Foundation's wide variety of programming, including student scholarships and the organization's Impact Programs and women's leadership initiatives. A silent auction consisting of fine dining experiences, wines and spirits, cookware, and culinary travel packages will also raise funds for the organization.
With a long tradition of supporting culinary education, the James Beard Foundation will also announce the recipient of the 2018 Christian Wölffer Scholarship at the event. Established in 2006, the scholarship fund supports students in their study of food and wine. As of July 2018, nearly $8 million will have been awarded to over 2,000 recipients.
The Chefs & Champagne main event will take place from 6:00 pm to 8:30 pm on Saturday, July 28, 2018 and is open to the public — reservations are $225 for James Beard Foundation members and $300 for non-members. General admission includes all tastings, silent auction bidding opportunities, and a gift bag. VIP premium admission, beginning at 5:00 pm, is $425 for James Beard Foundation members and non-members. VIP tables of 10 are available for $4,500. The VIP experience includes an additional exclusive reception hour with early access to all tastings, reserved table seating, advanced silent auction preview, gift bag, and access to the VIP after-party. Reservations can be made by calling (212) 627-2308 or at jamesbeard.org/chefsandchampagne. To become a member of the James Beard Foundation, click here.
Support for this year's Chefs & Champagne include the following sponsors*: Audi; Big Green Egg; Hamptons.com; Hamptons Magazine; Heineken; Loacker; Melissa's Produce; Royal Cup Coffee and Tea; Saratoga Spring Water Company; Seedlip ®, Tito's Handmade Vodka; VerTerra Dinnerware; Windstar Cruises; Wölffer Estate Vineyard. VIP After Party sponsors are restaurants Amali, NYC, and Calissa, Watermill, NY.
About the James Beard Foundation (JBF)
The James Beard Foundation's mission is to celebrate, nurture, and honor chefs and other leaders making America's food culture more delicious, diverse, and sustainable for everyone. For more than 30 years the Foundation has accomplished this mission through programs that highlight food's central role in our lives. In addition to hosting guest-chef dinners throughout the year at the historic James Beard House in New York City, the Foundation administers the James Beard Awards; grants scholarships for culinary students; produces national events that include our Taste America tour; and creates educational programs for the culinary community and food lovers. The Foundation addresses the growing challenges facing our food system through its Impact Programs, which include the Leadership Awards; Chefs Boot Camp for Policy and Change; Issue Summits; and Culinary Labs. Industry issues, such as gender imbalance and diversity in culinary leadership, are addressed through our Industry Programs. For more information, please visit jamesbeard.org and follow @beardfoundation on Instagram, Twitter, and Facebook.