Fast-casual concept by P.F. Chang's introduces a new small portion size, new menu options, and a fresh new look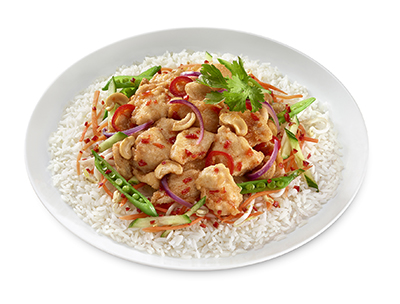 As individuals across the country make New Year's resolutions, Pei Wei Asian Diner has resolved to reFRESH nationwide with a new year full of new options. The fast-casual concept by P.F. Chang's is unveiling a fresh look, fresh new menu items and the addition of a lighter, small size entrée. Now at all 192 restaurants across 25 states, guests can enjoy the bold and fresh flavors of any of their Pei Wei favorites in a size that's just right for them, starting at just $6.39.
Included in the reFRESH is the introduction of Pei Wei's freshest flavor yet – new Thai Lime & Chile. Refreshing citrus flavors combine with spicy Fresno chiles to create this unique flavor adventure. Starting at just $6.39, Pei Wei's new Thai Lime & Chile offering is available as a regular or small wok'd entrée served with white or brown rice, or as an entrée salad, incorporating the guest's choice of protein – chicken, steak, shrimp or tofu.
Pei Wei has also added two new Perfect Additions to the menu: zesty Ginger Orange Edamame and spicy Szechuan Green Beans. The new side dishes are ideal to pair with a small wok fresh entrée for a light, satisfying lunch or to enjoy as a sharable starter at dinner with the new Thai Lime & Chile entrée or salad.
Another new menu addition is Pei Wei's Wok Roasted Vegetable Salad, a flavorful combination of wok-roasted cauliflower, zucchini, carrots, green beans, scallions, assorted lettuce, Napa cabbage, cucumbers and tomatoes topped with toasted sesame seeds, curry salt and tossed in a miso vinaigrette.
Because all dishes are handcrafted fresh and fast, Pei Wei guests can customize each to their liking, whether that be lightening up a wok fresh entrée with steamed chicken or shrimp, opting for the new small entrée size, heating things up by increasing a dish's spice level, selecting a side salad in place of rice, or choosing to have sauces served on the side.
"We're excited to debut Pei Wei's reFRESHed dining experience, and we're confident our guests will enjoy the variety and increased options for customizing, pairing, sizing and pricing," said K.C. Moylan, President of Pei Wei Asian Diner.
For more information, visit Pei Wei at www.peiwei.com, and for ongoing news and special offers, follow Pei Wei on Facebook and Twitter.
About Pei Wei
Pei Wei Asian Diner, owned and operated by P.F. Chang's China Bistro, offers a menu of fresh, high-quality Asian cuisine featuring 35 bright, flavorful hand-cut ingredients. The restaurant provides a lively, casual dine-in experience as well as the flexibility, speed and convenience of take-away service to provide guests tasty options for a quick, light lunch or relaxing dinner. Pei Wei Asian Diner serves freshly prepared, wok'd-to-order dishes with Asian inspiration in a comfortable, modern diner environment. Pei Wei currently operates 192 restaurants in 25 states. For more information, visit www.peiwei.com.