Limited-time pizza offering begins October 28th at trend-setting fast-casual chain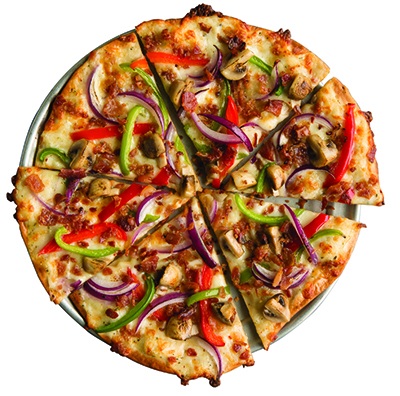 Pie Five Pizza's culinary guru, Chef Andy Wittman, never knows what he's going to find when he ventures out into his well-manicured garden.
A month or so ago, he found a pig.
After shooing it away with a hearty 'Woo Pig Sooey!,' Chef Andy had a vision. And it smelled a lot like bacon.
The next thing you know, Pie Five's newest limited-time specialty pizza – the "Pig in the Garden" – was born.
This delectable creation includes a cornucopia of fresh treats from Chef Andy's garden, including roasted mushrooms, red and green pepper medley, fresh onions, pesto alfredo sauce and crispy bacon. The Pig in the Garden arrives at your nearest Pie Five Pizza on Monday, October 28th, but will only be available through December 8th, so don't get hog-tied and miss out.
"Chef Andy doesn't like it when animals get into his garden, but in this case, he didn't seem to mind so much," said Wittman's faithful gardener, Hal. "After he went around checking to make sure his precious vegetables and spices weren't harmed, he just kept muttering to himself 'bacon, bacon, bacon…' I think the Pig in the Garden pizza could be his best specialty creation yet."
At Pie Five, guests can choose from more than a million combinations of handcrafted pizzas and a variety of specialty pie choices prepared in less than five minutes on one of four crusts. The rapidly growing chain is capitalizing on growing consumer demand for fresh dining options and artisan pizzas in stylish environments without the wait.
A subsidiary of Pizza Inn Holdings, Inc. (NASDAQ: PZZI), Pie Five has been named a 2013 Top 50 Restaurant Brand of the Year, a 2012 Hot Concepts winner by Nation's Restaurant News, and one of "10 Hot New Restaurant Chains from Established Brands" by Forbes.com.
Pie Five now has 12 locations in Texas, two in Utah and one each in Kansas and North Carolina. Total announced franchise restaurants under contract currently number 104 in Florida, Kansas, Kentucky, Maryland, Missouri, Nebraska, North Carolina, Oklahoma, Texas, Utah and Virginia.
ABOUT PIE FIVE PIZZA CO.
Pie Five is a subsidiary of Pizza Inn Holdings, Inc., headquartered in the Dallas suburb of The Colony,Texas. Pizza Inn Holdings, Inc. is an owner, franchisor and supplier of a system of restaurants operating domestically and internationally. Pie Five Pizza Co. is a fast-casual concept offering individual pizzas made to order and cooked in less than five minutes. Founded in 1958, publicly traded Pizza Inn Holdings, Inc. (NASDAQ: PZZI) franchises approximately 300 restaurants and directly owns and operates 15 restaurants. For more information, please visit www.piefivepizza.com.