Limited-time offering begins today at trend-setting fast-casual pizza chain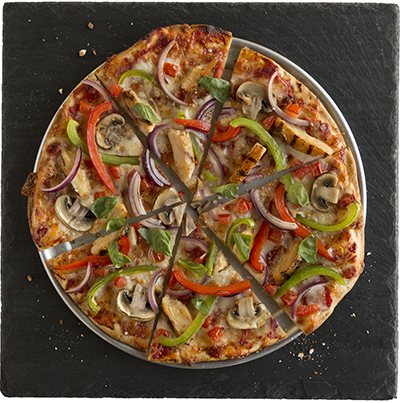 Pie Five Pizza is doing its part to help its weight-conscious guests keep their New Year's resolutions this year.
The rapidly growing fast-casual pizza brand is introducing a delicious new creation – the Skinny Pie – today at all of its locations nationwide.
The Skinny Pie features a delectable combination of all natural chicken, signature mozzarella and provolone cheese blend, red onion, red and green peppers, diced tomatoes, mushrooms and basil on Artisan thin crust and topped with Marinara sauce. The entire pizza contains less than 500 calories.
"We already offer lots of healthy choices on our menu, including gluten-free and whole-grain crusts, signature salads and our Farmer's Market vegetarian pie, to name a few," said Pie Five Pizza Chef Andy Whitman. "But we wanted to offer something extra special at this time of year for those determined to drop a few pounds. The Skinny Pie will fit in just about any diet plan, and the best thing is, it's delicious!"
At Pie Five, guests can choose from more than a million combinations of handcrafted pizzas and a variety of specialty pie choices prepared in less than five minutes on one of four crusts. The rapidly growing chain is capitalizing on growing consumer demand for fresh dining options and artisan pizzas in stylish environments without the wait.
Pie Five has been named a 2013 Top 50 Restaurant Brand of the Year, a 2012 Hot Concepts winner by Nation's Restaurant News, and one of "10 Hot New Restaurant Chains from Established Brands" by Forbes.com.
Pie Five has 13 locations in Texas, two each in Kansas and Utah, and one in North Carolina. More than 150 announced franchise units are currently under contract in Florida, Kansas, Kentucky, Maryland, Missouri, Nebraska, North Carolina, Oklahoma, Tennessee, Texas, Utah, Virginia and Washington, DC.
The Skinny Pie will be available through February 16th.
ABOUT PIE FIVE PIZZA CO.
Pie Five Pizza Co. is a subsidiary of Pizza Inn Holdings, Inc. (NASDAQ: PZZI), headquartered in the Dallas suburb of The Colony, Texas. Pie Five is a trend-setting, fast-casual concept offering individual handcrafted pizzas with fresh ingredients made to order and prepared in less than five minutes. First introduced in 2011, Pie Five Pizza currently has 18 locations in four states with more than 150 announced franchised units under contract in 12 states and the District of Columbia. For more information, please visit www.piefivepizza.com.