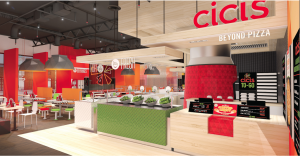 On the heels of its 30th anniversary, Cicis announced today that it is going "Beyond Pizza" with a refreshed brand identity.
The popular chain, with nearly 450 restaurants across the U.S., unveiled its new branding – including a clean, simple and contemporary logo – along with its newly identified core brand positioning of "Feeding Individuality."
The new logo, which removes the word "Pizza" from its name and adds the modifier "Beyond Pizza," acknowledges that Cicis is not just another pizza place and serves a lot more than pizza – including salad, soup, pasta, desserts and a fun gameroom experience. The logo is comprised of unique shapes of various colors converging around a central point, representing variety, as well as individuals coming together.
"Cicis believes that differences are what make life most flavorful, so the new brand positioning underscores our promise to empower individuals through the freedom of the buffet to find the tastes they love," said Sarah McAloon, Cicis Chief Marketing Officer.
The company is also rolling out a new restaurant prototype design, with its first location scheduled to open in the second quarter of 2016 and a re-imaged version to open in the first quarter of 2016. Sterling Rice Group of Boulder, CO, assisted in the development of the new brand vision and prototype design, and Back Lot Productions of Atlanta is helping translate the design into a live restaurant.
The new design features an entirely new color palette, graphics and restaurant layout in sync with the new brand identity. More than 20 franchise-owned restaurants and at least 10 corporate-owned locations will be built following the new prototype design in 2016-17.
"We are incredibly excited about the direction our brand is headed, not just corporately, but throughout our franchise community as well," said Cicis CEO Darin Harris. "A great deal of time and effort went into making sure our new logo, our updated look and our new prototype fit what the brand represents. We made sure to thoroughly study Cicis history and gain insight from many of our founding franchisees so we could honor our heritage as we build out the future of the brand."
The new logo debuted today on the rebuilt website, which features the new brand identity along with updated technology to enable greater search engine accessibility. The website's responsive design allows for a consistent user interface on mobile platforms, which is how most of Cicis guests access the site.
For the Cicis nearest you, visit cicis.com. Cicis: BEYOND PIZZA.