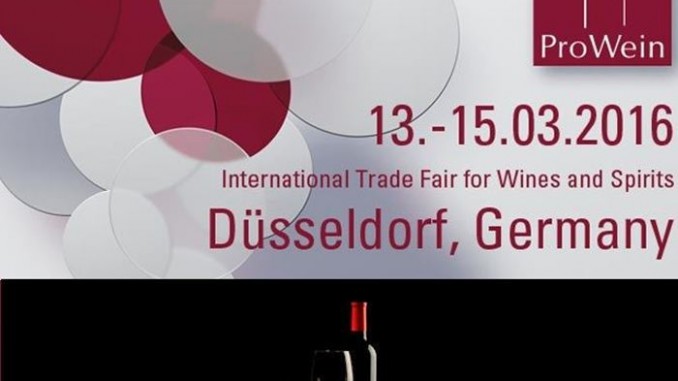 DIVERSE ANCILLARY PROGRAM AT PROWINE ASIA 2016
The products of the over 300 exhibitors from 20 regions and countries at the inaugural edition of ProWine ASIA 2016, International Trade Fair for Wines and Spirits, will be complemented by a wide-ranging ancillary program consisting of wine tastings, educational and interactive master classes, workshops, seminars, lectures and presentations by various industry leaders. ProWine ASIA will take place at the Singapore Expo from April 12 – 15, 2016 alongside the 20th edition of FHA2016 (Food&HotelAsia2016).
Key speakers and topics to be addressed at the ProWine ASIA 2016 ancillary program will include:
Institute of Masters of Wine Information session by Tan Ying Hsien MW
* Presentation by Master of Wine (MW) Tan Ying Hsien, one of the world's most recent MWs, and the first Singaporean member of the Institute.
* The session will give an introduction to the study program to attain the Master of Wine title.
* Topics include entrance requirements, program structure, assessment and fee information.
Explore Award-Winning Wines from Around the World with Decanter
* Tasting of award-winning wines from different regions around the world with Ch'ng Poh Tiong, Vice Chairman of the Decanter Asia Wine Awards (DAWA).
* Tasting and guided tour to a selection of DAWA trophy winners and learning about recognizing quality wines.
Sake Basics & Beyond and Sake & Food Pairing Masterclass
Presentation about Sake and food pairings by John Gauntner, renowned as the world's leading non-Japanese Sake expert.
Taste like a Pro
* Presentation by Jean Charles Viens, Deputy Wine Director, Spirito diVino Asia, about the culture of Italian wines.
Wine Tourism as a Marketing Tool of Evolving Winemaking in Ukraine, Georgia, Moldova.
* Success stories from countries such as Italy, Spain, France, Australia and the U.S. and wine tourism market players such as wineries, national agencies and offices, independent professionals, media and tour providers presented by Marina Mayevska, Managing Editor, Publishing House "N" (CaBaRe/Chic and Drinks+ magazines).
* Trends of the emerging wine tourism markets in Asia and Ukraine, business opportunities in the untapped wine travel regions of Moldova and Georgia and an analysis of the world's most successful wine routes and events presented by Maria Mayevska.
In addition, masterclasses led by Wine & Spirit Education Trust (WSET) will be offered on topics such as "The language of wine: a Systematic Approach to Tasting" by Jude Mullins, DipWSET – International Development Director, "A world of Sherry" by Jon Chan, WSET Educator, Wine Language as well as an "Austrian Wine Seminar" by Robert Parker's Wine Advocate led by Stephan Reinhardt, a German journalist specializing in wine (his book "The Finest Wines of Germany" was selected as "Best international wine book of the year 2013" by the Louis Roederer International Wine Writers' Award).
ProWine Asia 2016 will feature renowned exhibitors from around the world such as producers and distributors from France, Italy, Singapore and Spain, led by SOPEXA, ICEX, Singapore Manufacturers' Federation (SMF) and Winalia. Exhibitors in the international group pavilions will include Ambrosia, Armagnac Castarede, Bogarve 1915, Bottles and Bottles, Cavas Naveran, Champagne J. De Telmont, Chateau Condamine Bertrand, Famille Laudet, Far East Distillers, Kracher, JC Wine & Spirits and Makoto-Ya as well as Mont Reaga Winery, Pierre Comunicacion Integral, Quinta Da Sequeira, Viano Michele and Vinovalie.
"We are extremely excited to see the participation of local and international companies at the first ProWine ASIA 2016 in Singapore. With the expertise of ProWein in Germany – the world's leading trade fair for wines and spirits, ProWine ASIA 2016 will provide a compelling platform for buyers, sellers, industry experts and customers from across Southeast Asia to share knowledge and best practices with many of the leading wine producing nations and regions from around the world, including 'newcomers' to the international wine business, participating at the event," stated Beattrice J. Ho, Project Director at Messe Düsseldorf Asia.
"The demand for alcoholic beverages is on the rise across the region and international exporters are looking at Southeast Asian markets to grow their product lines. In parallel, local producers are also trying to establish vineyards and promote their native wines in new regions. ProWine ASIA 2016 will provide an excellent and timely opportunity for industry partners and experts to share best practices and discuss key opportunities and challenges impacting the region," added Ting Siew Mui, Project Director of Lifestyle Events at Singapore Exhibition Services.
Visit www.prowineasia.com/index.php/masterclass-seminar for more details about the ProWine Asia 2016 ancillary program.