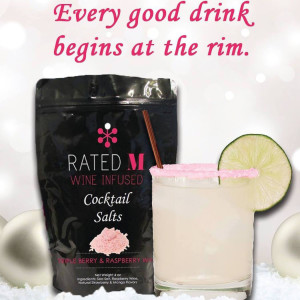 As parties start to finalize, and families come together for the holidays, finding that perfect party pop can pose a challenge for most. Rated M Wine Infused Cocktail Salts make the perfect and easy addition sure to make your party pops!
What's in is all about the rim on your favorite cocktail! Rated M has manufactured the perfect line of PRE MOISTENED Wine Infused Cocktail Salts! No need to lime, or wet the rim of your drink before applying. Instead, cut a step out as easy as 1. Pour salts on a plate 2. Dip the rim of your glassware until the desired rim is achieved. 3. ENJOY!
"These Wine Infused Cocktail Salts are unlike anything you've ever tasted" -boasts CEO, Danita Harris. Locally manufactured in Broward County, the salts are first infused with Raspberry Wines, then with Natural Flavors to achieve the desired, and decadent flavors. The Raspberry Wines marry well with all types of drink flavor profiles. Even traditional drinks you wouldn't think of using a salt rim with, works. "Some of our customers have said, they've used the salts in the drinks themselves and not just on the rim," Harris notes.
Rated M Wine Infused Cocktail Salt in Triple Berry on a shot of chocolate liqueur tastes like you're drinking a chocolate covered strawberry!
Currently Rated M has two flavors, Triple Berry and Chocolate Raspberry and two sizes, 4oz and the 8oz Party Pack —With plans to expand to more flavors in 2016.
Rated M Wine Infused Cocktail Salts can be found locally at South Florida Distillers, Living Green Market, Cellar's Liquors, and Bailey's on Sanibel Island. These Cocktail salts make the perfect stocking stuffer, or gift to the host — though you'll be the star of the party!
As Seen on bartender.com Email or Call for a FREE Sample! For More information, contact Danita Harris at 954-908-3418 or info@ratedmmm.com