Category-creating brand has a message for traditional beverage alcohol: Since you can't take the heat, stay out of the kitchen.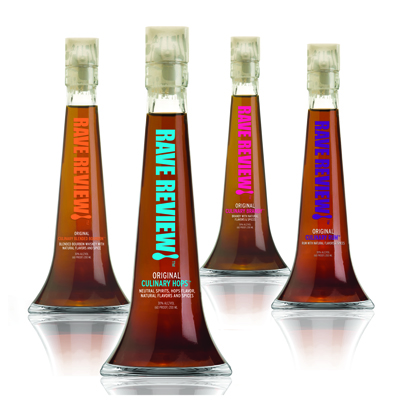 Rave Review! Original Culinary Spirits, the first line of spirits produced specifically for cooking, is heading to New York City. Blending quality natural ingredients with an affordable price, Rave Review! is a truly distinctive product which will be available in NYC liquor stores in early October.
"Spirits are purchased for either drinking or cooking," said Jim Lindner, President and CEO of Restoration Spirits, Inc., who crafted the category-creating portfolio. "Cooking with spirits has not kept pace with the culinary evolution, so we decided to find out how spirits made for cooking would differ from those designed for drinking."
A panel of award-winning executive chefs, food scientists and culinary experts contributed their food, their experience and their palates to develop the ultimate flavor of each product. The chefs determined that 30% alcohol by volume was ideal for carrying the aroma and taste through the heating process. The resulting liquid lacks an alcohol bite which makes it ideal for the culinary blending of flavors and producing balanced food.
"Heat stability is one of the crucial differences between our culinary spirits and traditional beverage spirits – although ours are still delicious unheated," said Lindner.
Additionally, the line has 25% fewer calories per serving than many beverage spirits. According to Lindner, the sugar content was purposely kept low to allow for more culinary flexibility. "There's no taking back sweetness," he said. "When you are in the kitchen, you know where the sugar bowl is, and with Rave Review! you can always add more."
In New York City, the Rave Review! portfolio will be distributed by Empire Merchants.
"Empire Merchants is proud to represent Jim Lindner's visionary new product Rave Review!," said E. Lloyd Sobel, President and CEO, Empire Merchants, a division of The Charmer Sunbelt Group. "True innovation is the life blood of the wine and spirits industry, and Rave Review! has created an entirely new category – culinary spirits. Every professional or aspiring amateur chef should have the selection of Rave Review! in their kitchen."
The Rave Review! Original Culinary Spirits portfolio includes:
Rave Review! Original Culinary Brandy — Featuring a dash of oak and a hint of orange zest, our Brandy is decadent in desserts, wonderful with savory pork and poultry creations and superb for deglazing pan sauces.
Rave Review! Original Culinary Rum — Lacking the overpowering sweetness found in traditional rums, our Rum is delicious in recipes ranging from a savory Caribbean black bean dip to traditional rum balls and cake.
Rave Review! Original Culinary Blended Bourbon — With its slight smokiness and smooth vanilla finish, our Bourbon is ideal in dishes ranging from frosting to BBQ sauce. Better yet – it's a great substitute for vanilla extract.
Rave Review! Original Culinary Blended Hops — Featuring an aroma similar to an India Pale Ale, our Hops is a great addition to seafood dishes like steamed mussels and marinades for steak. It even gives a little extra something to roasted vegetables.
Additional flavor extensions are planned next year.
About Rave Review!
Headquartered in Miami, Rave Review! Original Culinary Spirits has created a new category in beverage alcohol – Culinary Spirits. An award-winning panel of chefs, food scientists and culinary experts selected for their experience and diverse culinary styles helped create of a portfolio which brings the best flavors to bear for chefs – professional and amateur alike. Rave Review! Original Culinary Spirits are available in Miami, FL and New York City. For additional information about cooking with spirits, visit RaveReviewSpirits.com.