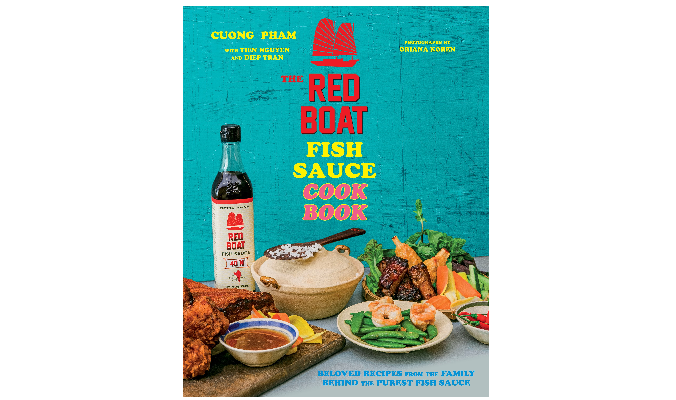 To celebrate Red Boat Fish Sauce's 10-year anniversary founder Cuong Pham will debut his first ever cookbook on October 26th. The Red Boat Fish Sauce Cookbook: Beloved Recipes from the Family Behind the Purest Fish Sauce is a collection of family recipes paying homage to Pham's mother and a reflection on the 10 years of growth and Cuong's journey to creating the purest fish sauce on earth
"My mother was the driving force behind why I started Red Boat," shares Pham. "She was a phenomenal cook and I can't wait to showcase her recipes in this cookbook. I hope our fans and Red Boat community enjoy making some of our favorite classics as well as newer dishes that were developed by our R&D Chef Diep Tran."
The Red Boat Cookbook details Pham's year-long journey to America from Vietnam and his quest to create a premium fish sauce brand based on three simple ingredients: anchovy, sea salt, and time. Readers will get a behind-the-scenes look of Pham's Phú Quốc Barrelhouse and learn everything about the process of transforming anchovies and sea salt into Red Boat's iconic fish sauce. The cookbook shares a bevy of family stories and cherished recipes, including favorites likes Bún Chà, Sugarcane Shrimp, Chicken Wings and Pork Roast to newer dishes like Ginger-Cilantro Fried Chicken and Crab Rolls that showcase Red Boat's depth and versatility for those new to the fish sauce scene.
"This cookbook explores the incredible range of fish sauce – whether it be a dipping sauce for egg rolls or tucked into pasta sauces, marinades, or even a simple spread for burgers ," shares R&D Chef Diep Tran. "We have over 100 recipes, including some of Cuong's most cherished family recipes. This book encompasses a true American story and we are so excited to share it with the world and our fish sauce-loving community."
To promote the release, Red Boat will host a series of virtual events ranging from cooking demos to Q&As as well as partner with a number local restaurants and independent bookstores nationwide to bring a taste Phú Quốc to your home. The Red Boat Fish Sauce Cookbook: Beloved Recipes from the Family Behind the Purest Fish Sauce is co-written with R&D Chef Diep Tran and cookbook author Tien Nguyen (Roy Choi's L.A. Son, Adam Fleischman's Flavor Bombs). To pre-order online visit BookShop, BAM, Target, Barnes & Noble, Walmart, and Amazon. For more information and to stay up-to-date with upcoming events visit RedBoatFishSauce.com.