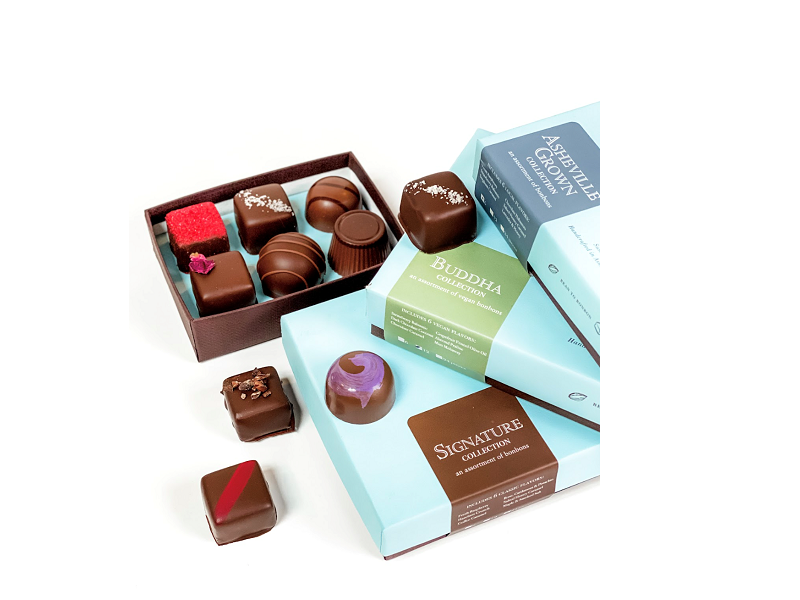 Ponce City Market announces French Broad Chocolate – the bean-to-bar craft chocolate company out of Asheville, North Carolina – is now open on the first floor of the Central Food Hall.
French Broad Chocolate was founded in 2006 by Jael Skeffington and Dan Rattigan. The pair drove a veggie oil-powered school bus to the cacao-rich tropics of Costa Rica where they opened a café and dessert shop. They spent two years there visiting cacao farms and learning about Theobroma cacao, the plant from which chocolate is made, before moving to Asheville to fully focus on their passion for chocolate. They got their start with a farmers market stand, establishing relationships with local farmers and vendors before opening their first retail shop, French Broad Chocolate Lounge, in the heart of downtown Asheville in 2008. The company's identity is grounded in connections and support for the local agriculture community in Asheville.
As a Certified B Corporation, Co-founder Jael believes in using business as a force for good. Furthering their mission to thoughtfully source every ingredient as an artisan dessert and chocolate company, Jael and Dan evolved to make their own craft chocolate from directly sourced cacao starting in 2010. In 2012, they opened their first Chocolate Factory in Asheville. After outgrowing their original location, they built a new experiential chocolate factory along the French Broad River in 2018, where guests can take tours and learn about cacao, their relationships at origins and the chocolate-making process firsthand.
French Broad Chocolate is excited to bring Asheville to Atlanta with their signature, handcrafted chocolate, including fan-favorite bonbons with Asheville-grown flavors like Salted Honey Caramel, Fresh Raspberry and Lavender & Honey, and delicious chocolate bars with flavors including Sea Salt, Brown Butter Milk and Chai Masala, plus an entire collection of single-origin dark chocolates.
"Opening at Ponce City Market has been a dream of ours for many years," said Jael. "This is a huge milestone, and we are so thrilled to become a part of the amazing food community in Atlanta."
The space features a retail alcove where guests can purchase gift sets of edible art wrapped in French Broad's signature blue and brown packaging. Plus, the shop serves items like Salted Caramel Brownies with cacao nibs from their baked goods program and luscious sipping chocolate.
About French Broad Chocolate
Guided by a mission to source with integrity and craft with intention, French Broad Chocolate builds meaningful relationships with sustainable farmers and producers and transforms fine cacao beans into craft chocolate in their experiential Chocolate Factory in Asheville, North Carolina. Bean-to-bar to bonbon and beyond means they create not only their artisan chocolate bars, but also a compendium of confections and desserts featuring their chocolate paired with local, fresh and organic ingredients. Their creations can be enjoyed in Asheville at French Broad Chocolate Lounge, their destination dessert restaurant, at their Chocolate Factory & Café, or sent directly to you from frenchbroadchocolate.com. French Broad Chocolate is a Public Benefit Corporation and a Certified B Corp, a third-party certification demonstrating a commitment to social and environmental performance, transparency and accountability. Their chocolates have been recognized in many national and international awards including being featured on Good Morning America and in The New York Times, The Wall Street Journal, Everyday with Rachael Ray, Food and Wine, Washington Post, Southern Living and more.
About Ponce City Market
Developed by real estate investment and management firm Jamestown, Ponce City Market is a historic, mixed-use community hub featuring local and world-class food and retail, residential lofts and office space. With ample public green space and a pedestrian network directly linked to the Atlanta BeltLine corridor, Ponce City Market is a landmark in Atlanta's skyline and an iconic destination for visitors and neighbors alike. At its core is a buzzing indoor/outdoor Central Food Hall featuring restaurants and food stalls, including many from James Beard Award-winning and -nominated chefs. The community hub's diverse retail offerings include a mix of national brands like Anthropologie, West Elm, Williams Sonoma and J. Crew as well as local Atlanta-based shops like Modern Mystic Shop, The Village Retail, Rhen's Nest Toy Shop and more. When construction on the next phase of development is complete, Ponce City Market will include five buildings offering more than 700,000 square feet of office space, 350,000 square feet of retail space and over 800 residential and hospitality living units. For more information, please visit www.poncecitymarket.com; www.next.poncecitymarket.com/.