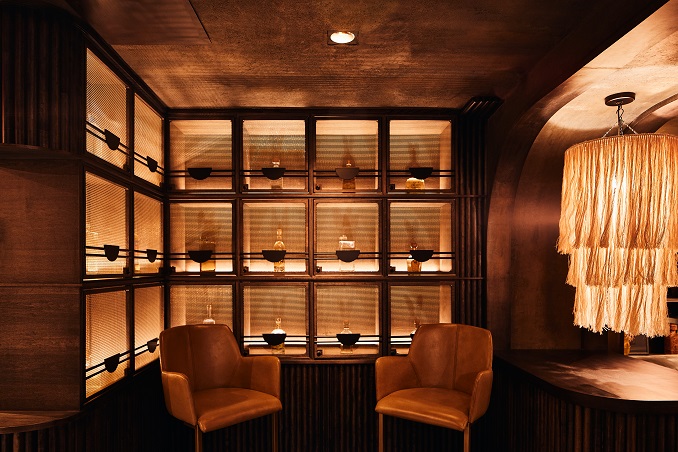 Richard Sandoval Hospitality, the group behind El Centro D.F., Toro Toro, La Sandia, and more, is pleased to unveil dLeña ROJA, a mezcal lounge beneath dLeña Wood-Fire Mexican Cocina & Mezcaleria, opening Friday, June 11.
Perfect for intimate gatherings, wedding welcome drinks, a birthday celebration, and more, dLeña ROJA comfortably accommodates up to 90 guests standing and 50 guests seated, and is designed by PETERMAX Co. Created to evoke a timeless space, dLeña ROJA can be accessed from a stairwell in dLeña or from a private entrance on 5th Street NW for distinguished guests looking for a bit more privacy. Lavish leather banquettes line the walnut fluted tambour clad walls, creating a warm and cozy environment. The art and decor were locally sourced from second-hand stores around DC and internationally from South America, India, and Mexico, including intricate wall hangings created by artisans in Querétaro.
Tequila and mezcal aficionados will revel in 44 private tequila lockers, able to be reserved for six-month leases. Stored and made available anytime they visit, guests enjoy access to their own private stash of tequila and mezcal from dLeña ROJA's library of over 300 spirits. Currently operating the same hours as its upstairs sister concept, dLeña ROJA will not accept reservations.
The downstairs lounge boasts an extensive 14-page beverage menu, designed by Assistant General Manager Mike McDonald, with over 250+ tequila and 50+ mezcal options alone. The craft cocktail menu is unique to dLeña ROJA and unable to be ordered upstairs. Chef Richard Sandoval and Chef Carlos Camacho have designed an exceptional small plate menu of modern Mexican cuisine.
dLeña and dLeña ROJA are located at 476 K Street NW, Suite D, Washington, DC 20001. The hours for both locations are 5pm to 10pm Sunday through Thursday, and 5pm to 11pm Friday and Saturday. dLeña ROJA hours may expand in the future. For more information on either concept, please visit dlenadc.com or contact avery@lindarothpr.com.
About dLeña
dLeña Wood-Fire Mexican Cocina & Mezcaleria is a modern Mexican restaurant located in the heart of Washington D.C's Mount Vernon neighborhood. The chef driven concept proudly offers a fresh take on Mexican cuisine and embraces their heritage and culture through an elevated dining experience. For more information on dLeña, visit dlenadc.com. For additional updates, follow dLeña on Instagram, Facebook, and Twitter.
About Richard Sandoval Hospitality
Richard Sandoval Hospitality is a leading restaurant group founded by Mexican-born chef/restaurateur Richard Sandoval. Known for offering guests an unparalleled culinary experience, this internationally recognized contemporary Latin restaurant group successfully owns and operates over 45 restaurant concepts around the globe. US restaurant locations span 10 states and the District of Columbia – as well as internationally in 7 countries including Costa Rica, Mexico, Nevis, Qatar, Serbia, Turkey and the UAE.