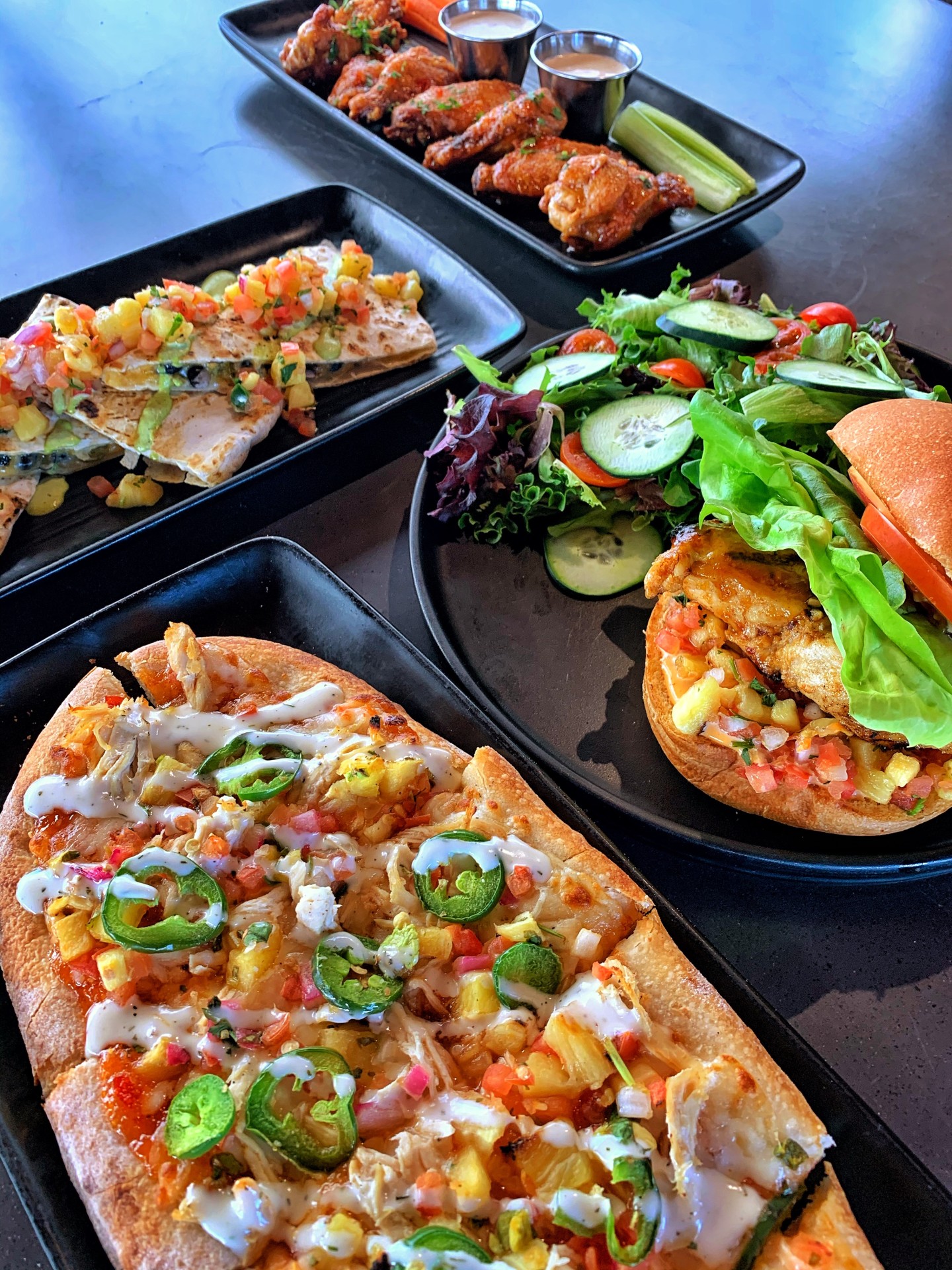 The hidden tiki pop-up brings mid-century experience to the Island of Ellis.
By Debbie Hall
Las Vegas, often called the "9th Island," embraces tiki culture décor and cultures (especially Polynesian tropical elements). The Island at Ellis has recreated its mid-century The Tiki Bar! with a specialty menu offering tiki-inspired food and cocktails at The Front Yard at Ellis Island Hotel, Casino & Brewery through July 4.
Transforming the second floor, as guests climb the stairs, they are greeted by the skeletons of perhaps pirates who got swept away by a siren song. Overhead, a 15-foot swordfish dangles, beckoning all to enter the island paradise resplendent with alligator boats with flowers, skulls on chandeliers, and beach balls wrapped in rope.
The tiki menu debut includes dishes such as a Teriyaki Chicken Burger, Tiki Quesadilla, and Coconut Shrimp, which is only available at the pop-up. In addition, The Front Yard's brunch and dinner menus will be available, with favorites including Stuffed Crunch Toast, Salmon and Lox Flatbread, Bacon Mac & Cheese, and giant pretzels.
The 10 boozy island-themed specialty drinks, sponsored by Bacardi, features Ellis Island spin on Tiki classics along with beer cocktails served in specialty glassware made specifically for the pop-up. All of Ellis Island's beers will also be on the menu, along with punch bowls for a group and individual cocktails to add to the festivities. Play a hand or two at the blackjack tables or play the variety of slots in the lounge area located by the Terrace Bar.
The Tiki Bar will be open 10 a.m. to 3 p.m. and 4 p.m. to midnight on Saturday and Sunday, 10 a.m. to 3 p.m. and 4 to 10 p.m. Mondays, and 4 to 10 p.m. Tuesday through Thursday. Reservations are available through OpenTable, and people can follow the pop-up on Instagram at @islandatellis.
The Tiki Bar is located on the second floor of The Front Yard at Ellis Island, 4250 Koval Lane in Las Vegas through July 4. For more info, call (702) 733-8901. For more information, or visit ellisislandcasino.com. Follow Ellis Island on Instagram at @elliscasinolv and Facebook at @EllisIslandLV.