Italian Culinary Destination Will Open its Sixth U.S. Location at New Las Vegas Resort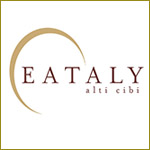 Eataly, the authentic Italian marketplace, announced today it will open its Las Vegas location at Park MGM, the city's newest resort, in December 2018. Las Vegas marks the sixth U.S. location of the Italy-based company, which has more than 35 stores worldwide.
The 40,000-square-foot culinary destination, located directly on the famed Las Vegas Strip, will serve as Park MGM's main entrance and feature unique food counters, bars, cafes and dining experiences offering traditional Italian food in a vibrant ambiance. Eataly Las Vegas will feature al fresco dining, as well as several areas dedicated to live cooking demonstrations.
"We are thrilled to partner with MGM Resorts International and Sydell Group for this exciting new venture," said Nicola Farinetti, CEO of Eataly USA. "With each of their many distinctive properties, both organizations have demonstrated their dedication to quality – something that we value above all at Eataly."
The Eataly Las Vegas experience will offer authentic Italian dishes, from tried-and-true Neapolitan pizza and pasta to specialties such as regional Italian street food and hand-pulled mozzarella and burrata cheese made in-house, all helmed by Executive Chef Nicole Brisson. A wide variety of Italian desserts and sweets, including beloved favorites like house-made gelatos and cannoli, will round out the Eataly experience.
Guests will be able to explore the flavors of Eataly while dining, along with enjoying the opportunity to shop high-quality products to bring the essence of Eataly home. The venue will offer a variety of premium food selections such as cured meats, cheeses and fresh seafood as well as an assortment of artisanal Italian favorites imported from Italy – from bronze-extruded pasta to extra virgin olive oil. Unique keepsake items, gifts and fine housewares that embody Italian design also will be on the shelves for visitors to purchase.
"Eataly Las Vegas will showcase our continued evolution," explains Farinetti. "We are integrating our retail store and restaurants further than ever before to create a more immersive and interactive experience surrounding premier food offerings. We can't wait to share our country's delicious cuisine and culture with the Las Vegas community – while Eataly will always remain authentically Italian, we are also excited to incorporate the culture and ingredients of the American Southwest throughout the venue."
Eataly Las Vegas will join Park MGM and Nomad Las Vegas' spectacular culinary program, which includes: Roy Choi's Best Friend, Hogsalt Hospitality's Bavette's Steakhouse and NoMad Restaurant by renowned Chef Daniel Humm and restaurateur Will Guidara, among others. A partnership between Sydell Group and MGM Resorts International, Park MGM evokes the residential spirit, intimacy and individuality of a boutique experience on a resort scale. In addition to its formidable food and beverage portfolio, the new property features beautiful guest rooms and suites, the 5,200-seat Park Theater with A-list entertainment, lounges, pools, meeting spaces and more.
For more information, visit Eataly or Park MGM online.
ABOUT EATALY USA
Focused on providing high quality, sustainable products for all, Eataly is the largest Italian retail and dining experience in the world, transforming the way consumers experience food, beverage and culture. At Eataly, guests have the unique opportunity to experience Italian culture through markets, restaurants and educational offerings that explore the best food and beverage options Italy's 20 regions and the world has to offer. Founded in 2007 in Turin, Italy by Oscar Farinetti, Eataly now operates five locations with approximately 2,700 employees across North America in Boston, Chicago, two locations in New York, and Los Angeles with locations in Las Vegas and Toronto coming soon. To learn more about Eataly please visit www.Eataly.com.
ABOUT PARK MGM
Park MGM is the newest destination on the Las Vegas Strip, offering an intimate resort experience on a grand scale. A partnership between MGM Resorts International and New York-based Sydell Group, Park MGM features 2,700 guest rooms and suites, casually elegant design and a remarkable culinary program including Hogsalt Hospitality's renowned Bavette's Steakhouse; Juniper Cafe Cocktail Lounge; and South-of-France inspired restaurant Primrose. Park Theater, the resort's entertainment destination, is a 5,200-seat venue home to special engagements by Bruno Mars, Cher and Lady Gaga, making her debut at the end of 2018. Park MGM is located in the heart of The Strip, next to the entertainment and dining neighborhood created by The Park and the 20,000-seat T-Mobile Arena. Additional developments at Park MGM will be announced as the resort experience unfolds throughout 2018. Park MGM is owned by MGM Resorts International (NYSE: MGM). For more information and reservations, visit ParkMGM.com, call toll-free at 888-529-4828 or follow on Facebook or Twitter.