First Pasta Sauce Brand to Use Augmented Reality Brings Label to Life
The familiar task of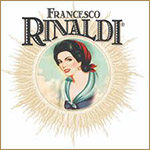 rolling your shopping cart down a grocery store aisle is undergoing significant changes thanks to technology advancements and consumers seeking a closer relationship with their favorite brands. The latest example comes from Francesco Rinaldi pasta sauce, today debuting an augmented reality app called "Francesco Rinaldi AR APP" that enables the brand's icon, "Mrs. Rinaldi," to speak directly with a shopper from the jar.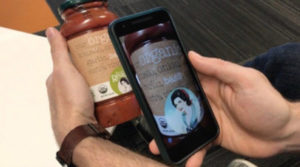 The process is simple: download the app via Apple Store or Google Apps, point the phone at her on a Francesco Rinaldi label, and watch Mrs. Rinaldi, in buoyant voice come to life with an entertaining and engaging product message.
"The iconic Mrs. Rinaldi has graced the Francesco Rinaldi label for nearly forty years and now at long last she speaks!" said Mary DeMarco, Creative & Branding Director of LiDestri Food & Drink, producers of Francesco Rinaldi pasta sauces. "And through augmented reality, we are looking forward and focusing on technology, all the while staying true to our traditional pasta sauce recipes and Italian culture."
Augmented reality technology is new to the pasta sauce aisle, but not to products such as 19 Crimes wine, having seen significant success with AR. According to DeMarco, this technology was made-to-order for Francesco Rinaldi thanks to the iconic label featuring Mrs. Rinaldi. "She has always been an easily-identifiable and strong symbol for the brand," said DeMarco, "And now thanks to this new app, we can hear and see her come alive."
Francesco Rinaldi App Now Available
Despite this recent nod to technology, Francesco Rinaldi's traditions are the heart and soul of the brand. Their pasta sauce originated from a family recipe that was handed down for many generations, and its unique spice blend has remained unchanged for nearly 40 years.
"The app enables us to reach a new generation of pasta sauce lovers by being innovative and disrupting tradition a little," said DeMarco. "And yet by featuring Mrs. Rinaldi, who shows a whole lot of personality by the way, the brand is embracing its heritage of hard work, integrity and culture."
The vivacious Mrs. Rinaldi, speaking in her charming Italian accent, is featured in three separate messages including the brand's "creamy" Alfredo sauces; their new line of organic pasta sauces; and the brand's sustainable packaging called the Living Jar™. Visual promotions will be in some stores in December where Francesco Rinaldi brands are sold. A very important part of the brand's story is the innovative Living Jar™ – a substitute to glass packaging – it's lightweight, BPA-free, shatterproof and has a significantly smaller eco-footprint than its glass counterpart.
The brand's Living Jar™ and Francesco Rinaldi AR APP are examples of grocery shopping becoming a more thoughtful and engaging experience. "If you can bring the label on a jar of sauce to life with your smart phone…" said DeMarco, "who knows what's next?"
ABOUT FRANCESCO RINALDI
Made by Italians™ – Francesco Rinaldi pasta sauces are based on family recipes handed down for generations. The brand's iconic label features the image of Mrs. Rinaldi and stands for strong women "in our family and yours."
Earlier this year, the brand introduced four organic sauces: Organic Basil, Onion & Garlic, Pomodoro and Portobello. Products are available for purchase at retailers nationwide. To find Francesco Rinaldi products use the store locator on the company's website at: http://www.francescorinaldi.com/