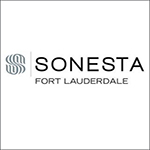 Sonesta Fort Lauderdale Beach today announced more details on its new full-service restaurant, Steelpan, opening in December. The oceanfront restaurant is a Caribbean-American fusion kitchen and bar, serving up a menu influenced by the multicultural island flavors of South Florida, and will feature indoor/outdoor seating for guests to soak in the hotel's stunning views.
"With the upcoming opening of Steelpan, we're excited to invite both our hotel guests and local residents to experience a concept that we have worked on so passionately," said Eduardo Fernandez, general manager of Sonesta Fort Lauderdale Beach. "We are confident the great care we've taken in crafting a unique menu and memorable experience will solidify Steelpan's place as a delicious, affordable and exciting new spot on Fort Lauderdale Beach."
As guests arrive at Steelpan, they'll immediately notice hints of the Caribbean through a celebration of flavors and cultures. Chef Kevin Baker, a passionate Jamaican native, will introduce a menu that showcases the restaurant's coastal location, leading guests through a shared culinary and libation-rich journey. This new 'oasis' will bring forth the flavors of the Caribbean and the island cultures that have long influenced the cuisine of South Florida – from the Bahamas to Barbados, Jamaica, Haiti, Cuba, The British Virgin Islands and West Indies.
Guests will enjoy fresh twists on regional treasures, including cracked conch with citrus, "Sea-Sar" salad with sugarcane-grilled shrimp and a seafood stew boasting fresh catch-of-the-day in a spicy broth.
Steelpan will evolve into a vibrant and interactive gathering place as the day and menu turn. Steelpan's American-Caribbean flavors will pair perfectly with a craft cocktail menu, featuring rum flights, signature drinks like the Tropical Splash, and a thoughtfully curated wine and beer selection. Happy hour specials will be available, daily, from 4PM to 7PM.
Reservations will be available soon. To stay in the loop on Steelpan news, or for more information, visit www.SteelpanFTL.com and follow the restaurant on Instagram @SteelpanFTL. For more information on the hotel, visit www.Sonesta.com/FortLauderdale, call (954) 315-1460, become a fan on Facebook or follow the hotel on Twitter and Instagram @sonestafortlauderdale.
About Sonesta Fort Lauderdale Beach
Recipient of a TripAdvisor Certificate of Excellence, Sonesta Fort Lauderdale Beach features 240 guest rooms including 23 spectacular suites, boasting panoramic views of the seven-mile stretch of Fort Lauderdale Beach or the Intracoastal Waterway. Sonesta Fort Lauderdale Beach provides a refreshing level of hospitality to the Fort Lauderdale market by offering travelers a sense of place, not just a place to stay. Catering to both business and leisure travelers, the hotel is centrally located on the corner of Sunrise Boulevard and A1A, only 8 miles from Fort Lauderdale/Hollywood International Airport and just minutes from the Las Olas Arts & Entertainment District and Port Everglades. Sonesta Fort Lauderdale Beach offers an authentic, local experience to guests and locals alike, brought to life through the brand's signature Food is Art, Liquid Art and Daily Delights programs.
About Sonesta Hotels
Sonesta is a growing, global hospitality brand with nearly 80 properties in seven countries, centered on a corporate dedication to delivering a guest experience that provides more than just a place to stay. With a portfolio of diverse and distinctive properties as individual as its guests, there is no typical Sonesta. Offering a full range exceptional experiences found in many of the most memorable destinations in the world, Sonesta proudly exceeds guest's expectations time and time again.
Discover Royal Sonesta and Sonesta Hotels & Resorts in Atlanta, Austin, Baltimore, Boston, Fort Lauderdale, Hilton Head Island, Houston, Miami, New Orleans, Philadelphia, San Jose, St. Louis, St. Maarten (2), Chile (2), Colombia (8), Ecuador, Peru (5), and Egypt (2 + 3 cruise ships). Sonesta ES Suites is an extended stay hotel brand managed by Sonesta found in 43 locations across the US. For more about Sonesta, visit Sonesta.com or call +1.617.315.9200 or 800.Sonesta (800.766.3782) in the U.S. and Canada.