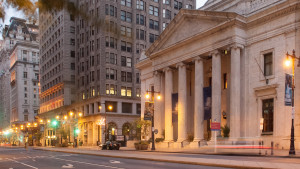 Sustainable seafood and small plates coming this spring to historic Center City hotel

The food scene in the City of Brotherly Love will heat up a notch this spring when Richard Sandoval's newest venture, Aqimero, opens in May 2016 at The Ritz-Carlton, Philadelphia. A wood-burning grill will be the centerpiece of the new restaurant, and a small plates menu will focus on sustainable seafood, steaks, ribs and poultry. Aqimero is part of a $24 million dollar redesign at the hotel, which also includes new guest rooms, meeting spaces and a refreshed lobby experience. The 206-seat restaurant will be located in the landmark property's marble lobby, which is modeled after the Pantheon in Rome, and will serve breakfast, lunch and dinner.
"Partnering with Richard gives us the opportunity to offer a flavorful, entertaining and exciting new dining experience at our hotel," said Darryll Adams, general manager. "His passion for fresh, sustainable and authentic cuisine is evident in the Aqimero menu, and we look forward to welcoming guests and locals to the first Sandoval restaurant in Philadelphia."
Aqimero will be centered around a wood-burning grill and guests can select hand blended marinades to complement their grilled fish of choice – Atlantic Halibut, Wild Salmon, Golden Tilefish, Ahi Tuna, Wild Caught Black Bass and Fluke. A whole-roasted snapper will be served "Mexican beach campfire style" with a rich tomato and chili adobo, avocado, warm tortillas, chayote slaw & limes. The Sushi and Ceviche Bar offers a combination of raw bar – Alaskan King Crab, shrimp cocktail, Wellfleet Oysters, Bay Scallops, Maine Lobster and Spanish Rock Octopus – alongside sushi, ceviche and tiradito. Salads, steaks and savory sides round out the dinner menu, and refreshing, seasonal craft cocktails will balance the bold flavors of the menu.
"Aqimero will bring the Latin American ritual of the meal to Philadelphia in a modern and sustainable way," said Executive Chef Richard Sandoval. "I'm thrilled to have the opportunity to collaborate with The Ritz-Carlton on this new dining concept and introduce my vision for fresh and authentic coastal Latin cuisine to the city."
The building's plentiful history is incorporated into the design palette of Aqimero, pulling through the sophisticated, rich colors of precious metals and currency into the fluid space. Multiple sections for seating through the bar, lounge and main dining area offer comfortable places for large and small groups, and guests can catch a glimpse of the chefs in action preparing meals through the kitchen's show window.