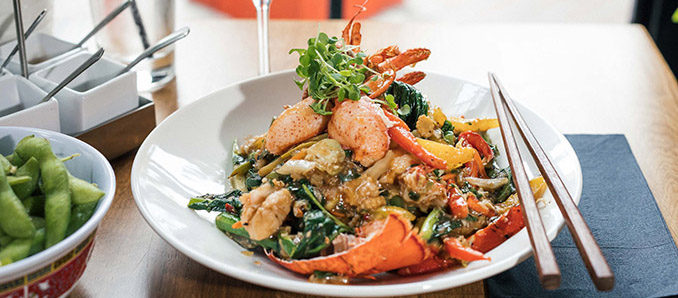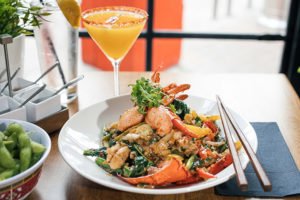 San Diego's famed Gaslamp Quarter is a bustling community filled with vibrant nightlife, which indubitably includes dining to die for. Amid the burgeoning downtown culinary scene is Monkey King, an elegant late-night Chinese cuisine eatery that swung into action in late 2017.
The current iteration of Monkey King is a reprisal of a restaurant by the same name, which actually claimed the same space in the late 1800s. At that time, one of the most influential men in San Diego's Chinatown, Tom Ah Quin, ran Monkey King, which was reportedly an illegal lottery house where politicians and San Diego's elite could go to dine, drink and gamble into the late hours of the night. Now commanding the same location where the original establishment once was, the reprised Monkey King restaurant pays homage to its storied history and Prohibition-era past in combination with decidedly modern-era elements.
One apparent aspect carried over from days of yore is that Monkey King is one of the few late-night dining options in the Gaslamp. The dining menu is available until midnight on weekdays and 2 a.m. on weekends. This bodes well for the throngs of nightclub and bar-goers (and staffers) and other night owls who seek quality eats well into the wee hours.
No matter your preferred time to dine, the restaurant's Executive Chef Brendan Mica, who hails from New York City, where he most recently served as chef de cuisine at The Standard High Line in Manhattan, has developed an authentic and traditional Chinese dining experience with contemporary sensibilities. "I have always had a love for Chinese cuisine, its balance, complexity and deep flavor profiles," notes Chef Mica. "The Monkey King menu has no tricks, combining traditional Chinese recipes and cooking techniques with locally sourced ingredients."
No downtown gastro-joint would be complete without a well-conceived craft cocktail menu, and Monkey King duly delivers with signature Asian-focused hand-crafted elixirs. Large format drinks are creatively served up in punch bowls such as the "Scorpion King"–comprised of vodka, gin, light and dark rum, and a medley of fresh juices. My own personal fave is the not-too-sweet Golden Pear—Brut champagne infused with Absolute Pear Vodka with fresh ginger and pear puree. I also love that the bar area features television sets running an assortment of "old school" Chinese movies (muted) that add a compelling visual element to the overall ambiance. Popular music plays in the background, adding to the cool vibe that beckons hipsters inside.
Space-wise, the open-air lounge actually serves as the focal point for the stylish dining area that surrounds. Most impressive among the furnishings is an authentic dim sum table imported straight from China that seats up to eight people. The décor is eclectic, featuring exposed brick and living flora structures infused with modern gold elements, neon lighting effects and a butterfly motif. The resulting effect is a warm, multifarious atmosphere. A row of booth seating alongside a wall running the length of the restaurant allows patrons to have an open-view dining experience overlooking the entirety of the restaurant—to see and be seen amid all of the action and interaction.
Social media aficionados also adore the grandiose gold chair that sits directly under the Monkey King logo, which makes every customer feel as if they are the Monkey King themselves. Given San Diego's near perfect year-round weather, it's also a boon that the eatery offers an outdoor double patio area option.
The menu is concise, offering a curated selection of traditional and signature dishes from Monkey King's past, morphed for present-day palates. As an example of this, the eatery makes its Pork Bao Buns from scratch. "Our customers will experience our dedication to scratch cooking, and can expect that all dishes will have some connection to their traditional Chinese origins," Chef Mica said.
With my own visit to Monkey King, I was compelled to sample various "dim sum" appetizers, most notable of which was the Lobster Shumai—Maine lobster shrimp dumplings. At first glance, it's apparent the tasty morsels were lovingly hand-crafted, and with every detail on the plate purposefully placed. Each dumpling, topped with a dollop of red masago, was complemented by a flavorful, peppery cream sauce that duly complemented the sweet seafood ensconced in each pocket.
I did also sample other small plates like the Hamachi Sashimi, which was plated with cucumber, shiso leaf and chili oil, all doused with ponzu sauce and lemon. A crisp and potent garlic chip added just the right note of crunch and savory flavor. Another favorite of mine from this section was the Hoisin Barbeque Baby Back Ribs that, of course, had an Asian twist—a decadent hoisin chili glaze topped with sesame seeds. The amply-portioned meat itself tender and succulent. Even Chef Mica adores this particular dish, citing that "it's full of that umami flavor that I love about Asian cooking. It's a sweet, sticky, fall of the bone situation that gets me every time."
The entrées that followed did not disappoint, as I was thrust deeper into Chinese culture and the historical restaurant's roots. The signature dish of the restaurant—The Drunken Lobster Hong Kong Style—arrived in a heap of the sumptuous shellfish (a full one-pound in total), stir fry vegetables and grilled scallions. This hearty dish packs a flavorful punch—and with a notable amount of spice. My suggestion is that you opt to order a side of white rice to balance out the dish overall and soak in the thick, rich sauce.
Also memorable was the Black Pepper Beef—12 ounces of Prime New York steak served with bok choy, mushrooms, wok-roasted Maui onions and crispy potatoes. Gladly, the preparation of the dish was not what I expected. Instead of the steak being served as one large piece of protein, it was carved into 12 sashimi-style section seared with a delicately crusted and well-seasoned outer edge.
The resurgence of this once bustling locale, now as an Asian restaurant that brings ethnic authenticity and nostalgia to the Gaslamp District as a late-night dining destination, is a charming addition to downtown San Diego.
"I love that we offer a contemporary setting for people to enjoy while still getting to experience the warm comfort that Chinese cuisine often brings," Mica said. "It's an interesting contrast that I think San Diegans will really like."
~~~
As the Executive Editor and Producer of "The Luxe List," Merilee Kern is an internationally-regarded consumer product trends expert and hospitality industry voice of authority—a travel, dining, leisure and lifestyle expert who spotlights noteworthy marketplace innovations, change makers, movers and shakers. She reports on exemplary travel destinations and experiences, extraordinary events and newsworthy products and services across all categories. Reach her online at www.TheLuxeList.com, on Twitter at www.Twitter.com/LuxeListEditor, on Facebook at www.Facebook.com/TheLuxeList and on Instagram at www.Instagram.com/LuxeListReviews.
***Some or all of the accommodations(s), experience(s), item(s) and/or service(s) detailed above may have been provided or arranged at no cost to accommodate this review, but all opinions expressed are entirely those of Merilee Kern and have not been influenced in any way.***